Are you facing serious felony or misdemeanor charges? Enlist the help of a Michigan DUI attorney who has years of experience on their side, to protect your rights and help you win back your freedom.
DUI charges are serious. If you are currently facing the consequences of such a charge, you know all that is at stake. If found guilty, this verdict could result in your drivers license being revoked and even a prison sentence. If you enlist the help of Lewis & Dickstein, you are more likely to have charges minimized, if not dropped all together.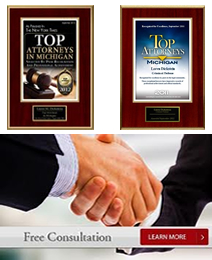 We Provide A Michigan DUI Attorney For Your Case
One of the main benefits of working with such a reputable and experienced team is that we understand how stressful this time is for our clients. With this in mind, we treat each client with care and understanding, mutual respect and trust. We take the time to educate each client, making them aware of their individual rights. Using our expertise and experience, we fight for each client as if they were our own family member. You will be hard pressed to find any other Michigan DUI attorney who is willing to do that.
Lewis and Dickstein, P.L.L.C. have years of experience representing clients facing a number of different charges. Our clients face white dollar crime charges, fraud, drug offenses, domestic violence, among other charges. We have represented clients in both federal, state, and juvenile courts. We offer a free consultation to all interested clients.
With an AVVO rating of 10 (the highest rating available) and other state awards, we can confidently say that we rank higher than any other Michigan DUI attorney you may find in the yellow pages. We come highly recommended by past clients. When it comes to your freedom, you don't want to take any chances. If you would like to speak to an experienced, passionate criminal defense specialist, please call us at (248) 263-6800 or complete a Request for Assistance Formand we will promptly contact you.