Michigan's Retail Fraud Lawyers
Lawyers with the Knowledge, Skills and Expertise to Protect you from a Retail Fraud Crime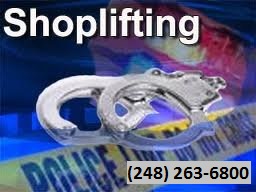 If you've been charged with a crime for stealing, shoplifting, or someone said you stole something from a retail store, then a charge of Retail Fraud may be issued against you. Before your speak to anyone about the details of the event or the charge of Retail Fraud, contact the law firm of LEWIS & DICKSTEIN P.L.L.C. They have the expertise you need to defend you against such a serious crime like Retail Fraud.
There are different levels of Retail Fraud charges and repeated offenses could potentially result in an enhanced sentence or stronger punishment if you choose an attorney that is less experienced with the Retail Fraud charges in Michigan.
Stay Out of Jail
Retail Fraud also carries possible jail penalties and you could serve jail time should you choose the wrong attorney to represent you. Retail Fraud lawyers LEWIS & DICKSTEIN, P.L.L.C. are not afraid to fight for you to protect your rights and keep your liberty.
Avoid Loss of Job, Future Employment or Licenses
Being charged with stealing is not only an embarrassing situation, but will negatively affect any potential future employment opportunities or could possibly make you ineligible for professional licenses.   LEWIS & DICKSTEIN, P.L.L.C. will vigorously advocate for you to ensure that there will be minimal impact on your chances of obtaining a well-paying job or anything that may impede your right to apply for a Concealed Pistol License.
If You Have Been Accused Falsely
The lawyers with LEWIS & DICKSTEIN, P.L.L.C.  will take the time to discuss the charge with you in terms that you will understand.  They will outline possible outcomes and strategies best suited to your situation. Above all, they will fervently represent you from your perspective and demonstrate to Prosecutors, Police Officers, and Judges that you are well protected through legal representation of LEWIS & DICKSTEIN, P.L.L.C.
Let Us Help You with Any Retail Fraud or Stealing Matters in Michigan
If you want to win and maintain your good reputation as well as keep your employment opportunities and professional license options, you need Michigan's Retail Fraud Lawyers with the knowledge, skills and experience to protect you from a Retail Fraud charge.  Call LEWIS & DICKSTEIN, P.L.L.C. today at (248) 263-6800 for a free consultation or complete a Request for Assistance From on our website and a lawyer that specializes in Retail Fraud will promptly contact you.
Save
Save
Save