As a criminal defense attorney who handles cases in Oakland County regularly, I can tell you that it is one of the most challenging jurisdictions for defendant's to get a fair trial. Whether a case is prosecuted by the Oakland County Prosecutor's Office or any of the multiple, local city or township attorney's offices, the aggressiveness of the government in Oakland County is unsurpassed anywhere else in Michigan. In fact, lawyers who are used to practicing in Wayne County, Macomb County, Livingston County and Washtenaw County frequently refuse to practice in Oakland County because it is so challenging (this was even more true when the economy was rolling and before many criminal defense attorneys in Oakland County were struggling financially).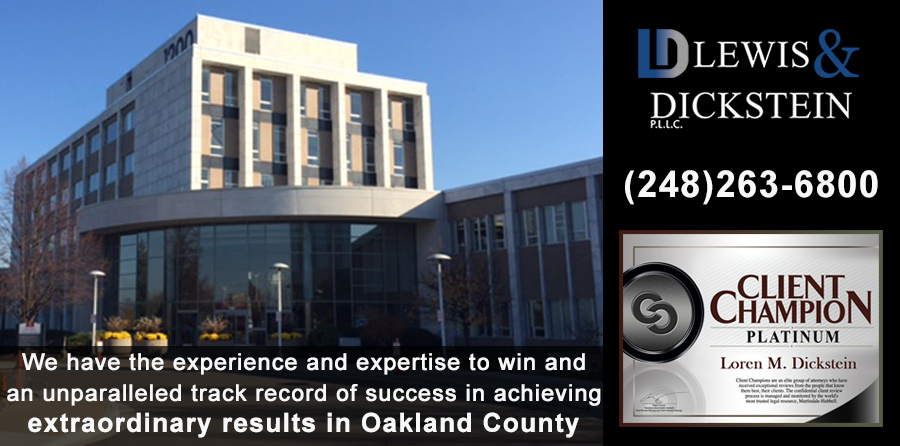 Criminal Defense Attorneys in Oakland County
It is not true that lawyers from other counties are singled out and treated unfairly in Oakland County as some attorneys claim. On the other hand, judges, prosecutors and court staff in Oakland County like things done in a particular way and when a criminal defense lawyer does not handle a case in the "Oakland County Way," things can get a little tough for them. One example of this is in Oakland County Circuit Court. There are 13 Oakland County Circuit Court judges that handle felony criminal cases. Each of the Oakland County Circuit Court judges handle arraignments, pre-trials and pleas in their own unique way. The method used in Oakland County, however, is far different than that used in Wayne County, Macomb County, Washtenaw County and Livingston County. Many of the Oakland County Circuit Court judges use Cobbs Pleas (again, each in their own unique way). A lawyer that is very familiar with the Oakland County Circuit Court will know how to maximize his or her client's Cobbs Agreement which will minimize any potential consequences as a result of a criminal conviction by plea of guilty or no contest. If a lawyer is not extremely familiar with the Oakland County Cobb Plea procedure, there is a strong likelihood that he or she will not know what language to use or what format to request for purposes of the maximizing the potential benefit of the Cobbs Plea.

The Oakland County Prosecutor's Office – Overcharging
The Oakland County Prosecutor's Office, regretfully, is rather well know for overcharging defendants and then later refusing to engage in a plea bargaining process. An argument can be made that the warrant prosecutor who initially authorized the charges was trying to cover any potential criminal offense when issuing the charges and maybe he or she was not aware of a fact or circumstance that comes to light as the case develops. The problem is that in the variety of cases where such additional facts or circumstances come to light and make it clear that the original charge is excessive or in error, the Oakland County Prosecutor's Office is rather infamous for refusing to adjust the charge in exchange for a plea. A great Oakland County criminal defense lawyer who is a known Oakland County trial attorney can often get the Oakland County Prosecutor to offer a charge reduction or dismissal when another lawyer, who is less well known, would be unable to achieve such an extraordinary result.
Oakland County prosecutor and Oakland County circuit and district judges are notoriously tough on domestic violence cases, DUI/OWI cases, criminal sexual conduct, home invasion, violations of probation (VOP), assault and weapons charges, appeals and drug possession and distribution charges.
If you are charged with a felony or misdemeanor in Oakland County, do not hesitate to call us directly at (248) 263-6800 or complete a Request for Assistance Form and an experienced Oakland County criminal defense lawyer will promptly contact you.

Other crimes regularly charged in Oakland County include, but are not limited to:
Oakland County Third Offense – OWI
Oakland County OWI Causing Serious Injury or Death
Oakland County Retail Fraud First Degree
Oakland County Criminal Sexual Conduct
Oakland County Felonious Assault
Oakland County Domestic Violence Third Offense
Oakland County Felony Firearm
Oakland County Assault with Intent to Do Great Bodily Harm
Oakland County Homicide (murder, manslaughter and negligent homicide)
Oakland County PWID (Possession with Intent to Deliver) a Controlled Substance (heroin, cocaine, etc…)
Oakland County Possession with Intent to Deliver or Manufacture of Marijuana or other Controlled Substance)
Oakland County Medical Marijuana Charges
Oakland County Embezzlement
Oakland County Larceny from a Person or Larceny from a Building
Oakland County Armed and Unarmed Robbery
Oakland County Bank Robbery
Oakland County Assault with Intent to Rob While Armed and Unarmed
Oakland County No Account Check
Oakland County Nonsufficient Funds Check
Oakland County Child Support Felony – Refuse or Unable to Pay
Oakland County CCW (Carrying a Concealed Weapon)
Oakland County Bookmaking
Oakland County RICO
Oakland County Conspiracy to Commit a Felony
Oakland County Home Invasion First and Second Degree
Oakland County Breaking and Entering
Oakland County Child Abuse First, Second and Third Degree
Oakland County Vehicular Homicide
Oakland County Arson of Real Property
Oakland County Arson of Personal Property
Oakland County Attempt to Commit a Felony
Oakland County Possession of Child Pornography
Oakland County Malicious Destruction of Property
Oakland County Escape from Jail or Prison
Oakland County Felony Violation of Probation
Oakland County Failure to Register as a Sex Offender
Oakland County Resisting and Obstructing a Police Officer (Obstruction)
Oakland County False Pretenses
Oakland County False Report of a Felony
Oakland County Forgery
Oakland County Fraud
Oakland County Identity Theft
Oakland County Impersonating a Police Officer
Oakland County Larceny by Conversion
Oakland County Larceny by False Pretenses
Oakland County Racketeering
Oakland County Receiving and Concealing a Stolen Vehicle
Oakland County Aggravated Stalking
Oakland County Using a Computer to Commit a Crime