You Only Get One Bite at the Apple – It Takes a Great Lawyer to Get it Right
If you have a felony conviction or misdemeanor convictions on your record, you are undoubtedly concerned about how your record is negatively impacting your life. Imagine clearing your record and unburdening yourself of past mistakes.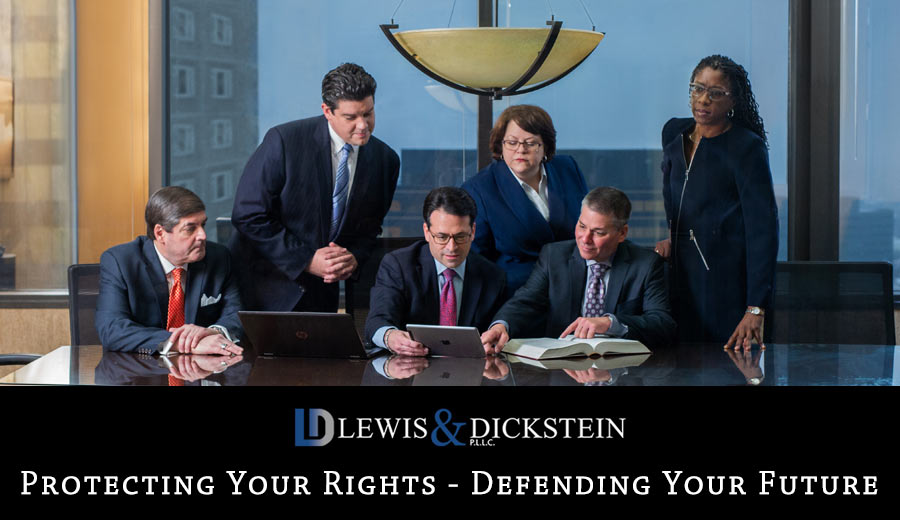 Criminal convictions impact your job, your finances, and even your family. You could be denied employment, certain government loans or assistance, the right to possess firearms, and in some cases, even lose your professional license. Up to 80% of employers are running background checks before hiring new employees, and many employers search criminal records when considering a possible promotion. Having your record cleared can open doors that were previously closed to you.
Michigan Expungement Lawyers Who Can Help
Let us help you start over with a clean slate by getting your convictions removed from your record.
The Michigan Expungement Lawyers at LEWIS & DICKSTEIN, P.L.L.C. have successfully helped clients start over with a clean slate by getting their past criminal convictions removed from their record. A recent change in the Michigan Expungement Law now allows for a person to have their felony conviction even if he or she has two other convictions that are misdemeanors. Am individual who has two misdemeanor convictions can now apply to have BOTH removed.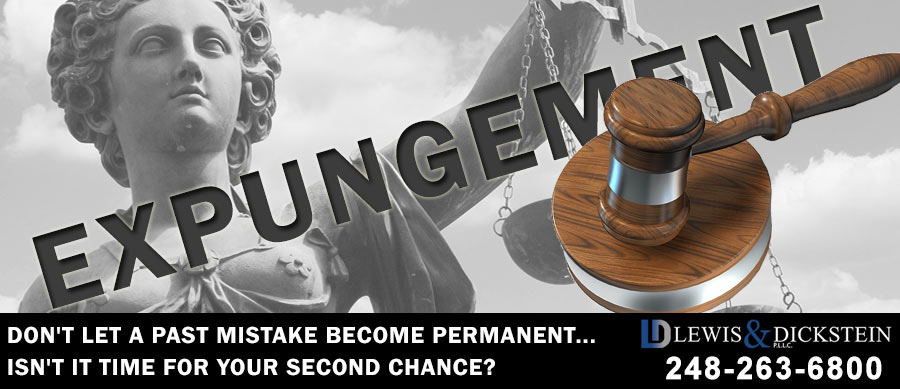 What are the qualifications for expungement?
You must meet the following requirements before submitting your application for expungement to the court:
You must wait for five years after your conviction, discharge from parole or probation, or the completion of your jail sentence, whichever date is the latest (you may have the waiting period waived if you were convicted of a prostitution offense, and you were the victim of human trafficking).
You must not have more than one felony and not more than two misdemeanor convictions on your record before petitioning the court.
You must have no other adult convictions have been set aside from your record.
The term "conviction" is now broadly defined under Michigan's expungement laws. Offenses that were previously dismissed from your record, after being taken under advisement, now count as misdemeanor convictions.
Convictions That Cannot Be Expunged
An offense that is punishable by life in prison.
Criminal sexual conduct, with some exceptions for criminal sexual conduct of the 4th Degree convictions before January 12, 2015.
Traffic offenses, such as drinking and driving, DWLS, and reckless driving.
Child abuse in the second degree.
Child abuse in the presence of another child.
A domestic violence felony conviction, if there was a previous conviction for domestic violence.
Human trafficking violations.

The Expungement Process – More Complex than Most Think
The expungement process can be lengthy and involves drafting numerous documents and gathering specific court records. It is important to have a Michigan Expungement Lawyer who has the experience, knowledge, and understanding of the process to represent you in court. The fact is that most people who apply for an expungement either without a lawyer or with an ineffective lawyer are not successful, and you may not get a second bite at the apple. Everything must be done right the first time! The attorneys at LEWIS & DICKSTEIN, P.L.L.C. collectively have decades of experience representing clients who are seeking an expungement of the criminal record.
How an Expungement Attorney Can Help
Experience is invaluable when petitioning for an expungement. Circuit Court judges have different biases and preferences. Saying the wrong thing or failing to address an issue that concerns a particular judge can be fatal to your attempt to clear your record. An attorney with vast experience seeking expungements will know each judge and how to best advocate in his or her courtroom.
Few lawyers handle expungements in a way similar to LEWIS & DICKSTEIN, P.L.L.C. Most attorneys simply file the necessary court forms and then hope for the best when they get to court. Our attorneys will take the time to get to know you and learn about the story of your life following the criminal conviction(s). We will work with you to get evidence of all of the positive things you've done and accomplished and present the information to the court in a comprehensive, detailed, and highly persuasive memorandum prior to the hearing. The judge will know about your best qualities and attributes even before you walk into the courtroom.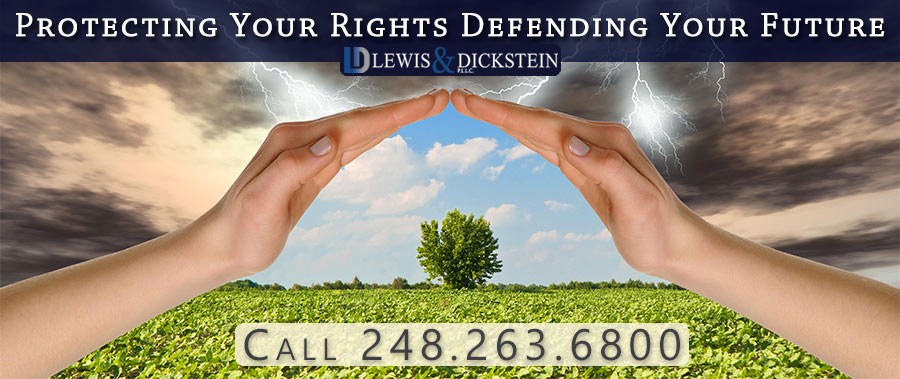 Michigan Expungement Attorneys with a Track Record of Success
When you call us, we will take the time to talk with you, review all of the measures we take to prepare to win an expungement, and review with you our strategy in these cases. We have an unparalleled track record of success with setting aside prior convictions through the expungement process.
Don't trust your fate to the lowest bidder or an inferior lawyer. If you are not successful, you will have to wait a minimum of three years before you can file a new request for expungement. The stakes are high, and when trying to accomplish something very important to your life, it is not the time to take chances.
Call us today at (248) 263-6800 for a free consultation, or complete a Request for Assistance Form and we will contact you promptly.
We will find a way to help you and, most importantly,
we are not afraid to win!