Despite being considered a "common crime," an individual convicted of shoplifting can expect severe consequences in court and in the community. The attorneys with LEWIS & DICKSTEIN P.L.L.C understand that good people are susceptible to shoplifting due to severe stress and anxiety.
Throughout the years we have worked with clients who are struggling with impulse control, kleptomania, or who shoplift as a result of struggles with depression. You may be surprised to know that many of our clients are affluent and in many cases can afford the items they shoplift. In most cases, the attempted removal of an item from a store was just careless or an oversight. Whatever issues the client may be struggling with, we give our clients the benefit of the doubt. We realize that prison time is not helpful for our clients trying to improve their lives or just cope better with the stress of life.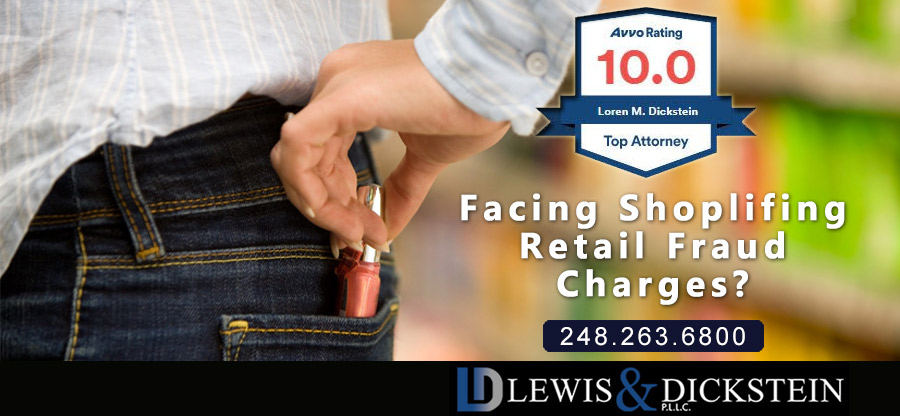 What are the consequences for a shoplifting charge?
Shoplifting is considered a serious crime in the state of Michigan, even on first time convictions. The severity of the punishment depends on various factors, including the criminal record of the accused and the monetary value of the merchandise involved. The convicted face probation, imprisonment, loss of job opportunities, and expensive fines. An experienced attorney will help you avoid legal consequences that will be detrimental in your road to recovery. A misdemeanor may carry a punishment of 93 days up to 1 year and a felony conviction could result in prison time for a period of years.
What constitutes shoplifting?
When one thinks of shoplifting, they typically think of a person attempting to steal merchandise from a store by secretly slipping the stolen goods into their purse, bag, or under the clothes. However, there are other forms of shoplifting and some clients may not realize that these crimes are considered just as serious. For example, switching the price tag on an item for a tag with a lower cost is also considered shoplifting. Good people in desperate situations are susceptible to shoplifting and our goal is to get charges dropped or lessened, realizing that jail time virtually never the way for our clients to get help. By humanizing a client to a judge and helping them see the client as more than just "a defendant", we can often avoid consequences that other lawyers might believe are inevitable.

Shoplifting is considered a serious crime in the state of Michigan and enlisting the help of an effective and successful lawyer is essential. LEWIS & DICKSTEIN P.L.L.C. has a proven track record of winning and is ready to stand with you as you face retail fraud charges in Michigan. If you've been charged with retail fraud / shoplifting, call us at (248) 263-6800 or complete a Request for Assistance Form and we will promptly contact you.
We are NOT Afraid to Win
Michigan Criminal Defense Attorneys with a Proven Track Record