"What is the deal with the Oakland County Court System?"
I was recently asked, "What is the deal with the Oakland County Court System?" Here is what I can tell you…
The Oakland County Circuit Court is a division of the state judiciary and serves as a trial court of general jurisdiction serving all the citizens of Oakland County. It hears both civil and criminal cases, as well as appeals from the District Court, Probate Court, and administrative agencies. The Court has sole and exclusive jurisdiction on certain matters involving the family.

The Civil/Criminal Division handles two types of cases. Civil cases are cases between or among two or more parties where damages must exceed $25,000. These cases may involve automobile accidents, personal injury, medical and professional malpractice, hazards involving products, labor issues, written agreements and land disputes. Criminal cases include felony cases and misdemeanors, ranging from DUI, OWI, drunk driving, domestic violence, assault, drug crimes, weapons charges, fraud and financial crime, murder and many, many more.
"Why are many lawyers afraid to practice in Oakland County?"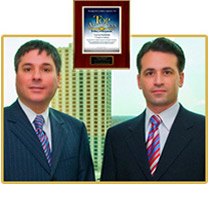 Many criminal defense attorneys just will not handle cases in Oakland County because the courts and the prosecutors are so tough. Of the lawyers who regularly practice in Oakland County, they are known for pleading out their clients so that they can avoid trial and the judicial hammer that tends to follow a loss at trial.
There are some lawyers in Oakland County who are known to be aggressive, effective and passionate about protecting clients in Oakland County. LEWIS & DICKSTEIN, P.L.L.C. is Oakland County's premier criminal defense law firm. Our criminal defense lawyers are fearless and will find a way to help their clients. Oakland County judges and prosecutors know and respect the criminal attorneys with LEWIS & DICKSTEIN, P.L.L.C. and know they mean business and that they will do everything humanly possible to help and defend their clients.
If you want to learn more about LEWIS & DICKSTEIN, P.L.L.C., and their top Oakland County criminal defense lawyers, please review our full website. If you would like a free consultation and case evaluation relative to your Oakland County felony or misdemeanor charges, please call LEWIS & DICKSTEIN, P.L.L.C. at (248) 263-6800 or complete a Request for Assistance Form and an experienced Oakland County lawyer will promptly contact you.

OAKLAND COUNTY DISTRICT COURTS
Cities of Madison Heights, Ferndale and Hazel Park – 43rd District Court
200 W. Thirteen Mile Road
Madison Heights, MI 48071
248-583-1800
and
305 E. 9 Mile Road
Ferndale, MI 48220
248-547-8700
and
111 E 9 Mile Rd.
Hazel Park, MI 48030
(248) 547-3034
Cities of Huntington Woods, Oak Park, and Pleasant Ridge
Township of Royal Oak – 45 B District Court
45B District Court
13600 Oak Park Boulevard
Oak Park, MI 48237
248-691-7423
Cities of Farmington and Farmington Hills – 47th District Court
47th District Court
31605 W. Eleven Mile Road
Farmington Hills, MI 48336
248-871-2900
City of Pontiac – 50th District Court
50th District Court
70 N. Saginaw Street
Pontiac, MI 48342
248-758-3820
City of Royal Oak
44th District Court
400 E. Eleven Mile Road
Royal Oak, MI 48067
248-246-3600
City of Berkley
45A District Court
3338 Coolidge
Berkley, MI 48072
248-544-3300
Cities of Southfield and Lathrup Village, Villages of Beverly Hills, Bingham Farms, & Franklin
46th District Court
2600 Evergreen Road
Southfield MI 48076
248-796-5800
Cities of Birmingham, Bloomfield Hills, Sylvan Lake, Keego Harbor, and Orchard Lake Village,  Townships of Bloomfield and West Bloomfield
48th District Court
4280 Telegraph Road
Bloomfield Hills, MI 48302
248-647-1141
Township of Waterford
51st District Court
5100 Civic Center Drive
Waterford, MI 48329
248-618-7696
Cities of Novi, South Lyon, Wixom, and Walled Lake, Townships of Milford, Highland, Commerce, Lyon, and Novi, Villages of Milford and Wolverine Lake
52-1 District Court
48150 Grand River Avenue
Novi, MI 48374
248-305-6080
Cities of Auburn Hills, Rochester, Rochester Hills, Lake Angelus and Lake Orion, Townships of Addison, Orion, Oakland and Oxford
52-3 District Court
700 Barclay Circle
Rochester Hills, MI 48307
248-853-5553
Townships of Springfield, Independence, Holly, Groveland, Rose, White Lake and Brandon, Villages of Holly, Davisburg, Clarkston, and Ortonville
52-2 District Court
5850 Lorac
Clarkston, MI 48346
248-625-4888
Cities of Troy and Clawson
52-4 District Court
520 W. Big Beaver Road
Troy, MI 48084
248-528-0406