Michigan Criminal Defense Lawyers with Extensive Experience
The Experienced, Passionate Michigan Criminal Defense Attorneys with LEWIS & DICKSTEIN, P.L.L.C. Have Successfully Represented Clients Charged with Hundreds of Different Types of Felony and Misdemeanor Charges
LEWIS & DICKSTEIN, P.L.L.C. takes great pride in providing criminal defense in a way that is unique and unparalleled.  While many defense lawyers practice on their own and firms are made up of one experienced lawyer who is supported by less experienced attorneys, our firm is comprised of multiple defense lawyers who each have decades of experience successfully handling felony and misdemeanor offenses and who are not afraid to fight for you and win! Our Michigan criminal defense lawyers with extensive experience have been successfully protecting and defending clients in Michigan for decades.
Examples of Charges We Have Successfully Defended Include:
OWI – OPERATING WHILE INTOXICATED FIRST, SECOND OR THIRD OFFENSE
OPERATING WHILE VISIBLY IMPAIRED
OWI CAUSING SERIOUS INJURY OR DEATH
RETAIL FRAUD FIRST, SECOND AND THIRD DEGREE
CRIMINAL SEXUAL CONDUCT – FIRST, SECOND, THIRD AND FOURTH DEGREE
FELONIOUS ASSAULT
DOMESTIC VIOLENCE FIRST OFFENSE AND THIRD OFFENSE
ASSAULT AND BATTERY
AGGRAVATED ASSAULT
FELONY FIREARM
ASSAULT WITH INTENT TO DO GREAT BODILY HARM
HOMICIDE (MURDER, MANSLAUGHTER AND NEGLIGENT HOMICIDE)
PWID (POSSESSION WITH INTENT TO DELIVER) A CONTROLLED SUBSTANCE (HEROIN, COCAINE, ETC…)
POSSESSION WITH INTENT TO DELIVER OR MANUFACTURE OF MARIJUANA OR OTHER CONTROLLED SUBSTANCE)
MEDICAL MARIJUANA CHARGES
EMBEZZLEMENT
LARCENY FROM A PERSON OR LARCENY FROM A BUILDING
ARMED AND UNARMED ROBBERY
BANK ROBBERY
ASSAULT WITH INTENT TO ROB WHILE ARMED AND UNARMED
NO ACCOUNT CHECK
NONSUFFICIENT FUNDS CHECK
CHILD SUPPORT FELONY – REF– — USE OR UNABLE TO PAY
CCW (CARRYING A CONCEALED WEAPON)
BOOKMAKING
RICO
CONSPIRACY TO COMMIT A FELONY
HOME INVASION FIRST AND SECOND DEGREE
BREAKING AND ENTERING
CHILD AB– — USE FIRST, SECOND AND THIRD DEGREE
VEHICULAR HOMICIDE
ARSON OF REAL PROPERTY
ARSON OF PERSONAL PROPERTY
ATTEMPT TO COMMIT A FELONY
POSSESSION OF CHILD PORNOGRAPHY
MALICIOUS DESTRUCTION OF PROPERTY
ESCAPE FROM JAIL OR PRISON
FELONY VIOLATION OF PROBATION
FAILURE TO REGISTER AS A SEX OFFENDER
RESISTING AND OBSTRUCTING A POLICE OFFICER (OBSTRUCTION)
ALL TRAFFIC CHARGES
ALL MISDEMEANORS
ALL FELONIES
ALL ORDINANCE VIOLATIONS
STATE AND FEDERAL CHARGES
Michigan Criminal Defense Lawyers with Vast Experience and a Track Record of Winning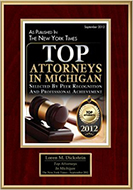 If you are charged with a federal or state, felony or misdemeanor charge and you want a serious, dedicated and effective defense, you need LEWIS & DICKSTEIN, P.L.L.C.  The reasons you should call our criminal defense lawyers with extensive experience today at (248) 263-6800 for a Free Consultation  are:
Decades of Experience
Track Record of Avoiding Jail and Convictions
Respected by Judges and Prosecutors
Passionate, Tenacious and Compassionate Representation

Nationally Honored and Recognized –
SuperLawyer – Thomson Reuters
10.0 Superb – Avvo
AV Preeminent – Martindale-Hubbell
Lead Counsel Rated – LawInfo
Client Distinction Award – LexisNexis
Top Attorneys in Michigan – As published in the New York Times and Crane's Detroit Business
If you want us to contact you, kindly complete a Request for Assistance Form and a seriously experienced criminal defense attorney will promptly contact you.