Attorney Referrals
ALL REFERRAL FEES ARE PROTECTED!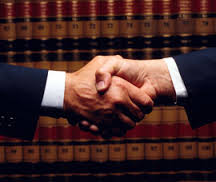 Because of our local and national reputation for successfully handling cases, we often receive attorney referrals from other lawyers throughout Michigan and across the United States who are familiar with our work. In all cases, we maintain the utmost confidentiality, and all referral fees are protected.
The majority of our clients come to us as referrals from other lawyers. Our criminal practice is dedicated to the passionate, effective criminal defense of adults and juveniles in state and federal court. We understand that your recommendation to a client will reflect not only on us but on you as well. We will honor the trust you show in us by your referral though providing service to your client at the same high level you would expect and demand.
Attorney-Client Relationship:
If you have a potential client with a criminal defense-related issue we can take the case on a referral basis, partner with other attorneys and firms as co-counsel, or just act as a consultant on the matters at hand. During this time, we will zealously protect and support your attorney-client relationship with the referred client and honor referral fees on all fees paid by the client.