Michigan Larceny Defense Lawyer
Highly Rated, Nationally Recognized Criminal Defense Attorneys – Dedicated to the Aggressive, Tenacious and Fearless Defense of those Charged with Larceny and Other Theft Offenses.

If you or someone you love is charged with a larceny or a theft crime in Michigan, a great criminal defense lawyer will be essential in obtaining the best possible outcome. Whether the allegation is truthful or false, whether someone is guilty or innocent, the charges can be defended and a lawyer with LEWIS & DICKSTEIN, P.L.L.C. may be able to help you avoid a conviction, jail, and lengthy probation.  We have a well-deserved reputation among courts and prosecutors as being among the top defense attorneys in Southeastern Michigan.  Known for our tough, tenacious and zealous defense of clients, our reputation often allows us to achieve results that other lawyers would not be able to obtain.  We will do whatever it takes to achieve the best possible outcome.
What if the allegations are True?
If the allegations are true, it does not mean there is a certainty of a conviction or jail. In fact, in most cases jail, prison and sometimes, even probation can be entirely avoided. There are multiple statutes and court rules in Michigan that provide for avenues to entirely avoid a conviction even if the defendant has admitted his or her guilt and there is no defense to the case. For example, Holmes Youthful Training Act (HYTA) is available to young offenders who take responsibility for their actions and no conviction is ever entered against them.

Other programs available include a First Offender Program in Oakland County, diversion in Wayne County and Federal Court and in Macomb County, deals are often made under a court rule that provides for a delayed sentence for a person of any age and can result in a dismissal of all charges. No matter what county you are charged in, LEWIS & DICKSTEIN, P.L.L.C. will find a way to help you.
False Allegations of Larceny
Without an aggressive, effective defense, false allegations can result in a wrongful conviction. A wrongful conviction can cause loss of employment, inability to advance at work, immigration difficulties, damaged reputation, jail and more.
It is always the prosecutor's burden to prove beyond a reasonable doubt that a person committed the criminal offense of larceny. To be guilty of this crime the prosecutor must prove a person unlawfully took someone else's property without consent of the owner and had the criminal intent to permanently deprive the owner of their property.
When a false allegation is made, we will do what is necessary to prove our client's innocence including employing our vast resources, team of highly experienced criminal defense lawyers, expert investigators and witnesses. Though careful planning, thorough investigation, in-depth legal research and fearless, effective representation in court, we can give our client the best possible chance of an acquittal at trial or a dismissal before trial.
Defenses to Felony and Misdemeanor Larceny Charges
Person had a good faith belief that they owned the property or had the right to use it
The person accused is the actual owner of the property
The property was not owned by the alleged victim
Alleged victim was only temporarily deprived of the property (possible lesser charge)
Property was of a lesser value than originally alleged (possible lesser charge)
Penalties for Larceny Offenses
The charges and penalties for Larceny in Michigan can vary depending on the circumstances of the case and the charge for larceny varies in degrees based on the value of the property allegedly stolen. There is no larceny offense in Michigan that requires probation, jail or prison time. The offenses can be state or federal, can be charged as misdemeanors or felonies and can have maximum jail or prison time ranging from 90 days to a maximum of 10 years in prison. A sentence of up to life in prison is possible if there are prior felony convictions.
Here are Several Examples of Larceny Charges
Misdemeanor Larceny or Larceny by False Pretenses under $200 – up to 93 days in jail, up to $500 in fines or 3 times the value of the money stolen, whichever is greater, or both.
Misdemeanor Larceny between $200-$1000 – up to 1 year in jail, up to $2000 in fines or 3 times the value of the money stolen, whichever is greater, or both.
Felony Larceny between $1000-$20,000 – up to 5 years in prison, up to $10,000 in fines or 3 times the value of the money stolen, whichever is greater, or both.
Felony Larceny between $1000-$20,000 – up to 5 years in prison, up to $10,000 in fines or 3 times the value of the money stolen, whichever is greater, or both.
Felony Larceny over $20,000 – up to 10 years in prison, up to $15,000 in fines or 3 times the value of the money stolen, whichever is greater, or both.
If you trust LEWIS & DICKSTEIN, P.L.L.C. with your defense, we will extensively review the details of your case through talking with you, interviewing defense witnesses, and thoroughly reviewing the government's evidence. When experts or investigators are necessary, we have access to the best experts in the United States and will do whatever is necessary to provide the best possible defense.
We regularly discover important details in cases that provide for potential defenses that other lawyers would not find.We will carefully and frankly discuss with our client their options and the details of the case so they can make informed decisions. Our lawyers will guide you through your case and faithfully and tenaciously protect your rights. If you call us…your call will be returned. If you want a lawyer who will not sell you out and will do everything possible to fight for you, please call us at (248) 263-6800 for a free consultation or complete a Request for Assistance Form and we will promptly contact you.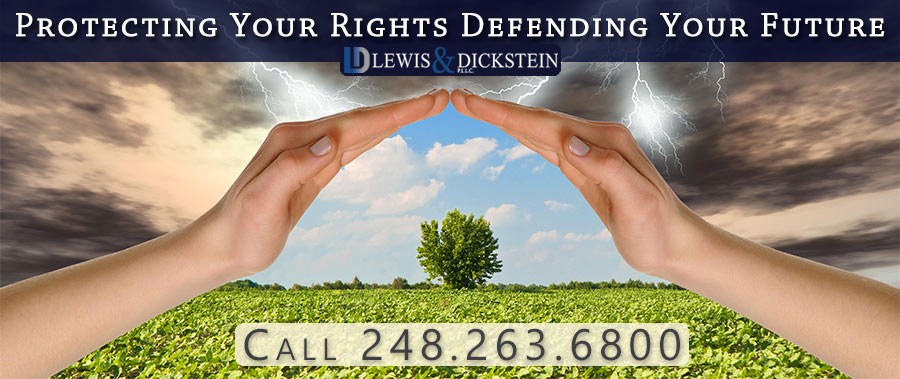 Reasonable Attorney Fees
Hiring the right retained larceny defense lawyer can make all the difference in your case and you may not have a second chance. Your future is too important to bargain hunt for the cheapest lawyer. If you call us for a free consultation, we will try and find a way to make our fees affordable to you. We can talk about a payment plan, scheduled payments, credit card payments, hourly rates and flat fees that may give you the ability. We understand that money is valuable and anything you spend on legal fees is less that you can save and use for your family. By the same token, we also understand that having expert criminal defense representation and doing what is necessary to help you get the best possible result is a valuable investment.