Driver's License Restoration in Michigan – You Can Win!
Living in the "Motor City" we all realize that public transportation is not readily available, and when it is it can be expensive.  If you have a suspended or revoked license, it is possible you are eligible for a driver's license restoration.  There are conditions and requirements that must be met in order to get a driver's license restoration depending on the reason for your revocation or suspension.  If you believe you are eligible for a driver's license restoration, it is important that you have expert legal assistance in determining if that is true, and also in dealing with the documentation and hearing process with the Michigan Secretary of State.  This process is different than the courts and it is in your best interest to have an attorney who is familiar with the requirements and practices before the hearing officers at the Secretary of State.  Your best bet to have a successful driver's license restoration is to have the experts at your side every step of the way.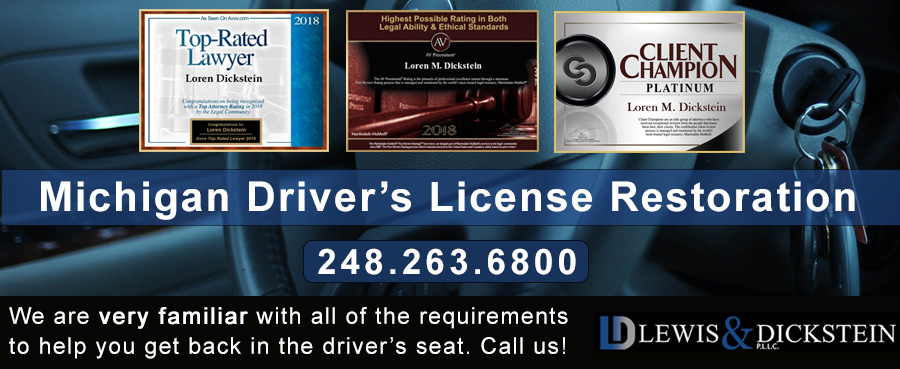 Many people attempt to achieve license restoration without a lawyer or with an inferior or general practice attorney.  The truth is that most people who are unrepresented or who have bargain lawyers fail to achieve license restoration after a revocation for habitual drinking and driving offenses.  Those with multiple convictions for OWI, DUI or any Operating Under the Influence of Alcohol cases are held to a very high degree of scrutiny.  A truly great DLAD attorney will have decades of experience in winning DLAD cases and will have a strategy to WIN restoration when others would not be successful.  This is the type of experience and expertise that LEWIS & DICKSTEIN, P.L.L.C., brings to the table for our clients.
Experienced Attorneys for Driver's License Restorations
LEWIS & DICKSTEIN, P.L.L.C. exclusively represent people charged with criminal offenses and who are seeking driver's license restorations through the DLAD, Michigan Department of State or in the Circuit Court.  Our attorneys have decades of experience in the court and administrative hearing process involved in driver's license restorations.   If you are eligible or think you are eligible, for your Michigan driver's license restoration, call LEWIS & DICKSTEIN, P.L.L.C. at (248) 263-6800.  We look forward to helping you.