Top Retail Fraud Attorney Bloomfield Hills
Accused of retail fraud in the 48th District Court in Bloomfield Hills, Michigan? LEWIS & DICKSTEIN, P.L.L.C. has decades of experience successfully helping thousands of clients charged with retail fraud. Our highest priority is preventing jail and getting charges dismissed, when possible.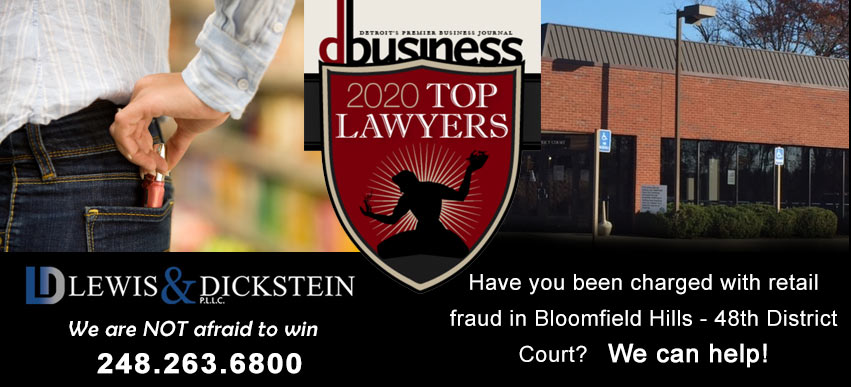 What is Retail Fraud?
Retail Fraud can be one of several things: stealing property that is on sale at a store open to the public, changing the price tag or otherwise misrepresenting the actual price of an item so that the actual price will not be paid, or pretending to return an item that was not purchased from the store. Technically, this crime meets the definition of Larceny from a Building, a 5-year felony. The legislature decided to enact laws aimed explicitly at theft from retail stores because they did not want to charge a "5-year felony" every time someone committed a petty theft from a store. In fact, the Retail Fraud statutes explicitly state that someone charged with Retail Fraud cannot be charged with Larceny in a Building.
Are There Different Types of Retail Fraud?
There are three degrees of Retail Fraud:
Retail Fraud 1st Degree:
Retail Fraud 1st Degree is accomplished if someone steals, changes a price tag, or fraudulently "returns" an item for sale worth more than $1,000.00. This crime is a felony, and the possible jail term is 5 years in prison and either a $10,000.00 fine or 3 times the value of the item(s) involved, whichever is greater.
Retail Fraud 2nd Degree:
Retail Fraud 2nd Degree is the same activity as a Retail Fraud 1st Degree, but where the value of the item(s) is between $200.00 and $1,000.00. The penalty for this crime is 1 year in jail and either $2,000.00 or 3 times the value of the item(s).
Retail Fraud 3rd Degree:
Retail Fraud 3rd Degree is the same as 1st and 2nd, but with the value of the item(s) being under $200.00. It should be noted that if more than one item is taken, re-tagged, or "returned," the value of all of the items are added together. The penalty for Retail Fraud 3rd Degree is 93 days in jail and $500.00 or 3 times the value of the item(s).

Retail Fraud in Bloomfield Hills
Bloomfield Hills is a wealthy city. The police department and the retail stores in Bloomfield Hills have a lot of resources to pursue retail fraud cases. The stores have advanced surveillance camera set-ups, and loss-prevention personnel are hidden in the store. The loss prevention personnel are very well-trained and are usually on alert. They can follow a person through a store with the hidden cameras and see every move they make.
Bloomfield Hills has worked diligently to be very tough on retail crimes because it wants to enforce the image of Bloomfield Hills being an exclusive place to shop and live, with zero tolerance for crime. This fact, in conjunction with the fact that Retail Fraud 2nd and 3rd Degree cases may be prosecuted by the very tough Oakland County Prosecutor's Office and all Retail Fraud 1st Degree cases, are pursued by that office makes Bloomfield Hills a city in which you will need the very best criminal defense attorney you can get. Even if prosecuted by the city attorney, you will still be treated very aggressively, as the city attorney wants to impress the retail stores that their office is aggressive and supports the stores by being tough on crime.
Due to surveillance cameras and the other loss-prevention tools in place at many stores, it takes a top-rated, savvy, and very creative criminal defense attorney to fight these cases. You need an attorney who has decades of experience with criminal law and retail fraud cases and knows how to challenge even the most sophisticated prosecution evidence.
False Allegations of Retail Fraud in Bloomfield Hills
One major problem with retail fraud prosecutions is that innocent people frequently are charged because of misunderstandings or genuine mistakes. In some cases, the defendant may have done what he or she is accused of doing but did not intend to steal. No one is perfect, and sometimes people have things that so heavily weight on their mind that they make genuine and honest mistakes that can be misinterpreted by loss prevention officers who are predisposed to think everyone is guilty.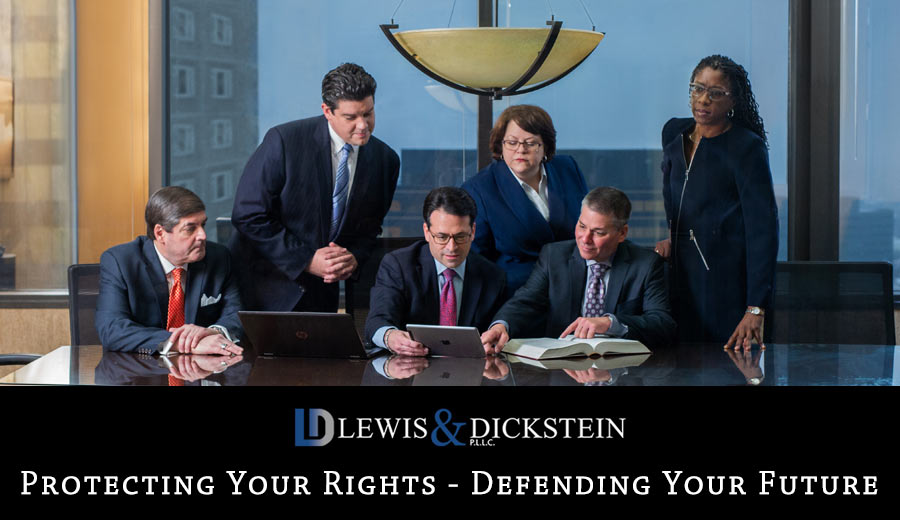 LEWIS & DICKSTEIN, P.L.L.C., the Bloomfield Hills Retail Fraud Defense Lawyers
The dedicated, experienced and zealous defense attorneys at LEWIS & DICKSTEIN, P.L.L.C. have successfully represented thousands of clients on felony and misdemeanor charges in Bloomfield Hills and throughout Michigan. We have a well-earned reputation for providing the highest quality defense and aggressive representation, while showing empathy and care for each client.
Call us today at (248) 263-6800 for a free consultation, or complete a Request for Assistance Form and we will contact you promptly.
We will find a way to help you and, most importantly,
we are not afraid to win!