Revocations vs. Restrictions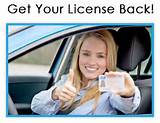 Actions taken against driving licenses can range from restrictions to revocations. A revocation is the termination of the operator's license and privilege to operate a motor vehicle.  A revoked driver can only appeal for drivers license restoration in Michigan after one year following a second OWI or DUI conviction within 7 years (or 3 within 10) or the expiration of five years for a subsequent revocation within seven years.  There is no guarantee of restoration and most people who appear for these hearings are unprepared and the evidence they produce is inadequate. Restoration of a driver's license should not be taken for granted.  Everything depends on whether the secretary of state will consider the driver safe based on evidence and testimony and it takes the expertise of an experienced Driver's License Restoration Attorney in Michigan to win.
Restricted licenses allow for limited driving.  Limitations are generally for work, school and any court-related obligations – such as probation meetings, classes or AA meetings.  It is important that the driver carries proof of destination and hours when operating a vehicle.  Proof is required so that police can be assured of compliance.
Save
Suspensions and Restrictions of driving privileges
If your license is suspended that generally means it carries a "from" and "through" date.  When the through date is reached, the driver just needs to visit a secretary of state office and pay the reinstatement fee to regain a valid license.
Restrictions and suspensions may also be "indefinite" and will not terminate until approved by a court or the secretary of state.  This is when you need the help of a highly experienced, effective Driver's License Restoration Attorney in Michigan.  Restoration of a driver's license is something anyone can attempt on their own or with an inexperienced or bargain lawyer but if the outcome is important, you will want an expert's assistance to give you the best chance of winning.
Driver's License Restoration Attorneys in Michigan
If your driver license is suspended, revoked or restricted you should contact an attorney to see if there may be options available to you to get restoration of a driver's license.  LEWIS & DICKSTEIN, P.L.L.C. is one of the top law firms in Michigan doing driver license restoration work.  We take pride in our record of success.  Our attorneys always go the extra mile to help our clients win back their driving privileges whenever and wherever possible. We are the "go to" Michigan criminal defense attorneys when you need help.  Please call us at (248) 263-6800 for a free consultation or complete a Request for Assistance Form and one of our attorneys will promptly contact you.  We look forward to helping you with the restoration of a driver's license.