Attorneys with A Track Record of Success Defending Domestic Violence Charges
The Defense Team with LEWIS & DICKSTEIN, P.L.L.C. is nationally recognized as being amount the top defense lawyers in Michigan. We take a "no judgment approach" with all of our clients, and we will do whatever it takes to achieve the best possible outcome.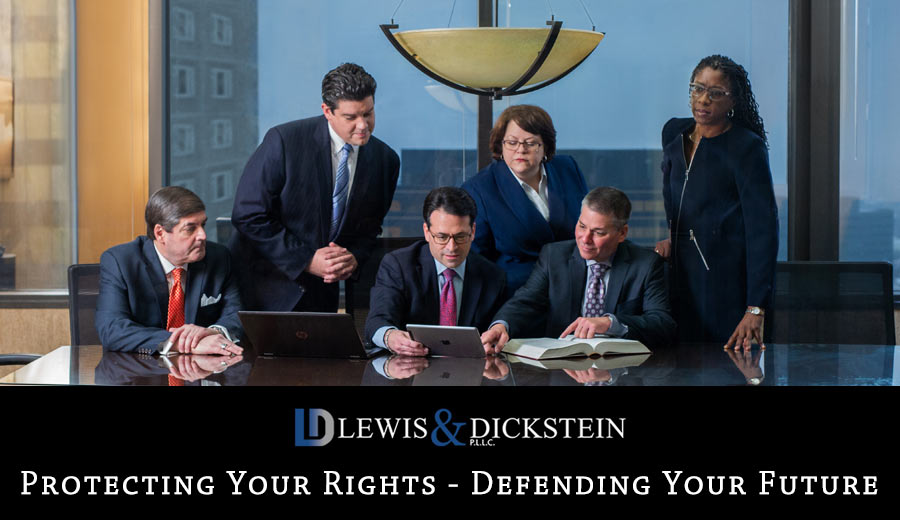 A Premier Domestic Violence Defense Team
LEWIS & DICKSTEIN P.L.L.C. continues to be one of Michigan's premier criminal defense law firms in the country. Established in 1998, the firm has helped clients from all walks of life beat domestic violence charges. If you are currently in need of a defense of domestic violence charges, LEWIS & DICKSTEIN P.L.L.C. is home to seasoned and aggressive attorneys who will fight tirelessly to clear your name.
What Constitutes Domestic Violence?
In the State of Michigan, domestic violence includes assault or battery, marital rape, child abuse, violating a restraining order, stalking, intimidating, and harassment. Domestic violence charges can be misdemeanors or felonies, depending on the severity of the allegations. The attorneys with LEWIS & DICKSTEIN, P.L.L.C. have represented thousands of clients facing domestic violence and similar allegations. Most of these cases are complicated, and most of them are "he-said, she-said" situations without corroborating evidence of guilt or innocence. It is common to have multiple accounts and various versions of the same incident from the complainant, the defendant, and third-parties when there are additional witnesses. In domestic violence cases, it is quite common for spouses undergoing divorce to try to gain an unfair advantage by exaggerating or lying about what occurred during a domestic violence incident. The definition of domestic violence is quite broad, which is why you need a reputable, experienced attorney to help make sense of the grey area in your case.
This is my first offense. Do I need a lawyer?
Whether you face your first offense or fifth offense, we cannot stress enough the importance of hiring top legal representation to defend you against domestic violence charges. Take a moment to consider what is at stake if you lose your case. Every lawyer is not the same, and you should not trust your fate to the lowest bidder. If children are involved, your child custody and visitation rights can hang in the balance. A conviction can have a lasting impact on your employability, reputation, professional license, immigration status, and much more.

What is the penalty for domestic violence?
A misdemeanor domestic violence carries a maximum sentence of up to 93 days of jail and up to 2 years on probation. A domestic violence incident that results in even a minor injury increases the maximum jail sentence to 1 year. A felony allegation involving a domestic relationship, such as Domestic Violence – Third Offense, can carry five years or more in prison, depending on the specific claims, the severity of the alleged injury, and whether a weapon was allegedly used.
Charges that occur in domestic or familial relationships may include:
Domestic Violence – Assault and Battery
Aggravated Domestic Violence
Domestic Violence – Second Offense
Felonious Assault
Assault with Intent to Do Great Bodily Harm, Less than Murder
Kidnapping
Stalking
Child Abuse
Domestic Strangulation
Can you keep a domestic violence conviction off your record?
It may be possible to keep a domestic violence conviction off your record even if there is overwhelming evidence and a confession. There are Michigan laws in place to allow some defendants to earn a dismissal of these types of charges under certain circumstances, such as successfully completing probation and domestic violence therapy. The conditions a judge may impose in one of these types of cases can be onerous, expensive, time-consuming, and demeaning. A great defense lawyer can help minimize the time, expense, and obligation of probation under one of these programs.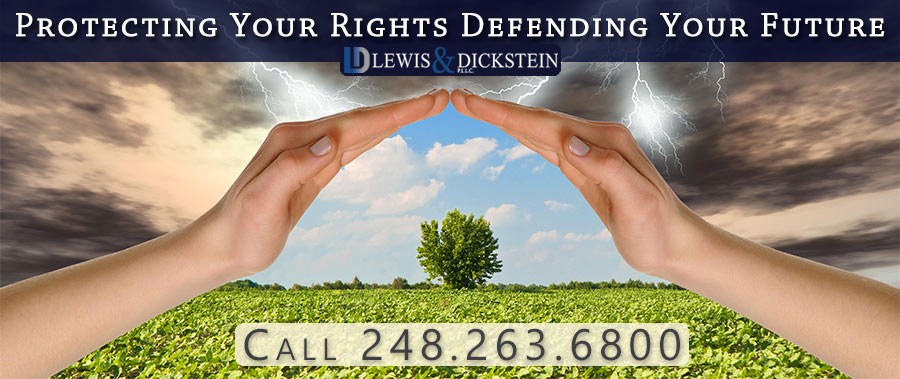 What can I expect from my Relationship with a Lawyer?
LEWIS & DICKSTEIN P.L.L.C. is an award-winning law firm in Michigan for a good reason. We have won many domestic violence-related cases at trial, and as a result, we've earned the highest respect from prosecutors and judges throughout Michigan. Our reputation for being first-rate trial lawyers, and honest and tenacious advocates for our clients, allows us to achieve results that are not available to inferior lawyers and law firms. If you call us for a free consultation, we will take the time to talk with you, answer all of your questions, and address each of your concerns. Together, we will work to find a winning defense strategy.
Call us today at (248) 263-6800 for a free consultation, or complete a Request for Assistance Form and we will contact you promptly.
We will find a way to help you and, most importantly,
we are not afraid to win!