Michigan License Appeal Lawyer – DLAD Attorney
Attorneys Dedicated to the Passionate, Zealous and Effective Representation of Those in Need of Restoration of Driving Privileges in Michigan
If you have lost your driver's license in Wayne County, Oakland County, Macomb County, Washtenaw County or Livingston County or anywhere in Michigan, LEWIS & DICKSTEIN, P.L.L.C. may be able to help you get it back. Our Michigan driver's license restoration attorneys have represented clients whose license has been revoked due to traffic tickets, implied consent violations, or multiple drunk driving convictions (habitual drunk driving). As soon as we begin working for you, we start educating you on the process associated with license restoration cases and developing a plan to help ensure that your driving privileges are restored.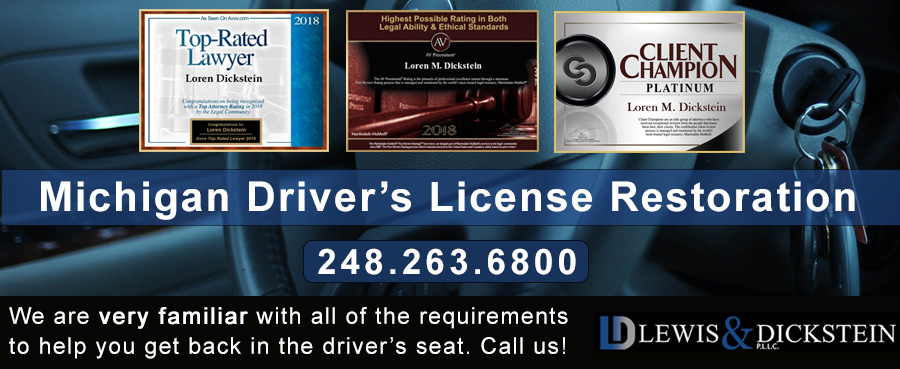 We understand your situation and the importance of getting you back on the road. We will take the time to develop a customized plan utilizing the best strategies available using decades of experience helping clients with driver's license restoration cases. Every lawyer is not the same and many lawyers dabble in different areas of the law, including driver's license restoration cases. We specialize in criminal defense and driver's license restoration. By concentrating our practice on what we do best, we can stay on top of the latest developments in the law and most effective techniques developed in the industry. In other words, we give our clients the maximum chances of success.
How we WIN DLAD Hearings
Depending on your situation, there are several ways that we can pursue restoration of your driver's license in Michigan. If a client has lost his or her license due to multiple drunk driving or DUI convictions, we can pursue an appeal with the Michigan Department of State Driver's License Appeal Division (also known as the DLAD). The Secretary of State basically revokes the driver license due to the driver being a "habitual" drunken driver. These appeals take place in-person or on video and are heard by an administrative law judge. The Secretary of State establishes rigorous and strict guidelines on when a person is eligible for license restoration and appellants are generally limited to only one appeal per year. In many OWI related cases, an appeal cannot be filed for at least up 5 years. LEWIS & DICKSTEIN, P.L.L.C. has developed a plan and system for achieving success at the DLAD that is unparalleled in the legal community.

An individual who pursued a DLAD appeal on their own, or with a less experienced attorney, and lost must appeal to a circuit court. Clients regularly hire us for circuit court appeals. We are very familiar with the judges in Southeastern Michigan and the Metro Detroit area and we closely track those facts and arguments they find most persuasive. In these cases, the circuit court judge has the authority to reverse the decision of the DLAD, remand the matter for a new hearing or further testimony, take additional testimony, or reinstate driving privileges with restrictions or other limitations.
What To Do If You Need Help with Restoration
If you are considering applying for restoration with the DLAD or an appeal to a Circuit Court, it is important to present the most compelling case because you cannot try again for at least a year if you lose. Representation by competent counsel is critical to the success of license restoration. The experienced, aggressive and successful criminal defense counsel with LEWIS & DICKSTEIN, P.L.L.C., will maximize your chances of winning. Call us at (248) 263-6800 or complete a Request for Assistance Form and we will contact you.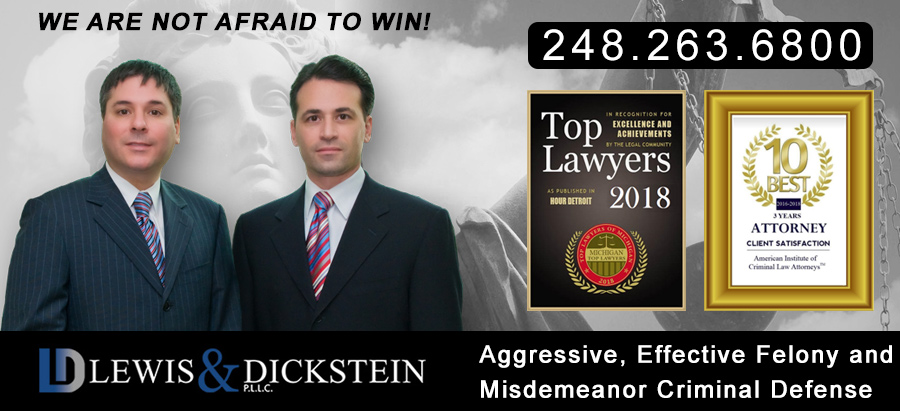 Your first step towards restoring your driver's license is to call LEWIS & DICKSTEIN, P.L.L.C. for a free evaluation of your case. We will patiently listen to you and advise you based on your particular circumstances and the law. By planning and presenting a fully prepared case for the hearing, and having someone to fight for your best interests, you will maximize your chances of winning your driving privileges again.

"We will find a way to help you and, most importantly,
we are not afraid to win!"
– LEWIS & DICKSTEIN, P.L.L.C.