Michigan Probation Violation Defense Lawyers
LEWIS & DICKSTEIN, P.L.L.C. has an unparalleled track record of success with representing clients charged with a violation of probation. If you face an accusation of a probation violation, we can help you.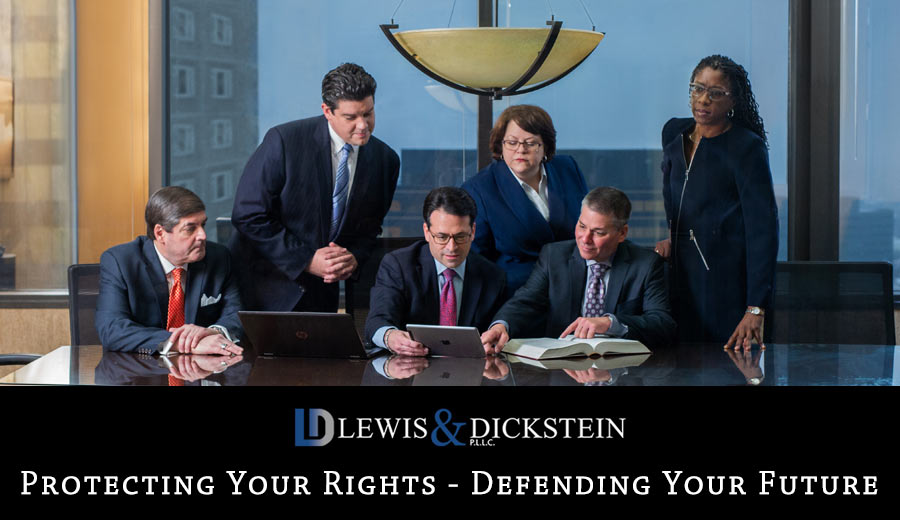 The violation of probation criminal defense lawyers with LEWIS & DICKSTEIN, P.L.L.C. represents clients on misdemeanor and felony violations of probation throughout Michigan. We appear on probation violations frequently in Oakland County, Macomb County, Wayne County, Livingston County, Washtenaw County, and in Southeastern Michigan in general.
The Best Possible Defense
The key to providing the best possible defense in a violation of probation is legal representation that is proactive, passionate, and creative. By being proactive regarding any violation or potential violation of probation, a defendant can demonstrate that they take the court seriously, that he or she respects the judge's authority and that he or she is motivated to prove they are worthy of a second chance at compliance. Being creative is also vital to successfully defending a violation of probation and critical to reducing or eliminating any potential consequence or jail sentence that the judge may be contemplating.

Possible Outcomes – What Can Happen
In any VOP, the defendant faces the maximum possible sentence on the original charge. For example, a violation of probation on a 93-day misdemeanor can result in a sentence of up to 93 days in county jail (with credit for time served). If the original charge was a felony, punishable by up to four years in prison, the violator could receive a sentence of up to four years in prison (otherwise known as a term of years).
Any prison sentence in Michigan, other than a sentence to life in prison, must be a "term of years." A "term of years" means that the defendant is eligible for parole after he serves the minimum sentence, and the Department of Corrections must release him no later than the maximum sentence. For example, a "one-to-four year sentence" means that the defendant will be eligible for parole after one year. If the parole board never grants parole, he cannot serve longer than four years. To make matters more complicated, the minimum amount of time cannot exceed 2/3 of the maximum amount of time ordered by the sentencing court.
A judge on a felony probation violation must consider the Michigan Sentence Guidelines when fashioning a sentence for violation of probation. The sentencing guidelines for the VOP are whatever the sentencing guidelines were for the original offense at the time of the original sentencing. A sentencing judge can exceed the sentencing guidelines; however, there must be a good reason for this to happen legally.
Jail and Prison Is Not Necessary, Even if it Seems Unavoidable
Despite what an ordinary criminal defense lawyer may say, a jail or prison sentence may be avoidable for a felony or misdemeanor probation violation, if the defense attorney is willing and able to do everything possible to avoid such a penalty. The client must be willing to do what is necessary to assist the violation of probation lawyer.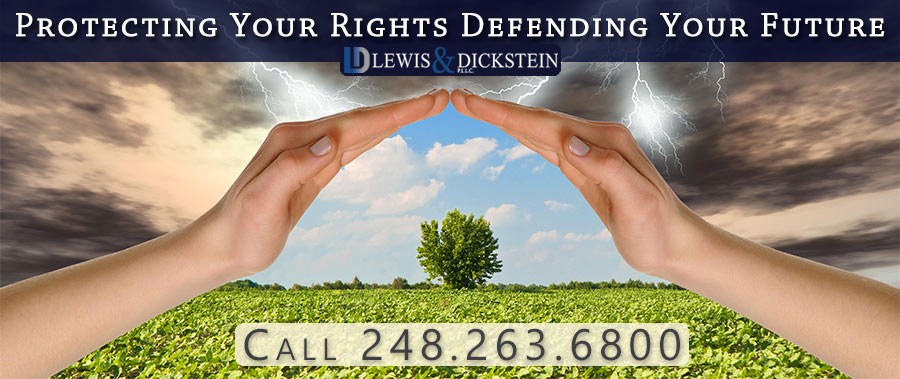 A Winning, Proven Strategy
When the Probation Violation Attorneys with LEWIS & DICKSTEIN, P.L.L.C. represent clients on VOPs, we have a strategy that has been developed over many years to avoid incarceration if possible and minimize other potential consequences. We also carefully examine every aspect of our client's case, their lives, and their other personal circumstances to develop the most persuasive argument possible for a lenient sentence, a delayed sentence, and in many cases, a DISMISSAL of the violation of probation.
In almost two decades of dedicated criminal defense practice, we have taken time to carefully study the judges and probation officers throughout Michigan to learn what factors are consistently most persuasive with each individual jurist and what factors the judges find most damaging. We take the time to fully customize the defense for each particular client to maximize his or her chances of success.
If you are charged with a violation of probation or if there even is a potential violation of probation, please call LEWIS & DICKSTEIN, P.L.L.C. for a free consultation. We will take the time to speak with you, answer all of your questions, and address each of your concerns. We will work with you to develop a winning strategy.
Call us today at (248) 263-6800 for a free consultation, or complete a Request for Assistance Form and we will contact you promptly.
We will find a way to help you and, most importantly,
we are not afraid to win!

We have successfully defended clients charged with the following offenses:
Violation of Probation Defense Attorney Third Offense – OWI
Violation of Probation Defense Attorney OWI – Operating While Intoxicated
Violation of Probation Defense Attorney Operating While Visibly Impaired
Violation of Probation Defense Attorney OWI Causing Serious Injury or Death
Violation of Probation Defense Attorney Retail Fraud First Degree
Probation Violation Defense Attorney Criminal Sexual Conduct
Probation Violation Defense Attorney Felonious Assault
Probation Violation Defense Attorney Domestic Violence Third Offense
Probation Violation Defense Attorney Domestic Violence
Probation Violation Defense Attorney Assault and Battery
Probation Violation Defense Attorney Aggravated Assault
Probation Violation Defense Attorney Retail Fraud
Probation Violation Defense Attorney Felony Firearm
Probation Violation Attorney Assault with Intent to Do Great Bodily Harm
Probation Violation Attorney Homicide (murder, manslaughter and negligent homicide)
Probation Violation Attorney PWID (Possession with Intent to Deliver) a Controlled Substance (heroin, cocaine, etc…)
Probation Violation Attorney Medical Marijuana Charges
Probation Violation Attorney Embezzlement
Violation of Probation Defense Attorney Larceny from a Person or Larceny from a Building
Violation of Probation Defense Attorney Armed and Unarmed Robbery
Violation of Probation Defense Attorney Bank Robbery
Violation of Probation Assault with Intent to Rob While Armed and Unarmed
Violation of Probation Defense Attorney No Account Check
Violation of Probation Defense Attorney Nonsufficient Funds Check
Violation of Probation Defense Attorney Child Support Felony – Refuse or Unable to Pay
Violation of Probation Defense Attorney CCW (Carrying a Concealed Weapon)
Violation of Probation Defense Attorney Bookmaking
Violation of Probation Defense Attorney RICO
Violation of Probation Defense Attorney Conspiracy to Commit a Felony
Violation of Probation Defense Attorney Home Invasion First and Second Degree
Violation of Probation Defense Attorney Breaking and Entering
Violation of Probation Defense Attorney Child Abuse First, Second and Third Degree
Violation of Probation Defense Attorney Vehicular Homicide
Violation of Probation Defense Attorney Arson of Real Property
Violation of Probation Defense Attorney Arson of Personal Property
Violation of Probation Defense Attorney Attempt to Commit a Felony
Violation of Probation Defense Attorney Possession of Child Pornography
Violation of Probation Defense Attorney Malicious Destruction of Property
Violation of Probation Defense Attorney Escape from Jail or Prison
Violation of Probation Defense Attorney Felony Violation of Probation
Violation of Probation Defense Attorney Failure to Register as a Sex Offender
Violation of Probation Defense Attorney Resisting and Obstructing a Police Officer (Obstruction)
We regularly practice in the following courts:
Oakland County:
Oakland County Circuit Court Violation of Probation Attorney
52-1 District Court in Novi Violation of Probation Attorney
52-2 District Court in Clarkston Violation of Probation Attorney
52-3 District Court in Rochester Violation of Probation Attorney
52-4 District Court in Troy Violation of Probation Attorney
35th District Court in Plymouth Violation of Probation Attorney
43rd District Court in Hazel Park Violation of Probation Attorney
43rd District Court in Madison Heights Violation of Probation Attorney
43rd District Court in Ferndale Violation of Probation Attorney
44th District Court in Royal Oak Violation of Probation Attorney
45-A District Court in Berkley Violation of Probation Attorney
45-B District Court in Oak Park Violation of Probation Attorney
46th District Court in Southfield Violation of Probation Attorney
47th District Court in Farmington Hills Violation of Probation Attorney
48th District Court in Bloomfield Hills Violation of Probation Attorney
50th District Court in Pontiac Violation of Probation Attorney
51st District Court in Waterford Violation of Probation Attorney
Macomb:
37th District Court – Warren
38th District Court – Eastpointe
39th District Court – Roseville
40th District Court – St. Clair Shores
41A District Court – Sterling Heights
41A District Court – Shelby Township
42nd District Court – Romeo
42nd District Court – New Baltimore
41B District Court – Mt. Clemens
Wayne County:
Wayne County Circuit Court Probation Violation Attorney
16th District Court – Livonia Probation Violation Attorney
17th District Court – Redford Probation Violation Attorney
18th District Court – Westland Probation Violation Attorney
19th District Court – Dearborn Probation Violation Attorney
20th District Court – Dearborn Heights Probation Violation Attorney
21st District Court – Garden City Probation Violation Attorney
22nd District Court – Inkster Probation Violation Defense Attorney
23rd District Court – Taylor Probation Violation Defense Attorney
24th District Court – Allen Park and Melvindale Violation of Probation Attorney
25th District Court – Lincoln Park Probation Violation Defense Attorney
26-1 District Court – River Rouge Probation Violation Defense Attorney
26-2 District Court – Escorse Probation Violation Defense Attorney
27 District Court – Wyandotte Violation of Probation Attorney
27 District Court – Riverview Violation of Probation Attorney
28 District Court – Southgate Probation Violation Defense Attorney
29 District Court – Wayne Violation of Probation Attorney
30 District Court – Highland Park Violation of Probation Attorney
31 District Court – Hamtramck Violation of Probation Attorney
32A District Court – Harper Woods Violation of Probation Attorney
33rd District Court – Trenton, Rockwood, Flat Rock, Woodhaven, Brownstown, Grosse Ile. Violation of Probation Attorney
34th District Court – Romulus, Belleville Violation of Probation Attorney
35th District Court – Northville, Plymouth, Canton Township Violation of Probation Attorney
36th District Court – Detroit Violation of Probation Attorney
In Livingston County:
Livingston County Circuit Court Violation of Probation Attorney
53rd District Court – Brighton and Howell Violation of Probation Attorney
In Washtenaw County:
Washtenaw County Circuit Court Violation of Probation Attorney
15th District Court – Ann Arbor Violation of Probation Attorney
14A District Court – Ypsilanti Township Violation of Probation Attorney
14B District Court – Balance of Washtenaw County Violation of Probation Attorney