Felony Crimes in Michigan
In Michigan, there are hundreds of felony offenses used by State Prosecutors in various cases.  This being said, there are some felony offenses that are charged much more often than others. For any felony charge, prison and years of probation are possible and these cases must be taken very, very seriously.  A felony is defined as an offense for which the defendant could possibly be sentenced to greater than 1 year in jail.  Although felony charges start in district courts (city or township courts), they are generally transferred at some point to a circuit court (county court). For those defendant's who do not have the financial wherewithal to hire a private, retained criminal defense attorney, a court-appointed lawyer may be available. Court-appointed lawyers are free lawyers.  If an attorney is appointed, the defendant will be ordered to reimburse the cost of the lawyer at the conclusion of the case.  A well-known, successful, privately retained criminal defense attorney generally has the time, resources and experience to provide superior representation and results.  The Defense Team with LEWIS & DICKSTEIN, P.L.L.C., for example, has decades of experience and an unparalleled track record of success in court.
Known and Respected Felony Defense Attorneys in Michigan
As one of Michigan's premier criminal defense law firms, LEWIS & DICKSTEIN, P.L.L.C., requires all partners and associates to regularly engage in continuing legal education (CLE) and trail skills workshops. CLE can take many forms from seminars to classes to webinars to reading relevant literature. The Defense Team uses a unique team approach whereby they collaborate to achieve extraordinary results. For those individuals who are being investigated for a felony offense or who are charged in court, LEWIS & DICKSTEIN, P.L.L.C. is the go-to firm in Michigan for fearless and effective criminal defense representation.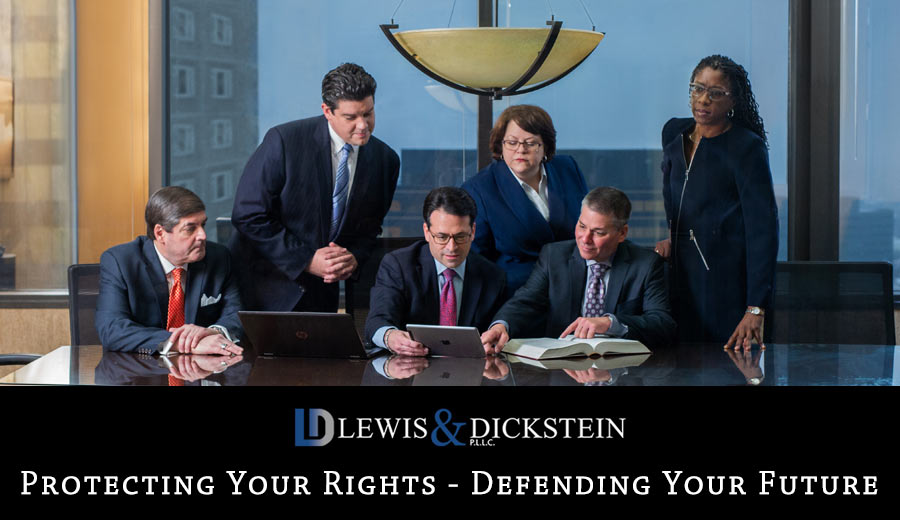 The Top Fifty Felony Offenses
Michigan's top fifty (50) felony offenses based upon the order of prosecution. The current list of 50 most commonly prosecuted felony offenses contains, "only about one-fourteenth of the possible Michigan felony offenses, but these result in more than 85% of all felony trials and convictions."
Possession of Controlled Substance (cocaine, heroin or other narcotic) under 25 grams.
Manufacture/Delivery or Possession with Intent to Deliver Marijuana under 5 kilograms
Operating a Vehicle While Intoxicated or Impaired with a Controlled Substance – Third (3rd) Offense (also commonly referred to as OWI, DWI, DUI or drunk driving.
Manufacture/Deliver or Possession with intent to Deliver a Controlled Substance under 50 grams
Assault, Resist, Obstruct or Oppose a Police Officer (a felony that is all too often abused by arresting officers which a habit for exaggeration and dramatization).
Larceny in a Building
Home Invasion, Second Degree
Uttering and Publishing a forged instrument (often a check)
Breaking and Entering a Building with Intent to Commit a Felony Therein
Carrying a Concealed Weapon (CCW) (often a gun or knife but can be other things)
Assault with a Dangerous Weapon (felonious assault or FA) (the use of an object in a way that is likely or capable of causing serious injury)
Refusal to Support Spouse or Children (Child Support Felony) – clearly the most abused felony. Prosecuted in a way to support the election of politicians and directly contrary to its stated purpose of helping children.

Possession of a Controlled Substance Analogues or Certain Controlled Substances
Retail Fraud – First (1st) Degree (also called shoplifting).
Possession of a Stolen Financial Transaction Device (Credit Card) without Consent
Fleeing or Eluding a Police Officer – 3rd Degree
Receiving, Possessing or Concealing a Stolen Vehicle (Car, Truck, Boat, etc…)
Larceny from a Vehicle
Armed Robbery
Felon in Possession of a Firearm
Possession of Methamphetamine
Home Invasion First (1st) Degree
Unlawful Driving Away of an Automobile (UDAA or Joy Riding)
Keeping a Drug House
Unarmed Robbery
Assault w/ Intent to do Great Bodily Harm Less Than Murder
Domestic Violence – 3rd Degree
Sex Offender – Failure to Register
Receiving and Concealing Stolen Property $1,000 – $20,000
Home Invasion Third (3rd) Degree
Embezzlement Less than $1,000
Criminal Sexual Conduct – Third (3rd) Degree
Felony Firearm
Criminal Sexual Conduct – Second (2nd) Degree
Delivery/Manufacture Controlled Substance (not marijuana)
Fleeing or Eluding a Police Officer Fourth Degree
Larceny from a Person
Criminal Sexual Conduct – Fourth Degree
Identity Theft
Unlawful Use of a Motor Vehicle
Larceny $1,000 to $20,000
Obtaining a Controlled Substance by Fraud
Illegal Sale/Use of a Financial Transaction Device
B&E Motor Vehicle with Damage
Criminal Sexual Conduct – First Degree
Malicious Destruction of Property ($1,000 – $20,000)
False Report of a Felony
No Account Check
Murder, 2nd Degree
Entering without Breaking but with Intent
The Experienced Felony Criminal Defense Team in Michigan
If you are charged with a criminal offense in the State of Michigan, you can trust LEWIS & DICKSTEIN, P.L.L.C. to fight for you. Or Defense Team has decades of experience specializing in state and federal criminal defense. We are nationally ranked to be among the top criminal lawyers in the United States, awarded the prestigious distinction of Super Lawyer, ranked 10.0 (suburb) on Avvo, and AV (preeminent on Martindale-Hubbell).
Although we most commonly appear in Oakland County, Wayne County, Washtenaw County, Macomb County, and Livingston County, we are routinely hired to handle cases throughout Michigan and our reputation for providing the highest possible level of service is widely known.
If you want an attorney who will fight for you like family please call us at (248) 263-6800 for a free consultation or complete a Request for Assistance Form and a top defense attorney will promptly contact you. We will find a way to help you and we are not afraid to win!

"We will find a way to help you and, most importantly, we are not afraid to win!"
– LEWIS & DICKSTEIN, P.L.L.C.