52-4 District Court – Troy, Michigan
The 52-4 District Court serves the Cities of Troy and Clawson, Michigan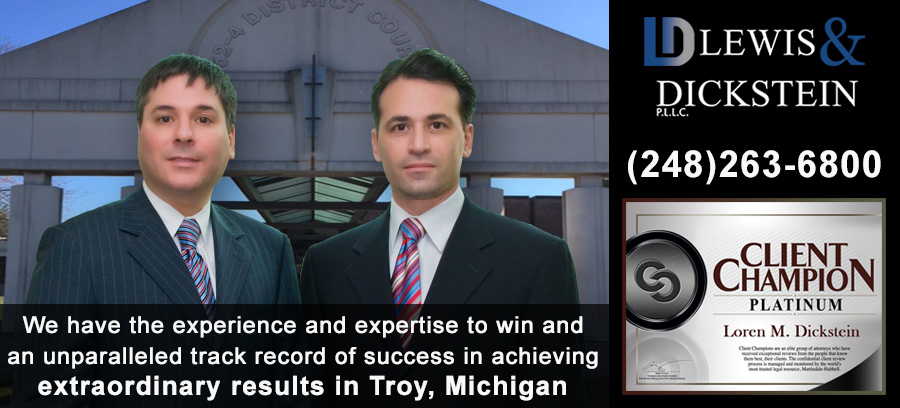 The 52-4 District Court is located at 520 West Big Beaver Road, Troy, Michigan. This court covers the east part of central Oakland County. All traffic, misdemeanors and felony offenses that occur in the cities of Troy and Clawson are handled there. This is a busy court. It has two judges and two magistrates. The judges in this court have a reputation of fairness and moderation. These judges can, and will, be tough when necessary. However, they are compassionate when that it required too. This is a pleasant court to work in for the reason that you know everyone is given a full and fair hearing.
The misdemeanor offenses that are heard in the 52-4 District Court range from drunk driving, OWI, DUI, retail fraud, certain traffic offenses such as driving on a suspended license and no valid operator's license on person, assault and battery, domestic violence, disorderly person and more. Felony offenses can range from certain drug offenses, drunk driving 3rd offense, identity theft, using a stolen credit card, felonious assault, and rape and murder. This court also has a Sobriety Court Program that is designed to help people with substance abuse problems. The judges in this court will also consider alternative programs such as the Holmes Youthful Trainee Act (HYTA) and 7411 (for drug offenses), among others.
The Judges of the 52-4 District Court:
Judge Kristen Nielsen Hartig
Graduate of Traverse City Senior High School and Michigan State University (James Madison Honors College). Judge Hartig was one of six students nationally to be selected to intern at the White House during the tenure of President Ronald Reagan. Judge Hartig received her law degree from the Washington College of Law at the American University and graduated in the top 5% of her law school class. Judge Hartig served as an Assistant Oakland County Prosecutor for six years prosecuting misdemeanors and felonies. Judge Hartig co-founded the Domestic Violence Assault Unit and specialized in prosecuting serious domestic physical and sexual abuse. After leaving the prosecutor's office, Judge Hartig was in private practice for 14 years, specializing in criminal and traffic law. Judge Hartig was born in Clawson, Michigan and is a longtime resident of Troy, Michigan with her husband of over twenty years and two children.
Judge Maureen M. McGinnis
Graduate of Troy High School, the University of Colorado-Boulder (BA), and Michigan State University-Detroit College of Law (JD). While pursuing her degrees, she interned on a U.S. Senate campaign in Denver, with the Boulder District Attorney's Office and the United States Department of Justice, Criminal Division, in Washington, D.C. Upon passing the Michigan Bar Exam, Judge McGinnis proudly joined her father at the Law Offices of Donald E. McGinnis, Jr., P.C., where she specialized in family and criminal law. In 2010, Judge McGinnis received the Oakland County Bar Association Distinguished Service award. She has also been recognized as a "Rising Star" by Michigan Super Lawyers and as one of twenty "Up and Coming Lawyers" in 2011 by Michigan Lawyers Weekly. Judge Maureen McGinnis currently resides in Troy with her husband and daughter.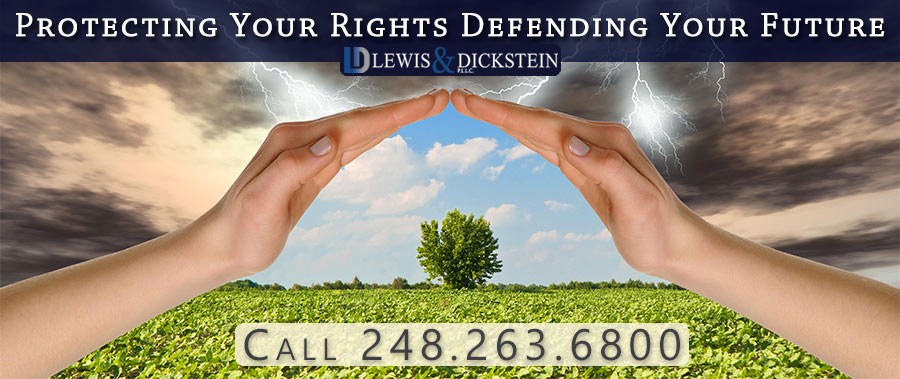 The attorneys at LEWIS & DICKSTEIN, P.L.L.C. regularly practice in the 52-4 District Court in Troy, Michigan
The attorneys at LEWIS & DICKSTEIN, P.L.L.C. appear before the judges in the 52-4 District Court regularly. Our attorneys have a great working relationship with the court staff and judges that work in this court. They all respect the integrity, experience and professionalism of the attorneys of LEWIS & DICKSTEIN, P.L.L.C. Our attorneys come prepared and ready to defend our clients and that preparation is appreciated by the judges. It is understood that when one of our attorneys appears in a courtroom, they are there to win. LEWIS & DICKSTEIN, P.L.L.C.'s attorneys have been successful in many jury trials, evidentiary hearings and motions in the 52-4 District Court. If you are facing criminal charges, you need the best legal help available. LEWIS & DICKSTEIN, P.L.L.C. is that help. Call us for a free confidential case evaluation at (248)263-6800 or complete a Request for Assistance Form and one of our award winning attorneys will contact you.

"We will find a way to
help you and, most importantly,
we are not afraid to win!"
– LEWIS & DICKSTEIN, P.L.L.C.