Top Criminal Defense Attorney in Troy, Michigan
If you are charged with a felony or misdemeanor in the 52-4 District Court, you need a top criminal defense attorney in Troy who is not afraid to fight to protect your rights and defend your freedom. When there is no room for errors and false promises, we can help you.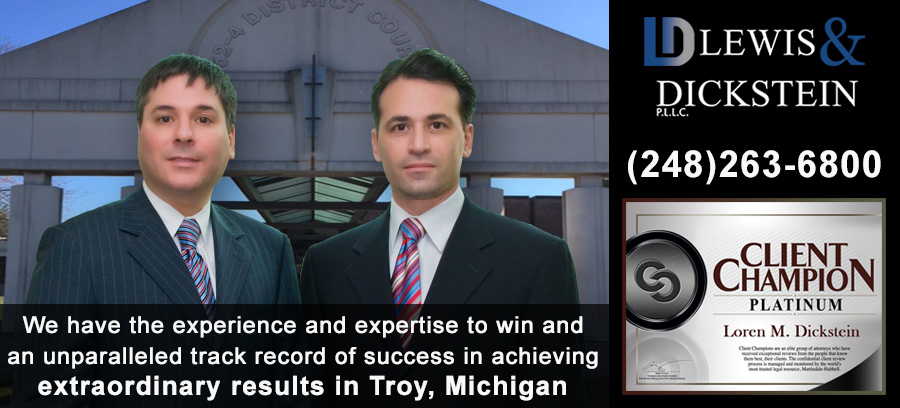 Being charged with a crime, or even being accused of committing a crime, is incredibly serious. Too many people take criminal charges lightly and underestimate the aggressiveness of the prosecutors and judges in Troy, Michigan. The truth is that these judges, and the prosecutors who handle cases in the Troy District Court, are some of the toughest in the state. When you face a tough judge or prosecutor, your best defense is a defense lawyer who will defend and protect you and will not back down under any circumstances.
Felony and Misdemeanor Cases in the Troy District Court
All felony charges out of Troy and Clawson start in the 52-4 District Court. The first court date for any criminal offense is an arraignment. An arraignment is a court hearing where the accused is informed of the criminal charges and a bond is set. A bond is a court order requiring the defendant to appear at future hearings. The defendant may or may not have to post cash before he or she is released. In some cases, a bond can be "personal" which means no money is required. After an arraignment, the case is scheduled for a Probable Cause Conference (PCC) and a Preliminary Examination (PE). The purpose of these hearings is to determine if there is enough evidence for the prosecution to go forward or if the case should be dismissed.
Misdemeanor charges out of Troy and Clawson are also handled in the Troy District Court. Generally, misdemeanor offenses are charges that have a maximum sentence of 1 year in jail or less (and a fine). In addition to possible jail time, the court can order up to 2 years of probation with various terms and conditions including fines, costs, drug/alcohol testing, therapy, education classes, community service, work force, curfew, tether, employment, education, reporting to a probation officer and more. Similar to felony cases, the first hearing in a misdemeanor is an arraignment (where the defendant is informed of the charges and a bond is set). Common misdemeanors in Troy include:
Domestic Violence or Domestic Assault
Retail Fraud (1st and 2nd Offenses)
OWI (Operating While Intoxicated) (1st and 2nd Offenses)
DWLS (Driving While License Suspended or Revoked)
Assault or Assault and Battery
Aggravated Assault
Drug Possession (Possession of Marijuana)
Violation of Probation
Malicious Destruction of Property
Leaving the Scene of a Traffic Accident
Reckless Driving or Drag Racing
Disorderly Conduct or Disturbing the Peace
Indecent Exposure
Know your Rights
It is well known that many criminal defense lawyers are more concerned with the quantity of cases rather than the quality of representation. A client should not be manipulated or threatened in order to convince them to plead guilty, especially if they are innocent. In some cases, a plea is the best course; however, a better lawyer can often achieve a better result. When looking for a retained defense lawyer in Troy, you have to remember more experienced and effective lawyers generally charge fees that are commensurate with their reputations and track record of success.

Do not talk without a lawyer to the judge, prosecutor or the police. Remember that "anything" you say "can and will be used against you." Before you speak to anyone, you should consult with a lawyer who can ensure you do not say or do something that will unintentionally hurt your case and undermine the outcome.
You have a right to plead "not guilty" and have a trial. No one can force you to enter a plea if that is not what you want. Although a plea bargain is often in a defendant's best interest, there are cases where there is no other alternative but to take the case to trial. Because a known Criminal Defense Attorney in Troy presents a threat to the prosecution's case, that lawyer stands the best chance of being offered a highly favorable plea or even a dismissal.
Top Criminal Defense Attorney in Troy, Michigan District Court
The attorneys with LEWIS & DICKSTEIN, P.L.L.C. have spent decades fighting and winning felony and misdemeanor cases in Troy, Michigan. We have the experience, expertise, track record and passion to provide a defense that is unparalleled. We will take the time to patiently listen to your story, get to know you as a person, and then tenaciously and fearlessly fight to get you an extraordinary result. Fighting for dismissals, acquittals and absolutely no jail is what we do best!
Call us for a free consultation and confidential case evaluation at (248) 263-6800 or complete a Request for Assistance Form and we will promptly contact you. It costs you nothing to call us and it may be the most important thing you ever do.

"We will find a way to
help you and, most importantly,
we are not afraid to win!"
– LEWIS & DICKSTEIN, P.L.L.C.