The federal government is encouraging Michigan law enforcement to bring criminal charges during the coronavirus pandemic. If you are charged, you need the assistance of an experienced criminal defense attorney.
Over the last several weeks, life in Michigan has changed drastically. The escalating health crisis over coronavirus, or COVID-19, has led to a wide range of actions by federal and state officials to stop the spread of the disease and deal with new criminal activity. Businesses have been closed, people have been ordered to stay home, and social distancing is now mandated by law.
One tool at the government's disposal is a criminal prosecution, and the federal government is urging Michigan to begin issuing charges. Matthew Schneider, the United States Attorney for the Eastern District of Michigan, issued a guide for law enforcement officers to assist them in bringing criminal charges related to the health crisis.
"The Michigan Attorney General and our 83 County Prosecuting Attorneys are on the front lines with us, battling back against criminals who are profiting off of the Coronavirus pandemic," said U.S. Attorney Schneider. "Together with our state and local partners, we use every weapon in our arsenals to fight criminals who use this pandemic to take advantage of the people of Michigan."

While Michigan has already criminalized violations of Governor Whitmer's emergency order, Mr. Schneider's guide notes that his office has been receiving the following reports of criminal activity during the crisis:
Robocalls making fraudulent offers to sell respirator masks with no intent of delivery;
Fake COVID-19-related apps and websites that install malware or ransomware;
Phishing emails asking for money or presenting malware;
Social media scams fraudulently seeking donations or claiming to provide stimulus funds if the recipient enters his or her bank account number;
Sales of fake testing kits, cures, "immunity" pills, and protective equipment;
Fraudulent offers for free COVID-19 testing in order to obtain Medicare beneficiary information that is used to submit false medical claims for unrelated, unnecessary, or fictitious testing or services;
Prescription drug schemes involving the submission of medical claims for unnecessary antiretroviral treatments or other drugs that are marketed as purported cures for COVID- 19;
Robberies of patients departing from hospitals or doctor offices;
Threats of violence against mayors and other public officials;
Threats to intentionally infect other people; and
Hate crimes against people with Asian heritage.
The government has already begun investigating those suspected of hoarding medical supplies, and Michigan's Attorney General has opened a probe into price-gougers. As crisis-related crime continues, law enforcement officials are vowing to crackdown.
Jail and Bond During the Coronavirus Pandemic
Coronavirus is spreading quickly in America's jails and prisons, where social distancing is impossible, and sanitizer is widely banned. The government has acknowledged hundreds of Covid-19 diagnoses at local, state and federal correctional facilities — almost certainly an undercount, given a lack of testing and the virus's rapid spread.
Experienced and zealous lawyers are fighting to keep clients out on bond and out of jail and prison during this uncertain and dangerous time. Now more than ever, if you suspect that you may be charged with a crime, hire a lawyer immediately so he or she can take the steps necessary to minimize any time you may have to spend in custody. If your loved one is in custody, charged with a crime, the Defense Team with LEWIS & DICKSTEIN, P.L.L.C. can fight for his or her immediate release.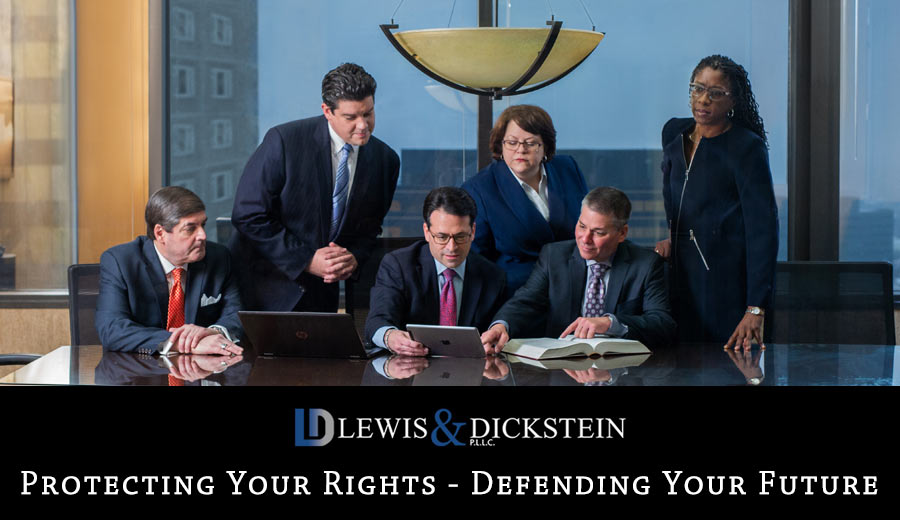 Defense Firm that Can Help in Times of Emergency
If you are being investigated or charged with a Coronavirus-related crime, it is important to immediately speak with an attorney who knows the law, law enforcement, prosecutors, and the courts. Call LEWIS & DICKSTEIN, P.L.L.C. at (248) 263-6800 for a free consultation or complete a Request for Assistance Form and someone from the firm will contact you.
Call us today at (248) 263-6800 for a free consultation, or complete a Request for Assistance Form and we will contact you promptly.
We will find a way to help you and, most importantly,
we are not afraid to win!