Felony Assault Lawyer Wayne County

Detroit's crime level fell over the last year, but not enough to keep it from being the most dangerous city in the United States, according to FBI crime statistics.
The Detroit murder rate for 2013 was 316.  That is a rate of 45 per every 100,000 people.  The only city that came close was New Orleans with 41 per every 100,000.  Flint and Saginaw were also in the top 5 of most dangerous cities with populations greater than 50,000.
While these statistics are troubling, they do not take into consideration justifiable homicides or self-defense situations.
With Detroit emerging from bankruptcy and trying to change its image, one could expect law enforcement to be on high alert.  It is important that the citizens are protected, but also that they are protected from overreaching by the police.  Because Detroit is on an international border there are often federal, state and city law enforcement involved with enforcing laws.  As the focus of the media attention turns to Detroit, law enforcement will want to be seen as taking crime seriously.  When the police are motivated by media or politics, innocent people can get caught up in false or exaggerated allegations.  That's when a great criminal defense lawyer has to step in to keep the government in check and protect a client's due process rights.
If a person has any contact, being investigated, or charged by any law enforcement agency it is important that do not act on their own.   Police often contact a suspect and pretend they "just want to talk" or that the suspect is "merely a witness."  Don't fall for these Police 101 investigation techniques and get someone on your side to protect you and your rights.  There is an immediate need for a criminal defense attorney.  Detroit police are on a mission to change the city's image and it is important that constitutional rights do not get trampled in the process.
Find a criminal defense attorney. Detroit is on the rebound but make sure your rights do not get violated in the process.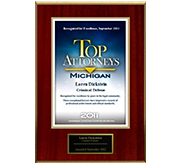 Detroit is on the way back to being a vibrant and first class city.  There is a lot of work yet to do and crime is at the top of that list.  City officials and federal, state and local law enforcement are all on high alert to assist in Detroit's renaissance.  If you are in a position that police want to speak to you for any reason, it is important that you seek the immediate assistance of a criminal defense attorney.  Detroit police will be aggressive and persistent and you should not face that alone.  The attorneys at Lewis & Dicktstein, P.L.L.C. are criminal law experts.  We specialize in representing people being investigated for, or charged with, felony and misdemeanor offenses.  Our attorneys have decades of experience and are well respected.  Our firm keeps up with the latest changes in the law and are able to present innovative and cutting edge defenses to protect our clients.  Do not let the police bully you — call Lewis & Dickstein, P.L.L.C. at (248) 263-6800.  We are always available and happy to be of assistance.