In the next few days the United State Supreme Court will be considering the case of San Francisco v Sheehan.  The issue in that case is under the Americans With Disabilities Act are police required to take special precautions when trying to arrest armed and violent suspects who are mentally ill.
The case started when police in San Francisco were called when a mentally ill woman (Sheehan)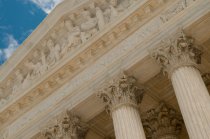 threatened to kill her social worker.  Police entered Ms. Sheehan's room in a group home and shot her five times when she came at them with a knife.
Sheehan sued San Francisco claiming that the police had a duty under the ADA to consider her mental illness and take more steps to avoid a violent confrontation.
This case has supporters on both sides.  Mental health groups think that police should consider mental health of a suspect otherwise there will be unnecessary police shootings.  Law enforcement groups argue that to decide that police must take mental illness  into consideration will place officers and bystanders at unnecessary risk.
The ADA requires that public officials must make "reasonable accommodations" to avoid discriminating against people with disabilities.  The lower courts are split on how to apply the law to police when public safety is at risk.
The United States Supreme Court Decision Could Change Police Behavior
If you are facing criminal charges it is important to not face the criminal justice system alone.  The government has essentially unlimited power and money to fight you, which means you are essentially unarmed.  That is why it is important to have a great law firm stand between you and the awesome power of the government that is interested in convicting you.  LEWIS & DICKSTEIN, P.L.L.C. pride themselves in being the that law firm that will stand between you and the government to make sure that every single right you have is honored and protected.  Our attorneys are well respected and highly experienced.  If you are in trouble, LEWIS & DICKSTEIN, P.L.L.C. is the law firm you can count on.  If you have questions or need help, please call us at (248) 263-6800 for a free consultation or complete a Request for Assistance Form and one of our attorneys will contact you.  We look forward to speaking to you and we are not afraid to win.