Macomb County Criminal Defense Attorneys
If you are in need of a respected and reputable criminal defense attorney in Clinton Township who achieves outstanding results in the 41B District Court, look no further than the defense team with LEWIS & DICKSTEIN, P.L.L.C.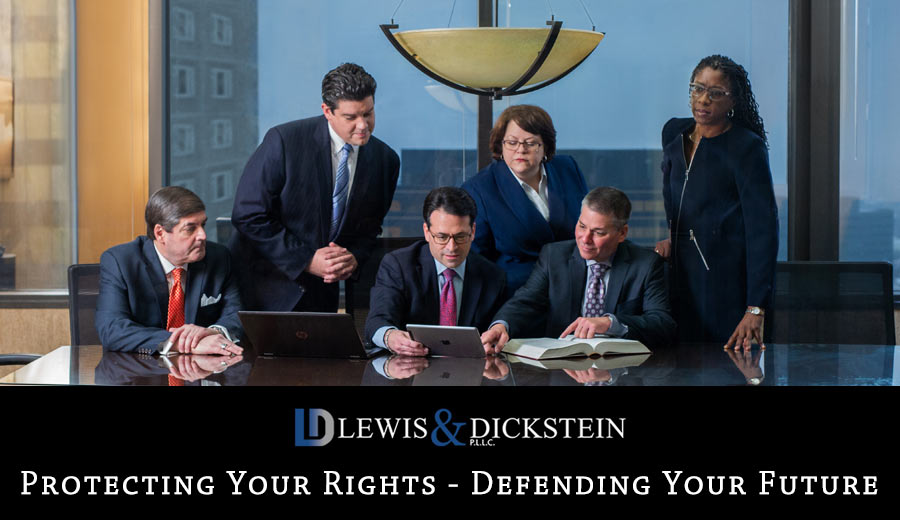 The 41B District Court in Clinton Township has three judges. The judges are Hon. Carrie Lynn Fuca, Hon. Linda Davis, and Hon. Sebastian Lucido. Matters addressed in this District Court are misdemeanors and felony charges that occurred in Mt. Clemens, Clinton Township, and Harrison Township.
Reputation and Results
The Clinton Township Criminal Defense Attorneys with LEWIS & DICKSTEIN, P.L.L.C. have a reputation in the 41B District Court as passionate advocates that obtain outstanding results for their clients. Judges, prosecutors, and police officers are aware that our elite criminal defense team is professional and well-prepared to counter criminal charges and demonstrate a solid defense for our clients.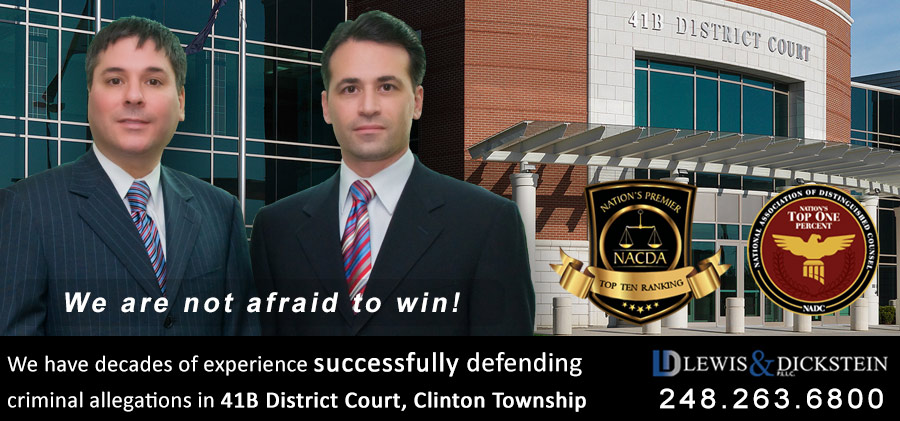 Criminal Charge – Misdemeanors and Felonies
The types of criminal charges that are heard in the 41B District Court are felonies and misdemeanors. However, felonies are initiated at this court level, but are adjudicated in the Macomb County Circuit Court. Offenses like Assault and Battery, OWI/DUI, Possession of Marijuana, Retail Fraud, and Disorderly Conduct are a few kinds of misdemeanors. Offenses such as Felonious Assault, Child Pornography, Larceny over $1000, Credit Card Fraud, and Criminal Sexual Conduct are some common felonies. The difference between misdemeanors and felonies is the punishment level. Misdemeanors are punishable by up to one year in the Macomb County jail and/or up to two years on probation. Felonies are punishments that may exceed one year and could include jail or prison time and up to five years of probation. Some felonies may merit a jail sentence of life.
Hiring a tenacious defense attorney with the know-how and successful track record in the 41B District Court can often reduce or avoid a jail or prison sentence for misdemeanor and felony charges. Our goal is to obtain a dismissal of all charges when possible.

Defense Attorneys in Clinton Township
Hiring a Clinton Township Defense Attorney with LEWIS & DICKSTEIN, P.L.L.C. guarantees that you will have an attorney that is highly experienced in the 41B District Court with an unrivaled scorecard of wins. Our reputation and performance in this district court are well known throughout Macomb County and allows us to obtain remarkable results. There are dozens of criminal defense lawyers in Clinton Township. However, none can compare to our specialized team of criminal defense attorneys that are dedicated to your defense in the 41B District Court.
Call us today at (248) 263-6800 for a free consultation, or complete a Request for Assistance Form and we will contact you promptly.
We will find a way to help you and, most importantly,
we are not afraid to win!