41B District – Clinton Township Criminal Defense Attorneys
If you need a respected and reputable criminal defense attorney in Clinton Township who achieves outstanding results in the 41B District Court, look no further than the defense team with LEWIS & DICKSTEIN P.L.L.C.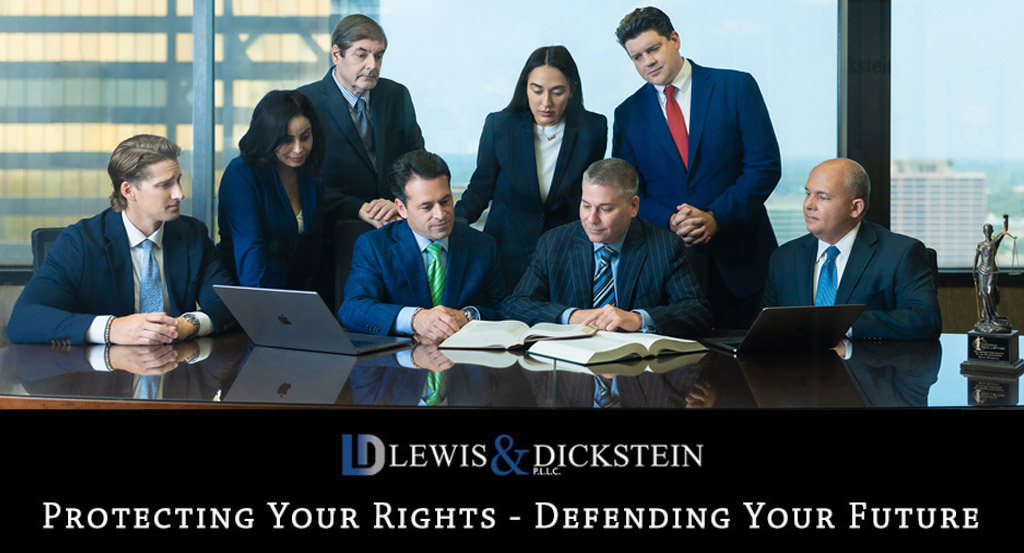 Clinton Township District Court
The 41B District Court in Clinton Township has three judges. The judges are Hon. Carrie Lynn Fuca, Hon. Linda Davis, and Hon. Sebastian Lucido. Matters addressed in this District Court are misdemeanors and felony charges in Mt. Clemens, Clinton Township, and Harrison Township. The Court's address is 22380 Starks Dr, Clinton Twp, MI 48036. The judges in Clinton Township are conservative but known for respecting the rights of litigants appearing before the judges on felony and misdemeanor matters. Here is what you need to know about getting the best possible criminal defense representation in the Clinton Township District Court.
Reputation and Results in the 41B District in Clinton Township
The Clinton Township Criminal Defense Attorneys with LEWIS & DICKSTEIN, P.L.L.C. have a reputation in the 41B District Court as passionate advocates that obtain outstanding results for their clients. Judges, prosecutors, and police officers know that our elite criminal defense team is professional and well-prepared to counter criminal charges and demonstrate a solid defense for our clients. We have successfully represented clients with the following criminal charges in Clinton Township and Macomb County:
Retail Fraud 1st, 2nd, and 3rd Degree
OWI/DUI (Operating While Intoxicated and all related charges)
Domestic Violence and Aggravated Domestic Violence
Assaultive crimes such as assault and battery, felonious assault, aggravated assault, assault with intent to do great bodily harm, and more
Weapon offenses include Carrying a Concealed Weapon (CCW), Reckless Discharge of a Firearm, Felony Firearm, Felon in Possession of a Firearm, and more.
Drug and Controlled Substance Offenses include possession, delivery, manufacture, and intent to deliver.
Traffic felonies, misdemeanors, and civil infractions, including reckless driving, DWLS, civil infraction causing death or serious bodily injury, involuntary manslaughter, careless driving, no proof of insurance, and more.
White-collar crimes such as embezzlement, fraud, conspiracy, etc.
Larceny, robbery (armed and unarmed), and all theft offenses.
Child Pornography, CSAM, Accosting a Child for Immoral Purposes, Child Abuse, Child Sexually Abusive Activity, Criminal Sexual Conduct, etc.
And many others.
Contact us for a free consultation, and we can discuss our experience with any charges you face.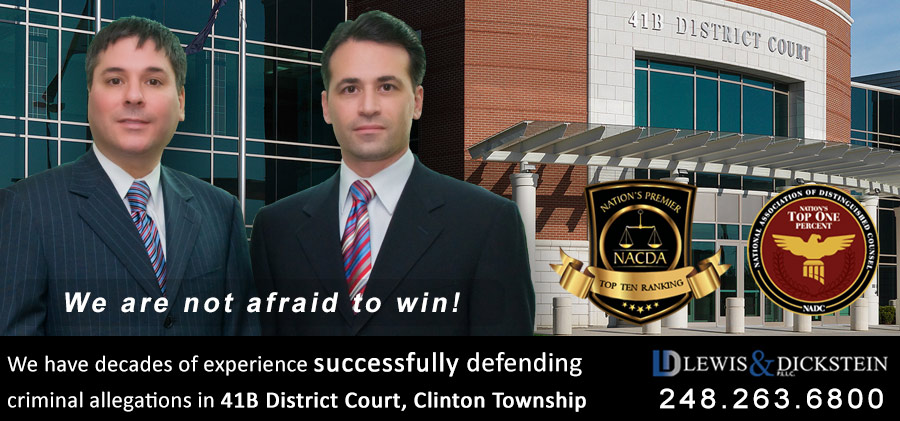 Criminal Charge – Misdemeanors and Felonies
The types of criminal charges heard in the 41B District Court are felonies and misdemeanors. However, felonies are initiated at this court level but are adjudicated in the Macomb County Circuit Court. Offenses like Assault and Battery, OWI/DUI, Domestic Violence, Retail Fraud, and Disorderly Conduct are misdemeanors. Misdemeanors are punishable by up to one year in the Macomb County jail, two years of probation, and fines.
Crimes such as Felonious Assault, Child Pornography, Larceny over $1,000, Credit Card Fraud, and Criminal Sexual Conduct are felony offenses. The difference between misdemeanors and felonies is the potential punishment. Felonies carry potential sentences exceeding one year in jail and up to five years of probation. Some felonies may have the potential of decades and up to life in prison.
Hiring a tenacious defense attorney with the know-how and successful track record in the 41B District Court can often reduce or avoid a jail or prison sentence for misdemeanor and felony charges. Our goal is to obtain a dismissal of all charges when possible.
Reducing Felony Charges to Misdemeanors in Clinton Township's 41B District Court
Some defendants are wrongfully charged and must fight for an acquittal at a jury trial; however, others are overcharged, or circumstances are such that a prosecutor might agree to a favorable plea bargain for a misdemeanor or reduced offense. There are many reasons why a prosecutor might agree to reduce a charge from a felony to a misdemeanor or a civil infraction (a non-criminal offense), such as:
week or illegally obtained evidence,
witness unavailability or unreliability issues,
viable scientific or medical defense,
evidence credibility problems, and
an aggressive, reputable defense lawyer fighting tenaciously for a favorable resolution.
New attorneys, lawyers known for getting clients to plead guilty, and many court-appointed lawyers are not a credible threat to the prosecution. Attorneys who gratuitously profess to be "friends" of the judges or prosecutors and entitled to "special deals" or guarantees are disreputable and known to have little credibility in court. The best plea bargains are obtained by criminal defense specialists, like those with LEWIS & DICKSTEIN, P.L.L.C., who are known trial lawyers with a reputation for being honest, uncompromising, and proficient.
Avoiding Jail and Convictions
Every person charged with a felony or misdemeanor has a lot at stake. Criminal convictions have dire direct and collateral consequences that must be avoided at all costs. For example, a person who is not a U.S. citizen might face deportation, inadmissibility, or be prevented from citizenship. A professional, like a lawyer or doctor, can face the loss or suspension of their professional license. The Defense Team with LEWIS & DICKSTEIN, P.L.L.C. treats all clients as though "everything" is on the line. We will do whatever it takes to obtain the best possible result. Our lawyers have a command of all statutes, court rules, and laws that can be used to help clients avoid convictions and incarceration. Even when the evidence is overwhelming, and it seems like all hope is lost, we can find a way to help! Don't give up or trust your fate to the lowest bidder when our team can work to develop options and get you results others might not be able to achieve.

Defense Attorneys in Clinton Township
Hiring a Clinton Township Defense Attorney with LEWIS & DICKSTEIN, P.L.L.C. guarantees that you will have an attorney highly experienced in the 41B District Court with an unrivaled scorecard of wins and successes. Our reputation and performance in this district court are well known throughout Macomb County, allowing us to obtain consistent, remarkable results. There are dozens of criminal defense lawyers in Clinton Township. However, none can compare to our team of criminal defense attorneys dedicated to your protection and defense in Clinton Township's 41B District Court. If you call us for a free consultation, we will answer your questions, address your concerns, and discuss how we can help you.
Call us today at (248) 263-6800 for a free consultation or complete an online Request for Assistance Form. We will contact you promptly and find a way to help you.
We will find a way to help you and, most importantly,
we are not afraid to win!

Information about Clinton Township, Michigan
Clinton Township is a suburban community located in Macomb County, Michigan. It is a rapidly growing township with a population of over 100,000 residents. The township is conveniently situated close to major metropolitan areas such as Detroit, making it attractive for those who desire a more suburban lifestyle with access to extensive city amenities. The township has various parks and recreational facilities, including the Clinton River Trail, popular among hikers, bikers, and joggers. Clinton Township is also home to several shopping centers, restaurants, and entertainment options, making it a desirable destination for residents and visitors.
In addition to its convenient location and recreational opportunities, Clinton Township is known for its excellent schools. Several highly-regarded school districts, including the Chippewa Valley Schools and the Clintondale Community Schools, serve the township. These districts offer a wide range of educational opportunities for students of all ages, from early childhood education programs to advanced placement courses for high school students. As a result, Clinton Township has become a popular destination for families with children who prioritize education and academic achievement. Overall, Clinton Township is a thriving community with a high quality of life, making it a great place to call home.