41B District Court – Clinton Township, Michigan
The Clinton Township District Court serves Harrison Township, Clinton Township, and Mt. Clemens other central Macomb County jurisdictions.
The 41B District Court is located at 2380 Starks Drive, Charter Twp. of Clinton, Michigan. This court handles approximately 45,000 a year. There are three judges and one magistrate.
Misdemeanor offenses that are heard in the 41B District Court can include drunk driving, OWI, DUI, retail fraud, embezzlement, domestic violence, marijuana possession, assault and battery, disorderly person, obstructing a police officer, and various traffic offenses such as driving while license suspended, and so much more. Felony offenses begin with the District Court and some of the offenses are drunk driving 3rd offense, identity theft, credit card fraud, rape and murder.
The judges of the 41B District Court are former prosecutors and private practice attorneys. Their experience with the legal system is extensive. Some attorneys believe that these judges will not place first offenders in jail or to expect lesser charges through a plea bargain. This couldn't be farther from the truth. Only a respected and skilled attorney can assist with getting you the best achievable outcome possible. Attorneys that mislead and attempt to predict how a judge will rule should raise a red flag. A top criminal defense lawyer gives the best chance of avoiding jail and a conviction.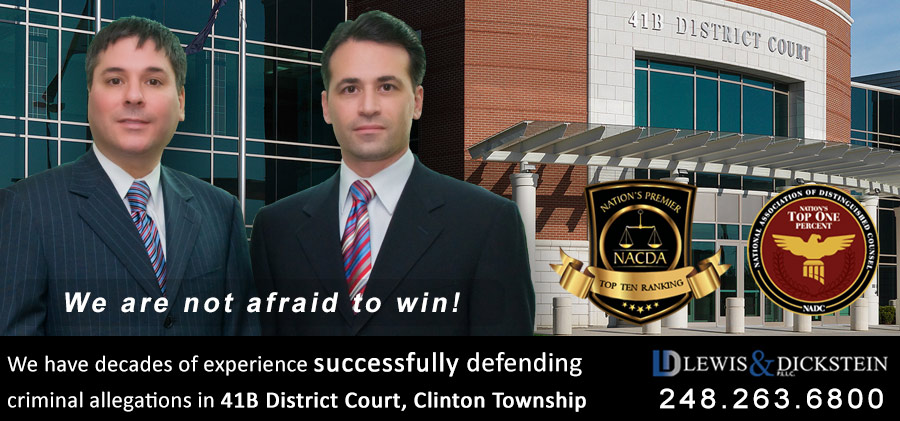 The Judges of the 41B District Court:
Judge Carrie Lynn Fuca
Judge Fuca was elected to the bench in 2010. She created and presides over the 41B Veteran's Treatment Court.
Judge Linda Davis
Judge Davis was appointed by appointed by Governor John Engler in 2000. She received her Bachelor of Science and Master of Science from Oakland University. Judge Davis obtained her Juris Doctor from Wayne State University School of Law.
Judge Sebastian Lucido
Judge Lucido 41-B District Court was appointed appointed by the Governor in June 2005. He received his Juris Doctor Degree from Thomas M. Cooley Law School, Lansing, MI in January 1996. Judge Lucido obtained his Bachelor of Arts in Criminal Justice from Michigan State University, East Lansing, MI in December 1989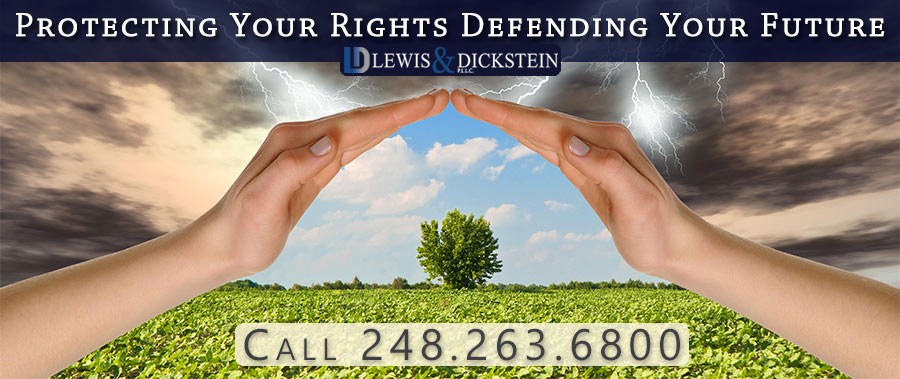 Criminal Defense Attorneys in Clinton Township that Get Great Results
LEWIS & DICKSTEIN, P.L.L.C. has an excellent track record for defending clients in Clinton Township and accomplishing great results. Do not rely on someone telling you that these judges are soft, because they are far from it. If you've been charged with a crime in Clinton Township, contact us today at (248)263-6800, or fill out a Request for Assistance Form and we will promptly contact you. We are NOT afraid to win!


"We will find a way to help you and, most importantly,
we are not afraid to win!"
– LEWIS & DICKSTEIN, P.L.L.C.