41B District Court – Clinton Township, Michigan
The Clinton Township District Court serves Harrison Township, Clinton Township, Mt. Clemens, and other central Macomb County jurisdictions.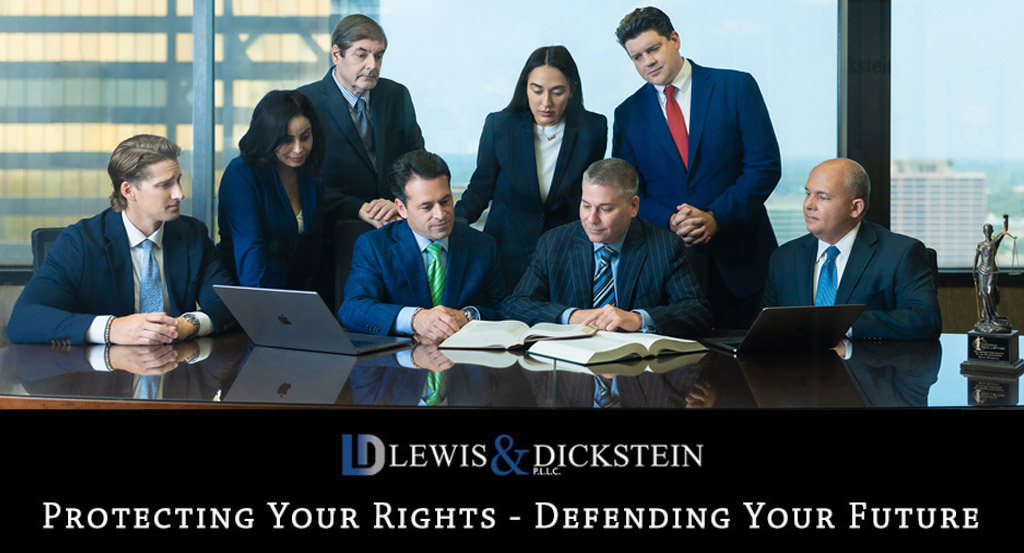 What You Need To Know About the 41B District Court
The 41B District Court is located at 2380 Starks Drive, Charter Twp. of Clinton, Michigan. This court handles approximately 45,000 a year. There are three judges and one magistrate. Everyone entering the 41B District Court is subject to a search. Upon entering the court, visitors must walk through a metal detector. Court staff might inspect purses, handbags, briefcases, and any items brought into the building.
Prohibited items include, but are not limited to, the following:
Firearms and ammunition
Knives and cutting instruments of any size, shape, or type (box cutters, razors, etc.)
Nail files or nail clippers
Needles of any type
Marijuana
Any type of chemical sprays, such as Mace or pepper spray
Criminal Cases in the Clinton Township District Court
Misdemeanor offenses in the 41B District Court can include drunk driving, OWI, DUI, retail fraud, embezzlement, domestic violence, drug possession, assault and battery, disorderly person, obstructing a police officer, and various traffic offenses such as driving while license suspended, and so much more. Felony offenses begin with the District Court, including OWI – 3rd offense, weapons crimes, white–collar offenses, healthcare fraud, home invasions and burglary, embezzlement, larceny, identity theft, credit card fraud, criminal sexual conduct, most crimes against children, child pornography, and homicide.
Both felony and misdemeanor cases begin with an arraignment hearing. At the arraignment, the judge sets bond and advises the defendant of their charges and maximum penalties. It is essential that the defendant is represented by competent, experienced defense counsel at the arraignment to ensure they are not detained and remanded into the custody of the Macomb County Sheriff.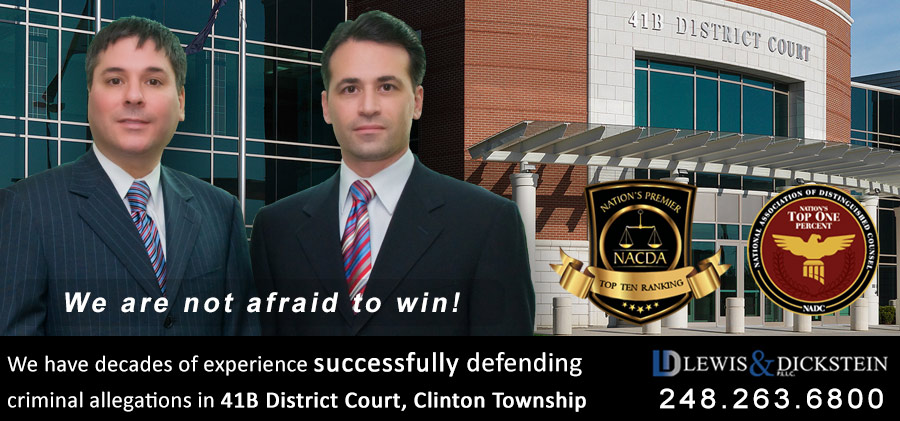 What is the process for misdemeanors in the 41B District Court?
The 41B District Court has jurisdiction over all misdemeanors allegedly committed in Clinton Township, Harrison Township, and Mt. Clemens. Here's a general overview of the process for misdemeanors in Michigan District Courts:
Arrest or Citation: A person may be arrested for a misdemeanor offense or, depending on the offense, may receive a citation or appearance ticket with a date to appear in court.
Arraignment: This is the first appearance in court where the defendant is informed of the charges against them. The judge will also inform the defendant of their rights, including the right to counsel. During the arraignment, the judge sets bail, and the defendant must enter a plea (guilty, not guilty, or stand mute).
Pre-Trial: The case will move to a pre-trial stage if a not-guilty plea is entered. During this phase, the defense and prosecution may discuss the possibility of a plea bargain, evaluate evidence, and consider motions to dismiss or suppress evidence. The defendant can change their plea to guilty during this phase if they accept a plea deal.
Trial: If no plea agreement is reached during the pre-trial stage, the case will proceed to a bench or jury trial. In misdemeanor cases, the trial is typically before a jury trial, unless a trial before a judge (bench trial) is requested.
Verdict: At the conclusion of the trial, the judge or jury will deliver a verdict of guilty or not guilty.
Sentencing: If the defendant is found guilty, the court will proceed to sentencing. The judge will impose penalties appropriate to the misdemeanor charge. Misdemeanor sentences in Michigan can range from fines and years of probation to one year in the Macomb County Jail.
Appeal: If the defendant believes a legal error was made during the trial or plea process, they have the right to appeal the decision to the Macomb County Circuit Court.
It's important to note that while this provides a general overview, the specific process can vary based on the nature of the misdemeanor, the details of the case, and other factors. Consulting with a top Clinton Township defense attorney, such as the lawyers with LEWIS & DICKSTEIN, P.L.L.C., can offer more precise guidance tailored to a specific situation.
What is the process for felony prosecutions in Clinton Township?
In Macomb County, while felonies are ultimately tried in the Macomb County Circuit Court, the 41B District Court plays a significant role in the initial stages of felony cases within its jurisdiction. Here's a generalized overview of the felony process:
Arrest: A person suspected of committing a felony (any offense punishable by one year or more) is arrested and taken into custody. In some cases, an arrest warrant is issued by a District Court judge or magistrate.
Arraignment: The defendant is brought to a District Court for arraignment. During this initial appearance, the defendant is informed of the charges, advised of their rights, and bail may be set. The defendant will enter a plea, typically "not guilty," at this stage.
Probable Cause Conference (PCC): Within a week or two after the arraignment, a probable cause conference is held. This is an opportunity for the defense and prosecution to discuss the case, consider plea options, resolve discovery disputes, and address other pre-exam issues.
Preliminary Examination: Within 21 days after the arraignment, a preliminary examination is held or waived. This is a crucial hearing where the prosecution must present evidence to establish probable cause that the defendant committed a felony. It's a sort of "mini-trial" where the prosecution presents witnesses and evidence. At the conclusion of the preliminary examination hearing, the judge determines if there's sufficient evidence for the case to be "bound over" to the Macomb Circuit Court for trial. If there's insufficient evidence, the charges are dismissed or reduced to misdemeanors.

The Judges of the 41B District Court
The Clinton Township District Court judges are former prosecutors and private practice attorneys. Their experience with the legal system is extensive. Some attorneys believe these judges will not place first offenders in jail or expect lesser charges to be freely given through a plea bargain. This couldn't be farther from the truth. Only a respected and skilled attorney can assist with getting you the best achievable outcome possible. Attorneys that mislead and attempt to predict how a judge will rule should raise a red flag. A top criminal defense lawyer gives the best chance of avoiding jail and a conviction.
Judge Carrie Lynn Fuca
Judge Fuca was elected to the bench in 2010. She created and presided over the 41B Veteran's Treatment Court. Judge Fuca has experience in private practice and as a successful business owner in Macomb County. She is extremely involved in the community and volunteered for various community organizations as a guest speaker and participant in multiple charitable organizations.
Judge Sebastian Lucido
The Governor appointed Judge Lucido 41-B District Court in June of 2005. Judge Lucido received his Juris Doctor Degree from Thomas M. Cooley Law School, Lansing, MI, in January 1996. He has experience as a practicing attorney and in the Michigan Senate. He is a member of the Italian American Bar Association, Macomb County Bar Association, Macomb County District Judge's Association, Michigan District Judge's Association, and the State Bar of Michigan.
Judge Jacob Michael Femminineo, Jr.
Judge Femminineo received his Juris Doctorate at Detroit College of Law, Detroit, Michigan, in January 1995. He has extensive experience in private practice. Judge Femminineo served as the youngest President in the now 104-year history of the Macomb County Bar Association. He is very involved in the community and has served in the Mt. Clemens Planning Commission; he was the Charter Commissioner for District 17 and even served as a Meals on Wheels driver.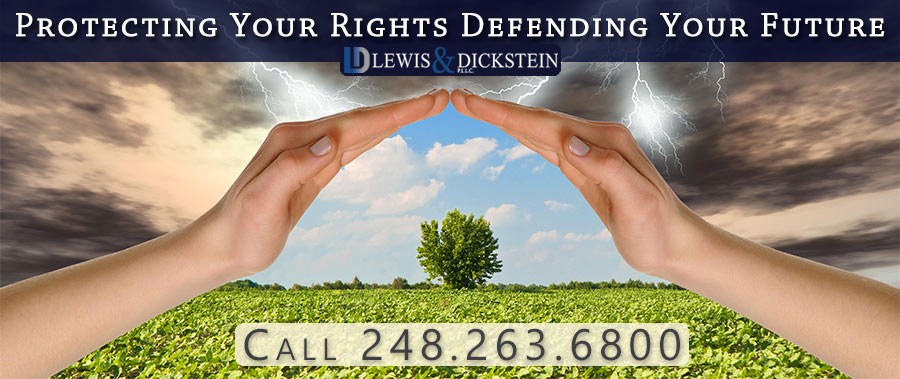 Macomb County Criminal Defense Attorneys Who Achieve Great Results
LEWIS & DICKSTEIN, P.L.L.C. has an excellent track record for defending clients in the 41B District Court in Clinton Township and accomplishing great results. Do not rely on someone telling you these judges are soft because they are far from it. If you've been charged with a crime in Clinton Township, contact us for a free consultation, and we will take the time to talk with you, answer all of your questions, and address each of your concerns. We are NOT afraid to win!
Call us today at (248) 263-6800 for a free consultation or complete a Request for Assistance Form. We will contact you promptly and find a way to help you.
We will find a way to help you and, most importantly,
we are not afraid to win!

General Information About Clinton Township, Michigan
Clinton Township is situated in Macomb County, Michigan, and is known for being one of the most populous townships in the state. It is a living testament to the region's rich history and growth. It started as an agricultural area in the early 19th century and evolved into a mix of residential, commercial, and green spaces. The township boasts many amenities, including parks and recreational facilities, shopping centers, and dining establishments. The Civic Center is the central point for community events, while historical landmarks such as the Clinton-Kalamazoo Canal provide a glimpse into its storied past. As part of the greater Detroit metropolitan area, Clinton Township offers the best of both worlds with suburban living and easy access to urban conveniences and attractions.