Michigan Criminal Defense – Client Distinction Award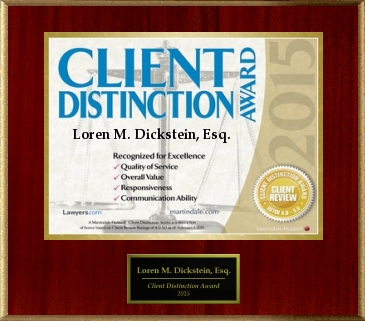 Loren Dickstein, a senior partner in the premier criminal defense law firm, LEWIS & DICKSTEIN, P.L.L.C., has been honored with a 2015 Martindale-Hubbell® Client Distinction Award. According to Martindale-Hubbell, less Than 1% of 900,000+ attorneys in the United States get this prestigious award. Very few criminal defense lawyers in Michigan have been given this accolade.   In the area of Michigan Criminal Defense – Client Distinction Awards are high and notably rare honors.
Mr. Dickstein's Martindale-Hubbell® Peer Review Rating is AV Preeminent. Peer Review Ratings are an objective indicator of a lawyer's high ethical standards and professional ability, generated from evaluations of lawyers by other members of the bar and the judiciary in the United States. AV preeminent is a significant rating accomplishment – a testament to the fact that a lawyer's peers rank him or her at the highest level of professional excellence.
Mr. Dickstein and his team with LEWIS & DICKSTEIN, P.L.L.C. have been specializing in felony and misdemeanor criminal defense and related fields in Michigan. Their team's mission statement is:
Aggressive, effective and innovative criminal defense geared at all times towards fearlessly protecting the client's rights, freedom and finances. Our clients can expect to be provided the highest level of legal representation at a fair price and to be treated with the respect and dignity they deserve.
Mr. Dickstein and his team provide free consultations in cases in the following areas:
DUI/OWI/Operating While Intoxicated
Violent Crimes
White Collar Crimes
Assault Crimes
Appeals – State and Federal
Child Abuse
Retail Fraud/Shoplifting
Sex Crimes/Criminal Sexual Conduct
Theft/Larceny
Expungements
Burglary/Robbery
Domestic Violence
Drug Crimes (Possession, Delivery, Etc…)
Federal Offenses
Felonies and Misdemeanors
Weapons Charge (CCW, Felony Firearm)
Driver's License Restoration
Expungement
Probation Violations
Pre-Charge Intervention
You can reach the law firm of LEWIS & DICKSTEIN, P.L.L.C. at (248) 263-6800 or complete a Request for Assistance Form and a highly experienced criminal defense lawyer will promptly contact you.