35th District Court in Plymouth Township
The Plymouth District Court serves Canton, Northville Township, Northville City, Plymouth Township, and Plymouth City.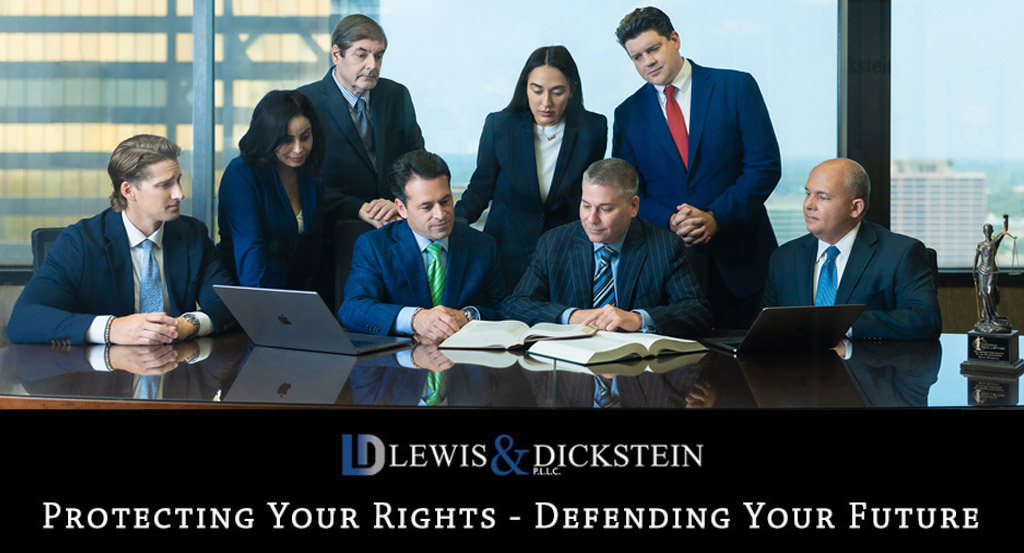 Plymouth District Court Location and Important Information
The 35th District Court in Plymouth is located at 660 Plymouth Road and serves Canton, Northville Township, Northville City, Plymouth Township, and Plymouth City. The jurisdiction of this District Court reaches throughout upper Wayne County. The court processes approximately 36,000 cases each year. The majority of their cases are misdemeanors and felonies. The Court is open Monday thru Friday from 8:30 AM to 4:25 PM, except for state and federal holidays.
As with most district courts, the court has three departments. Civil division for legal disputes, traffic and criminal for tickets and criminal offenses, and a probation department for court supervision. Because they are a District Court, they are considered a court of limited jurisdiction, and only certain types of cases may remain there for processing, such as misdemeanors. For instance, a felony matter must be transferred to the Wayne County Circuit Court after some preliminary proceedings. There are three judges at this District Court.
Most Common Criminal Charges in the 35th District Court in Plymouth
The Plymouth District Court has jurisdiction over felonies and misdemeanors allegedly occurring in Canton, Northville Township, Northville City, Plymouth Township, and Plymouth City. The Wayne County Prosecutor's Office prosecutes cases under state law. The city and township attorneys handle misdemeanor ordinance violations.
Drug offenses: This can include possession, distribution, or manufacturing of controlled substances such as marijuana, cocaine, heroin, methamphetamines, or prescription drugs without a valid prescription.
Assault: This refers to intentional harm caused to another person, which can escalate to a felony charge depending on the severity of the injury or use of a deadly weapon.
Theft/Larceny: This refers to the unlawful taking of another person's property. When the property's value exceeds a certain limit, it becomes a felony.
Burglary: This involves entering a building unlawfully with the intent to commit a crime, typically theft.
Robbery: This refers to the use of force or threat to take someone's property.
Driving Under the Influence (OWI): Repeated OWI offenses or DUI incidents resulting in serious injury or death can be charged as felonies.
Fraud: This can include a wide range of activities like identity theft, credit card fraud, and insurance fraud.
Weapon offenses: This can include unlawful possession of a firearm, carrying a concealed weapon without a permit, or use of a weapon in the commission of a crime.
Domestic Violence: Repeated offenses or incidents resulting in severe injury can be charged as felonies.
Sexual Assault: This serious crime includes criminal sexual conduct, sexual contact with a minor, child pornography, accosting a child for an immoral purpose, and similar offenses.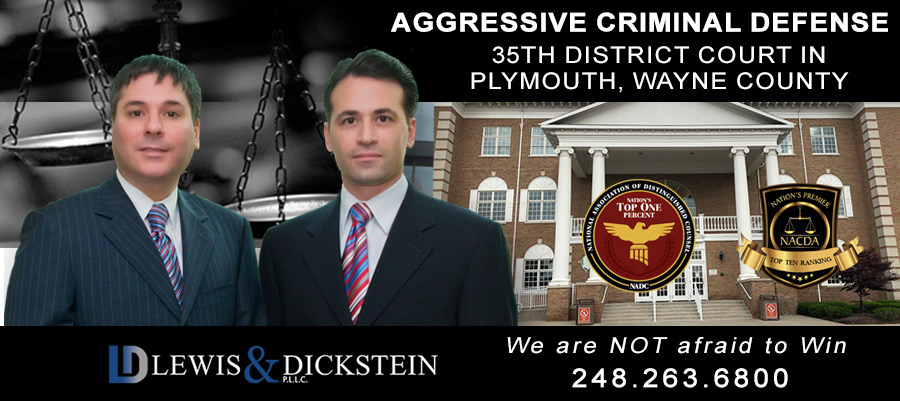 The Judges at the 35th District Court in Plymouth
Judge Michael Gerou
Michael Gerou was elected as a 35th District Court Judge in November 2002. Judge Gerou is also the Sobriety Court Judge in the 35th District Court. He also supervises and mentors legal interns at the court. Judge Gerou created the Teenage Choices and Legal Consequences pamphlet designed to help young offenders make better choices. He practiced law for more than 16 years before becoming a judge.
Judge Gerou earned his Bachelor's degree from Eastern Michigan University and his law degree from the University of Detroit School of Law and has attended the National Judicial College. He is a member of the Michigan Bar Association; Michigan District Judges Association; the Suburban Bar Association; American Judges Association; a past president of the Wayne County District Judges Association; a member of the Catholic Lawyers Society; serves on the board of the Incorporated Society of Irish-American Lawyers and is a graduate of both Leadership Plymouth and Leadership Canton programs.
Judge Ronald Lowe
Judge Lowe has served the 35th District Court since January 1995. In his early years on the bench, he assisted in or oversaw the drafting and implementation of the domestic violence program, the creation of our Law Day activities, the expansion of its outreach programs, the drafting of the court's juvenile court procedures, and the implementation of a formula for the payment of indigent attorney fees that resulted in generating revenues that fully fund the public defender.
Judge Lowe graduated from Plymouth-Salem High School. He received his undergraduate degree from Hillsdale College and his law degree from Thomas M. Cooley Law School. He is the Chair of the Center for Civic Education Through Law. He is a past President of the Michigan District Judges Association and the Thomas M. Cooley Law School Southeastern Michigan Alumni Association. He has served on the Michigan Judicial Institute and the Secondary Schools Civic Curriculum Project of the Open Justice Commission of the State Bar of Michigan. He is a past Chair of the State Bar of Michigan Law-Related Education Committee.
Judge James Plakas
On November 4, 2008, at 40, Jim Plakas became the sixth individual elected to the bench at the 35th District Court.
Judge Plakas was a Prosecutor, Assistant City Attorney, Criminal Defense Attorney, and Civil Litigator. He represented his clients in numerous District and Circuit Courts throughout Michigan, Federal District Courts in Michigan and Arkansas, and the U.S. 6th Circuit Court of Appeals in Cincinnati.
He obtained a Bachelor of Science Degree from Central Michigan University and his Juris Doctor from the University of Detroit School of Law.
Judge Plakas has been admitted as qualified to practice before the United States Supreme Court. He is a Member of the American Judges Association, the American Bar Association, and the Hellenic Bar Association. Judge Plakas has been a Licensed Builder with the State of Michigan since 1995.

Judges and Prosecutors in Plymouth Are Serious About Crime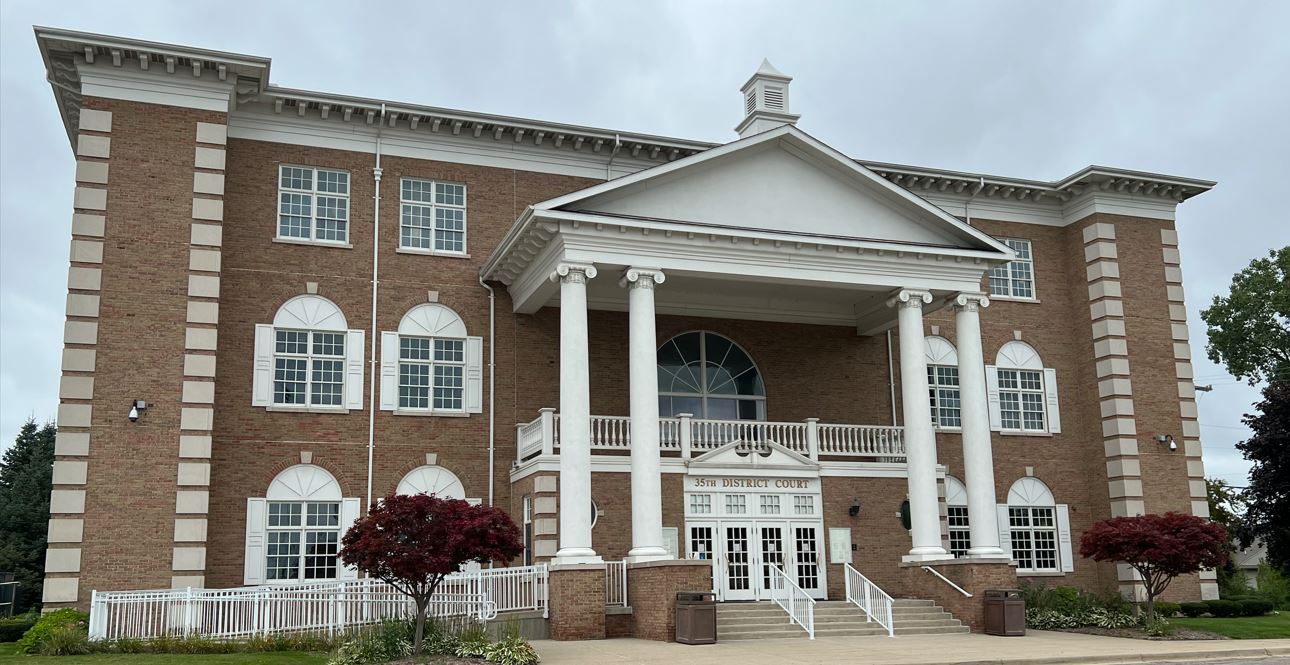 The judges in the 35th District Court are intense, and they take criminal offenses very seriously. This is not one of those courts where you can slip in and out with a slap on the wrist and a fine. They have a strong focus on providing a deterrent to discourage re-offending. This court has two specialty courts:  Sobriety Court and Domestic Violence Court. Specialty courts are designed to avoid re-offending. Your best defense against a harsh sentence, even jail time, is having a great criminal defense lawyer by your side.
Top Retained Criminal Defense Is Critical
The 35th District Court judges are known for being tough and crime. Having a zealous advocate by your side is your best chance at achieving an outstanding outcome, including the possibility of reduced or dismissed charges and avoiding incarceration. Trying to maneuver through this court with a court-appointed attorney, a budget lawyer, or an inexperienced attorney will jeopardize your freedom and rights. Having a highly respected criminal defense attorney who understands these judges will put the odds in your favor.
Misdemeanor Process
In Michigan, the process for misdemeanor charges generally starts with an arrest or citation, after which the accused person is often released with an order to appear in court. The first appearance in court is the arraignment. The judge or magistrate formally reads the charges at the arraignment, the defendant is advised of their rights, and they enter a plea. If the plea is not guilty, the case proceeds to a pretrial conference where the defense attorney and prosecutor discuss the case, review the evidence, and may negotiate a plea bargain. A trial date is set if a plea agreement isn't reached or the defendant wishes to go to trial. At trial, the prosecutor must prove beyond a reasonable doubt that the defendant committed the crime. If the defendant is found not guilty, they are free to go; if found guilty, the judge will impose a sentence, which for misdemeanors may include fines, probation, community service, or incarceration, typically for a year or less in a local jail.
Felony Process
The process for handling felony charges in Michigan at the district court level typically includes several key steps:
Arraignment: After an arrest, the defendant is taken before a district court judge for arraignment. During this proceeding, the defendant is informed of the charges against them, their constitutional rights, and the potential penalties if convicted. The defendant is also asked to enter a plea at this stage. If the defendant cannot afford an attorney, one will be appointed for them. Bail may be set during the arraignment.
Probable Cause Conference: The next step, typically within 7 to 14 days after the arraignment, is the Probable Cause Conference. This is a meeting between the prosecutor and defense attorney, allowing them to discuss the case, exchange information, and consider potential plea bargains. It is also an opportunity for the defense to challenge the prosecution's case or to argue for modifications to bail.
Preliminary Examination: This occurs within 5 to 7 days after the Probable Cause Conference unless it is waived by the defendant or if the court grants an extension. The preliminary examination is like a mini-trial where the prosecutor must present enough evidence to convince the judge that a crime was committed and there's probable cause to believe the defendant committed it. This is done by calling witnesses and presenting evidence, and the defense has the opportunity to cross-examine these witnesses. If the judge finds enough evidence, the case is "bound over" to the circuit court for trial. If not, the charges can be dismissed or reduced to a lesser charge.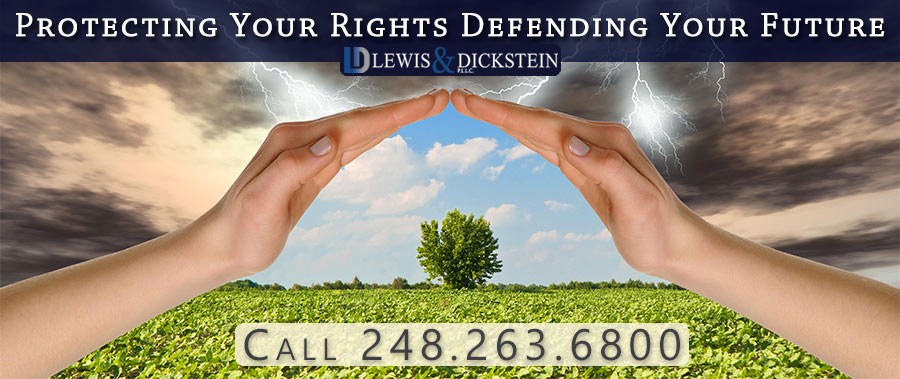 Experienced & Aggressive Criminal Defense Attorneys in Plymouth
If you face felony or misdemeanor charges in Plymouth's 35th District Court, contact LEWIS & DICKSTEIN, P.L.L.C. We have the experience and track record in Plymouth to defend you successfully. Utilizing a unique team approach, our defense attorneys have the skill, experience, and tenacity to deliver the highest level of defense available in Michigan. If you call us for a free consultation, we will take the time to talk with you, answer your questions, and work with you to develop a winning strategy. We are NOT afraid to win!
Call us today at (248) 263-6800 for a free consultation or complete a Request for Assistance Form. We will contact you promptly and find a way to help you.
We will find a way to help you and, most importantly,
we are not afraid to win!

Plymouth, Michigan – What You Need to Know
Plymouth, Michigan, is a small city known for its vibrant downtown and rich history. Nestled in Wayne County, Plymouth blends historic buildings and modern amenities, creating a unique atmosphere that attracts visitors and residents. The city is renowned for its numerous community events, including the Plymouth Ice Festival and Art in the Park, which showcases local talent and fosters a sense of community. Surrounded by beautiful parks and green spaces, Plymouth offers numerous recreational opportunities, from hiking to picnicking. Its strong educational institutions and safe, friendly neighborhoods make it an ideal place for families. Despite its growth, Plymouth maintains its small-town charm, making it a nice place to live, work, and visit.
History of the 35th District Court in Plymouth
The 35th District Court was established in 1963 by the Michigan Constitution and accompanying laws. This new Constitution introduced a hierarchical court system, with trial courts of limited jurisdiction or district courts. Dunbar Davis was the first Judge elected to the 35th District Court, taking office on January 1, 1969. Before the District Court system's creation, Judge Davis served as Plymouth's Municipal Judge.
The 35th District Court used to have locations in certain areas, such as Plymouth City Hall and Plymouth Township Hall. However, they recently added new locations in Northville City Hall and the former municipal courtroom in Plymouth City Hall. Initially, the court didn't have branches in Northville and Canton townships. But as the population and number of cases increased, it was decided that having a central court location would be more efficient than having multiple branches throughout the jurisdiction.
To address the challenges of consolidating the court, a Court Advisory Board (CAB) was established, with a representative from each community in the jurisdiction. The CAB decided to construct a new facility due to the high costs of renovating existing buildings in the district. Key issues that the CAB had to address included selecting a suitable site, financing the construction, and determining how to divide court expenses and revenues.
The Dunbar Davis Hall of Justice was established in 1981 to serve as the court for the 35th District. It was named after the first judge of the court. After Judge Davis retired in 1984, John MacDonald was elected to take his place. Judge Garber retired in late 1994 and was replaced by Ronald W. Lowe. In December 1996, the 35th District Court became the first in the state to handle juvenile ordinance and misdemeanor violations, following an agreement with the Wayne County Probate Court.
In 1997, a devastating fire destroyed the court. The CAB had to quickly decide on a temporary location while a new court was being built. Unisys kindly offered office space and later allowed the use of vacant property across the street where modular units were installed as a courthouse. The new courthouse was finally dedicated on September 13, 2000.