41A District Court – Sterling Heights, Michigan
This District Court serves the City of Sterling Heights and other Macomb County jurisdictions.
The 41A District Court is located at 40111 Dodge Park Road, Sterling Heights, Michigan. All traffic, misdemeanor offenses that happen in Sterling Heights will be adjudicated in this court. Felonies within the Sterling Heights jurisdiction will be initiated at the District Court. This court has a hefty caseload and is very active considering that this court deals with only one city. It has three judges and three magistrates.
Matters dealt with this court are divided into three departments depending upon subject matter. For instance, misdemeanors that can result in punishments up to one year will be addressed in the criminal division. Misdemeanor offenses are items like marijuana charges, retail fraud drunk driving, driving on a suspended license, assault and battery, etc. Felony offenses such as a drunk driving 3rd offense, felonious assault and the like will begin at the District Court level but will eventually be moved to the Macomb County Circuit Court. The civil division addresses legal disputes.  The Probation Department monitors individuals on court supervision.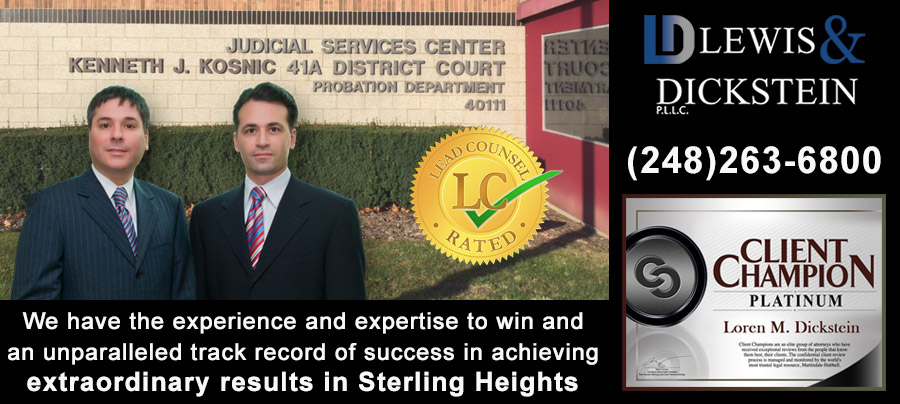 The judges in the 41A District Court are highly respected and have a reputation of being congenial. That, however, should not sway you from hiring a skilled and experienced criminal defense lawyer. These judges mean business and regardless of how nice you've heard they might be, they will dispense justice with a heavy hand. This is why you need to have someone there to help you protect your future and preserve your rights.
The Judges of the 41A District Court:
Michael S. Maceroni
 Michael S. Maceroni, served as magistrate for the 41-A District Court since 1986 and was elected as a 41-A District Court Judge in November 1996. He earned his bachelor's degree from Wayne State University and his Juris Doctor from Thomas M. Cooley Law School. He is a member of the American Judges Association, the Italian-American Bar Association, the American Trial Lawyers Association, the Michigan Trial Lawyers Association, Macomb County Bar Association and The Knights of Columbus.
Stephen S. Sierawski
Stephen S. Sierawski was elected 41A District Judge in 1998. He is a graduate of University of Notre Dame and Wayne State University Law School.He is a member of the Polish Advocate's Association, the Italian-American Bar Association, Macomb County Bar Association, and the Michigan State Bar
Kimberley A. Wiegand
Kimberley A. Wiegand was appointed to the 41A District Court on October 1, 2003 by Governor Jennifer Granholm. Judge Wiegand had served the community as a member of the Sterling Heights City Council from 1995-1997 and served as Mayor Pro Tem from 1997-1999. She earned her Bachelor's Degree from Michigan State University in 1985 and Juris Doctor from Detroit College of Law in 1990. She is a member of Michigan State Bar, Women Lawyers Association of Michigan, is Chairperson of the Utica area Community Action Team and currently serves on the Executive Board for the Michigan District Court Judges Association.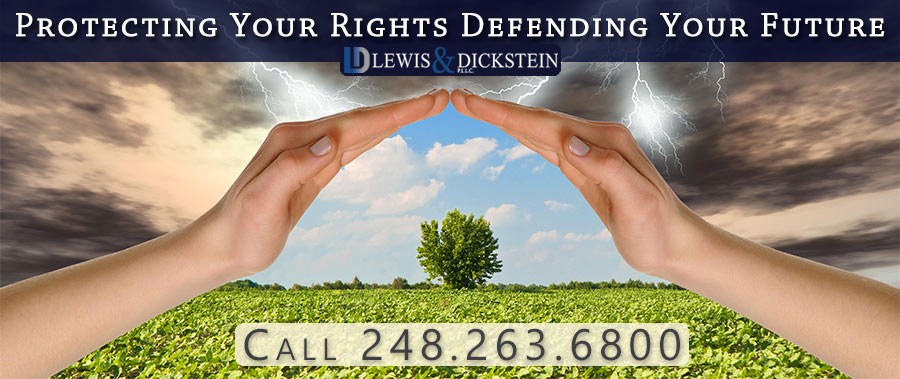 Experienced & Aggressive Criminal Defense Attorneys in Sterling Heights
We can help you if you are charged with a criminal offense in Sterling Heights. Contact LEWIS & DICKSTEIN, P.L.L.C. today at (248) 263-6800, or fill out a Request for Assistance Form and we will promptly contact you. We have the experience and track record in Sterling Heights to successfully defend you. Our legal team has the know-how and will get you the best possible result.

"We will find a way to help you and, most importantly,
we are not afraid to win!"
– LEWIS & DICKSTEIN, P.L.L.C.