The 52-1 District Court on Grand River in Novi, Michigan
The Novi District Court services 11 cities, townships, and villages. The Court has jurisdiction over minor civil matters, misdemeanors, and the early stages of felony prosecutions.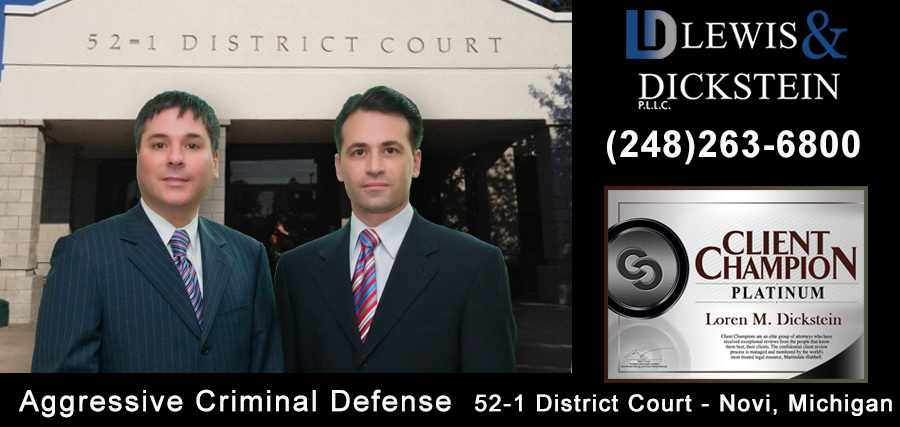 What You Need to Know About the 52-1 District Court in Novi, Michigan
The 52-1 District Court in Novi employs more than 50 full and part-time support staff members, three judges, and four part-time magistrates. Civil, Criminal, Traffic, and Probation are its four subdivisions. The Honorable Robert Bondy, Honorable Travis Reeds, and the Honorable David Law are the sitting judges of the 52nd District Court, First Division. The Court's address is 48150 Grand River Ave., Novi, MI 48375, and it is open from 8:30 a.m. to 4:30 p.m. The phone number is (248) 305-6460.
The four primary divisions include:
Traffic Division: Handles civil infractions and ordinance citations written by local police departments or the State Police.
Civil Division: Handles matters involving money or damage claims and landlord/tenant disputes.
Criminal Division: Handles criminal matters from local police departments, state law felony and misdemeanor violations, and ordinance prosecutions. Cases involving misdemeanor offenses, both traffic and non-traffic, and the early stages of felony matters, such as arraignment, probable cause conferences, and preliminary examinations.
Probation Department: Pre-sentence investigations, alcohol assessments, probation supervision, and initiating petitions for probation violations.
Civil Jurisdiction of the Court
The 52-1 District Court in Novi has exclusive jurisdiction of civil matters involving claims under $25,000 in the following areas:
Complaints and Controversies involving disputes, damages, and injuries under civil law
Landlord/tenant eviction proceedings
Land contract forfeitures
Garnishments and executions, and other related proceedings
The cities, townships, and villages covered by the district court include the following:
Commerce Township
Highland Township
Lyon Township
Milford Township
​Novi
Novi Township
South Lyon
Village of Milford
​Village of Wolverine Lake
Walled Lake
Wixom
Criminal Jurisdiction of the Court
The 52-1 District Court handles all criminal matters, called misdemeanors and ordinance violations, under state and local laws where the maximum penalty is one year or less in jail and two years or less of probation. Although many people believe the judges in Novi are heavy-handed, each is reasonable and will consider alternatives to jail when appropriate.
Misdemeanors in the Novi District Court
A misdemeanor is a criminal offense punishable by a maximum of one year in a county jail and two (2) years of probation. Most misdemeanors have maximum sentences of 93 days or less. The standard hearings in misdemeanor prosecutions include arraignment, pretrial, motions, trial, plea hearings, and sentencing.
Examples of misdemeanors in Novi include the following:
domestic violence
assault and battery
malicious destruction of property
larceny
embezzlement
reckless discharge of a firearm
possession of a firearm while intoxicated

Felony Prosecutions
The judges also conduct arraignments, bond violations, probable cause conferences, and preliminary examinations in all felony cases with a potential sentence exceeding one year. The District Court is also responsible for all traffic violations involving civil infractions and misdemeanors such as speeding, reckless driving, driving on a suspended license, and operating while intoxicated (OWI).
Arraignment: Arraignment is the first step in the court process for a felony and misdemeanor. The judge or magistrate advises the defendant of the charges and maximum penalty, receives the defendant's plea of guilty, not guilty, or no contest, determines if the defendant needs court-appointed counsel, and the judge sets a bond or bail. It is best to have a retained Novi Criminal Defense Attorney at the arraignment.
Probable Cause Conference: In felony cases, a probable cause conference occurs after arraignment and before a preliminary examination hearing. The purpose of the probable cause conference is to explore the possibility of an expedited resolution, accept any available plea bargain, or set a preliminary examination date.
Preliminary Examination: During the Preliminary Exam, the judge determines whether the prosecution has sufficient evidence to show the defendant probably committed a felony. If there is probable cause, the matter is sent or "bound over" to the Oakland County Circuit Court for trial.
Examples of felony charges in the 52-1 District Court
operating while intoxicated – 3rd offense
retail fraud – 3rd degree
felonious assault
homicide
embezzlement over $1,000, fraud, and other white-collar crimes
domestic violence – 3rd offense
drug delivery/manufacture or possession of a controlled substance
Special Programs
The Novi District Court judges can sometimes be persuaded to permit defendants to participate in special rehabilitative programs. Successful program completion can help a defendant avoid incarceration and a conviction. For example, the Court has Drug Treatment Court, Sobriety Court, Veterans Treatment Court, Teen Court, Misdemeanor Offender Program (also known as the Retail Fraud Education course), Traffic Safety School, and Assaultive Behavior programs.
Sentencing Options for 52-1 District Court Judges
For misdemeanor convictions, the District Court judges have several sentencing options, including jail, treatment, community service, etc. For example, the judges can order any of the following:
Jail (up to one year in some cases)
Probation (up to two (2) years)
Domestic Violence Counseling
Domestic Violence Women's Program
Inpatient Program
Intensive or Outpatient Substance Abuse Counseling
Life Adjustment Counseling
Outpatient Substance Abuse Counseling
Specialty Court participation
Drug and Alcohol Testing
Employment or Education,
Community Service,
Curfews,
No contact provisions, and much more.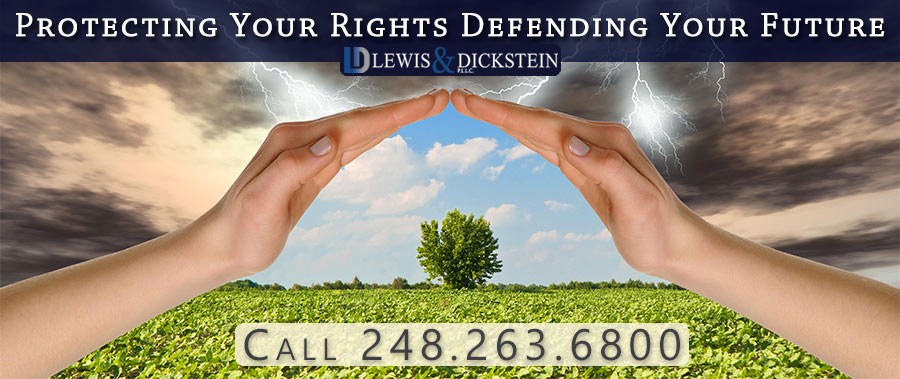 The Premier Novi Criminal Defense Law Firm
LEWIS & DICKSTEIN, P.L.L.C. is the premier criminal defense law firm helping clients in the 52-1 District Court. We have decades of experience and an unparalleled track record of successfully defending clients against felony and misdemeanor charges in the Novi District Court in Oakland County, Michigan. Because the judges and prosecutors know our reputation as top trial lawyers in the area, we can consistently deliver outstanding plea negotiations, sentence advocacy, and top-level trial work when necessary. Dismissal is always our top priority when possible. Call us for a free consultation. We will find a way to help you!
Call us today at (248) 263-6800 for a free consultation or complete a Request for Assistance Form. We will contact you promptly and find a way to help you.
We will find a way to help you and, most importantly,
we are not afraid to win!

History of the City of Novi
Novi is a city located in Oakland County, Michigan, and it is one of the fastest-growing cities in the state. With a population of over 60,000 people, Novi offers a great blend of suburban and urban living. The city is about 25 miles northwest of Detroit, making it an excellent location for people who want to enjoy the amenities of the big city while still enjoying the peace and tranquility of suburban living.
One thing that makes Novi a great place to live is its thriving economy. The city has a solid commercial and industrial base, with many businesses and corporations calling it home. The diverse business community provides residents with ample job opportunities and a vibrant and diverse business community. Novi is also home to several shopping centers and malls, including the Twelve Oaks Mall, one of the largest malls in the state.
Novi is also great for families, with excellent schools and parks. The Novi Community School District is known for its high-quality education programs. The city also has several parks and recreational areas, including Lakeshore Park and Maybury State Park, where residents can enjoy hiking, camping, and other outdoor activities.
In addition to its strong economy and family-friendly atmosphere, Novi has a rich history and cultural heritage. The city is home to several historical landmarks, including the Novi Depot, built in the late 1800s and served as a stop for the Michigan Central Railroad. Novi is also home to several cultural festivals and events throughout the year, including the Novi Memorial Day Run and the Novi Summer Carnival. An interesting historical bit of trivia is that Novi got its name from the railroad system. Novi was the sixth railroad stop away from Detroit, hence: No. VI, or Novi.