What to Consider When Getting Divorced in Michigan
If you are getting divorced and you live in Oakland County, Macomb County, Washtenaw County, Livingston County or Wayne County, you will want a Michigan divorce attorney to represent you. There are many issues to consider when filing for a divorce, such as property division, child custody and support, and separate maintenance. A knowledgeable, respected, and effective divorce attorney will have the knowledge and experience to help guide you through the divorce proceedings.
There are many factors to consider when deciding on the right Michigan divorce attorney. You will want a divorce lawyer who understands what your needs are and who will help you attain those goals. The cost of a divorce is also something you will need to consider. Attorney's fees can all differ from one another. You will need to decide if you want an attorney who charges by the hour or one who bills on a flat fee basis. Most family law lawyers charge by the hour. The key is finding a lawyer who cares more about you and your family than they do about the money.

When looking to hire a family law lawyer to represent you in your divorce or custody dispute, you should look for someone with the following qualities:
1. Excellent Communication
Communication with your divorce lawyer is critical. During your case, you will need to be able to talk about your concerns, and your lawyer should be able to answer all of your questions and address any issues you have. Your attorney will need to explain the essential issues in your case, areas of concern or strength, and honestly provide you with realistic expectations. An attorney who doesn't listen to you or explain things in a way you can understand cannot adequately represent you in court.
To obtain the best possible result in your case, your attorney's ability to communicate with your spouse and your spouse's attorney is also essential. Excellent communication between the attorneys can facilitate productive negotiation and keep costs down. Respected family law attorneys tend to know one another and work well together to facilitate fair resolutions. Conversely, you want a lawyer who can vigorously fight to protect you if necessary.
2. Skill And Experience
An ineffective, incompetent, or inexperienced lawyer can cause irreversible damage to you, your family, and your financial stability. It is essential to have a skilled, experienced lawyer. Your divorce case is likely to touch all aspects of your life-family, finances, children, career, etc. Your lawyer should be knowledgeable, experienced, and respected enough in his or her practice to deal with the complexities of your case and protect your interests.
3. Availability and Responsiveness
When considering an attorney to represent you in your divorce, look for someone who will be available when you need him or her and who will rely on other attorneys, not familiar with your case, to represent you in court. A good family law attorney should have support available if an issue comes up while your attorney is not available; however, you must not end up with someone who doesn't know your case or care about the outcome.
A good divorce lawyer should be available to timely respond to your questions, calls, and emails. It would be unrealistic to expect your attorney to treat you as if you are their only client; however, you should not be lost in a sea of clients, either.
4. Composure and Credible Confidence
Your attorney's ability to maintain self-control is not just about staying calm and focused with you, but also about exhibiting confident composure before the judge and with your spouse's lawyer. You should look for a divorce lawyer who will represent your interests vigorously, but who will maintain their composure even when things get difficult in negotiations or court hearings. To have credible confidence, as opposed to arrogance, a lawyer must maintain their reputation in the legal community as a top lawyer in the field. Your attorney should be focused, composed, and professional at all times. This is especially true when representing you in court.
5. Support And Resources
If a successful lawyer represents you, you will almost certainly not be his or her only client. Because your attorney is human, he or she will not always be immediately available to you when you have a question or concern. It can be frustrating when you have a concern, and someone is not promptly available to discuss your situation. You should look for an attorney who has qualified and helpful support staff to assist in the event of an emergency.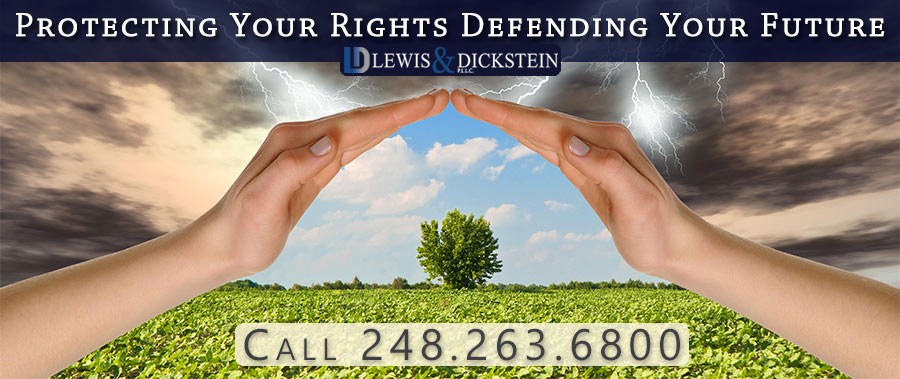 We Can Find the Best Divorce Lawyer to Help You
The attorneys at LEWIS & DICKSTEIN, P.L.L.C. have decades of experience in dealing with some of the best Michigan divorce attorneys. Please feel free to contact our offices at (248) 263-6800 or fill out a Request for Assistance Form, and one of our attorneys will contact you as soon as possible. We will take the time to listen to you and help find the right person for your particular situation.