The Legal Community Recognizes Loren Dickstein as an Elite Criminal Defense Lawyer
Loren Dickstein has been selected as a 2018 Elite Criminal Defense Lawyer. Only the most outstanding and experienced attorneys receive the Elite Lawyer Award. The Elite Lawyer Award is a prestigious honor that recognizes an attorney's achievements, skills, and experience in their practice areas. Loren is one of the top criminal defense attorneys in Michigan.
The Elite Lawyer's rigorous vetting process
means only the best attorneys are selected…
Elite Criminal Defense Lawyer
To become an Elite Criminal Defense Lawyer, an attorney must pass multiple screenings, including:
Active involvement in the legal industry and local community
Years of practice with positive client results
Peer and industry recognition
Testimonials
Good standing with affiliated bar associations
Demonstration of subject matter expertise
Written publications
Awards
As a client, selecting an Elite Criminal Defense Lawyer means choosing someone who has passed the standards of the Elite Lawyer Board of Directors and is an expert in their field.

Michigan Criminal Defense Attorney Loren M. Dickstein
Mr. Dickstein received his Juris Doctor from Wayne State University Law School and a Bachelor of Business Administration from Western Michigan University. He is admitted to practice law in all Michigan state courts, the United States District Courts for the Eastern and Western Districts of Michigan, and the United States Court of Appeals for the Sixth Circuit. He has also been admitted to practice in various courts throughout the United States. Before becoming a criminal defense attorney, Mr. Dickstein worked as a judicial clerk and legal research clerk for multiple circuit court judges. His previous experience working as a clerk in the Circuit Court gave him invaluable insight into the inner workings of the criminal justice system and the ability to work with the courts to achieve the best possible outcomes for his clients.
As a trial attorney, Mr. Dickstein's practice focuses on felony and misdemeanor charges in both state and federal courts. Mr. Dickstein is passionate about defending both the falsely accused and those treated unfairly by the authorities or the legal justice system. He has served as the lead trial attorney on numerous complex cases, and other lawyers hire him to assist in cases throughout Michigan. He has training from and courtroom experience with nationally prominent medical, psychological and scientific experts. Mr. Dickstein has obtained dismissals and 'not guilty' verdicts throughout Michigan.
He frequently participates in continuing legal education to keep himself updated on the most current laws, techniques, areas of expertise, and court rulings that might affect his clients. Mr. Dickstein's professional memberships have included the State Bar of Michigan, Criminal Law Section, National Association of Criminal Defense Lawyers, and Criminal Defense Attorneys of Michigan.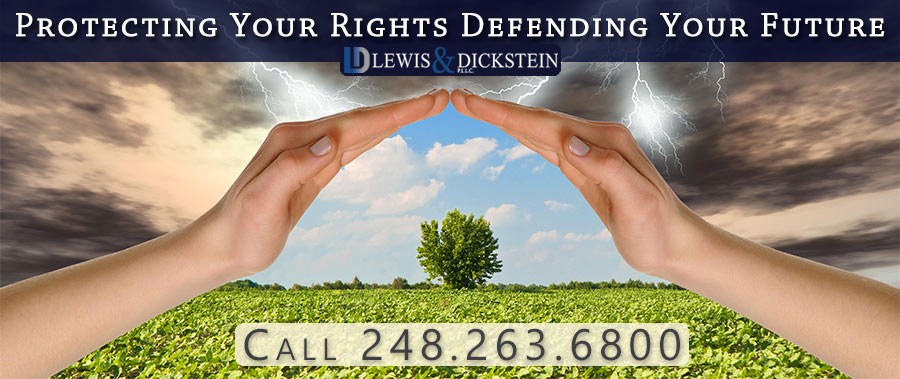 How would you like to be represented by a team of elite criminal defense lawyers?
Clients who hire LEWIS & DICKSTEIN, P.L.L.C. to defend them get a team of elite criminal defense lawyers to collaborate and jointly protect and defend them in court. Our practice theory is that no single lawyer, regardless of their experience or reputation, can achieve the same result as a team of lawyers working in unison with a shared mission of achieving an extraordinary outcome. We will do everything possible to get our clients to get charges dismissed or reduced and avoid harsh punishments, such as incarceration and lengthy probation.
Call us today at (248) 263-6800 for a free consultation or complete a Request for Assistance Form. We will contact you promptly and find a way to help you.
We will find a way to help you and, most importantly,
we are not afraid to win!