You Need an Effective Macomb County Criminal Defense Attorney
The Macomb County criminal attorneys with LEWIS & DICKSTEIN, P.L.L.C. are nationally recognized for their passionate representation of clients in Macomb County Circuit Court and the various Macomb County District Courts. Each and every member of our Macomb County Defense Team are dedicated to the zealous, tenacious and compassionate representation of those charged with a felony or misdemeanor in Macomb County, Michigan. We are adept at handling all aspects of criminal matters from pre-charge, charge, trial, appeal and post-conviction motions.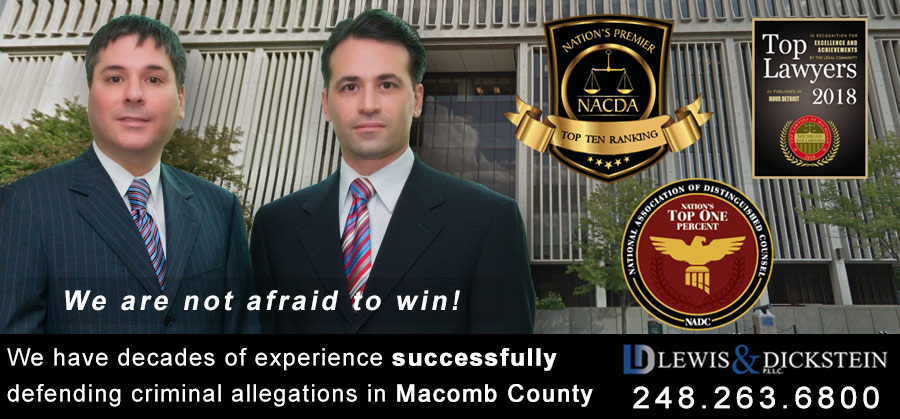 Helping You Avoid the Consequences of a Conviction
We know that the consequences to clients and their families due to criminal charges can be life changing in a tragic way. Good people who make a mistake should not have their future defined by an error in judgment, an addiction or a one-time mistake. It is for precisely this reason that our Macomb County criminal lawyers stop at nothing in order to protect our clients from being over prosecuted, falsely prosecuted or from being taken advantage by a prosecutor or a Macomb County judge who does not care enough to adequately consider our client's personal situation. We put forth our best possible effort in each of our cases and our highest priority is to achieve a dismissal of all charges if possible. When a dismissal is not possible, we will work tirelessly to reduce or eliminate jail time, avoid a criminal conviction and reduce or eliminate excessive and unfair terms and conditions of probation.

What Makes our Macomb County Defense Attorneys Different?
We have been able to achieve extraordinary results for our clients in Macomb County because we represent our clients in a way that is highly unique. While many lawyers practice on their own and firms are often made up of one experienced attorney who supervises various less experienced lawyers, LEWIS & DICKSTEIN, P.L.L.C. is made of a team of lawyers who all work together and each defense attorney has decades of experience. There is no firm anywhere in Macomb County that can match or equal or level of experience, passion and effectiveness.
We believe that building relationships and establishing an excellent reputation with Macomb County judges, prosecutors and court staff that has helped us achieve the best possible results for our clients. Through many years of aggressive and successful Macomb criminal defense work, we have built strong reputations as top defense lawyers. Our reputation and prior success in Macomb County has allowed us to get results for clients that most criminal attorneys would not have been able to achieve.
Call Today for a Free Consultation with a Macomb County Criminal Attorney
If you or someone you love is charged or accused of committing a crime in Macomb County, please call (248) 263-6800 for a free consultation or you can fill out a Request for Assistance Form and we will promptly contact you. We will do everything possible to help protect you, your family and your future.

"We will find a way to
help you and, most importantly,
we are not afraid to win!"
– LEWIS & DICKSTEIN, P.L.L.C.