Experienced Macomb County Criminal Attorneys
The Premier Macomb County Criminal Defense Law Firm. Protecting Those Charged or Accused of Felony and Misdemeanor Charges in Macomb County.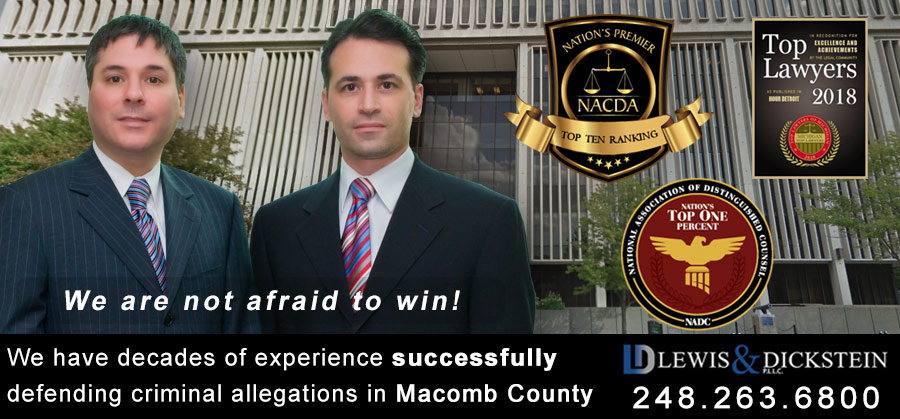 We've Successfully Defended Clients in Macomb County for Decades
The experienced Macomb County criminal attorneys with LEWIS & DICKSTEIN, P.L.L.C. practice in Macomb County courts daily and have vast experience successfully dealing with Macomb County judges and prosecutors. These Macomb County criminal defense lawyers are recognized nationally for their passionate representation of clients in the Macomb County Circuit Court and the various Macomb County District Courts. If you are looking for the best Macomb County criminal lawyer for you, please call LEWIS & DICKSTEIN, P.L.L.C., for a free consultation, and we will do everything possible to find a way to help you.
Our Macomb County criminal attorneys are dedicated to the passionate, tenacious, and compassionate representation of those charged with a felony or misdemeanor in Macomb County, Michigan. We are adept at handling all aspects of criminal matters from pre-charge, trial, appeal, and post-conviction motions. Regardless of your case's status, you can contact us for a second opinion, and we will find a way to help you.
The Consequences of a Conviction are Life-Changing
We know that the consequences to clients and their families due to criminal charges can be tragically life-changing. For precisely this reason, our Macomb County criminal lawyers stop at nothing to protect our clients from being over prosecuted, falsely prosecuted, or taken advantage of by a prosecutor or a judge. We will not stand for a judge who does not care enough to consider our client's personal situation adequately. We put forth our best possible effort in each of our cases, and our highest priority is to achieve a dismissal of all charges if possible. The level of experience, dedication, and zealousness you will find with LEWIS & DICKSTEIN, P.L.L.C.'s Macomb County Criminal Attorneys is unmatched.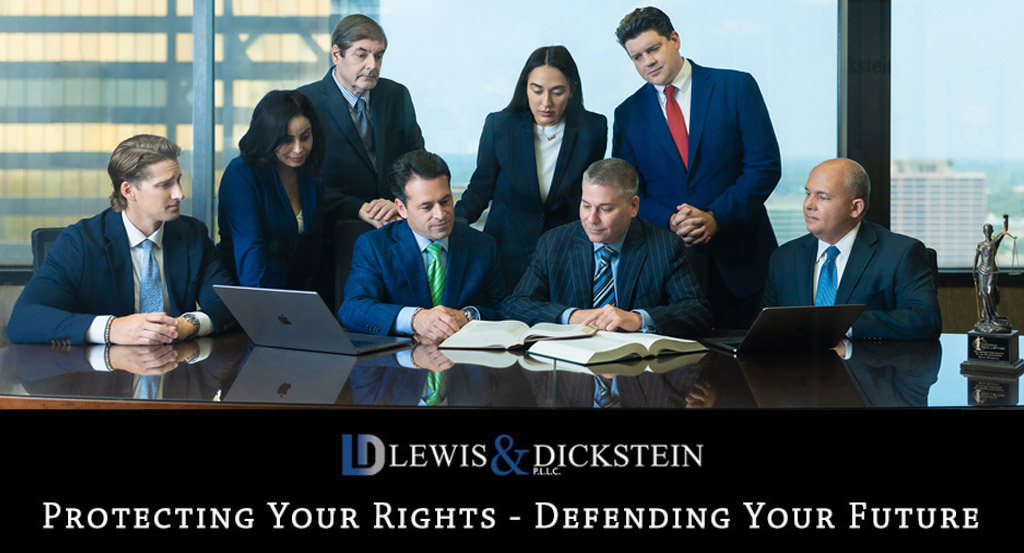 The Macomb County Circuit Court
The Macomb County Circuit Court is located at 40 N. Main St., Mt Clemens, MI 48043. Macomb circuit court judges are notoriously tough and harsh with individuals charged with criminal offenses; however, most of them will take the time to listen and consider arguments made by skilled, respected lawyers. Some lawyers say there is a presumption of guilt in Macomb County, and innocence must be proven. Many lawyers refuse to practice criminal defense in Macomb County and will not take cases in that jurisdiction. We have achieved extraordinary results for our clients through tenacious, aggressive, fearless, and zealous legal representation.
The Circuit Court in Macomb County serves Center Line, Eastpointe, Fraser, Grosse Pointe Shores, Memphis, Mount Clemens, New Baltimore, Richmond, Roseville, St. Clair Shores, Sterling Heights, Utica, Warren, Armada, New Haven, Romeo, Chesterfield Charter Township, Clinton Charter Township, Harrison Charter Township, Washington Charter Township, Bruce Township, Lenox Township, Macomb Township, Ray Township, Richmond Township, and Shelby Charter Township.

Polices and Practice of the Macomb County Prosecutor's Office
The Macomb County Prosecutor's Office is known for being almost militant in prosecuting cases regardless of whether there is substantial evidence of a person's guilt. Potential new clients frequently ask, "Why are they going after me like this?" The truth is that the prosecutors do not "go after" anyone, in particular; Macomb Prosecutors zealously go after all cases. Although it may seem like this is a good thing for Macomb County residents, the downside is tragic. Innocent people are sometimes wrongfully charged or overcharged, and the Macomb County Prosecutor is very reluctant to consider any possibility that a charge may be incorrect, a mistake, or inappropriate. An attorney must be tough, knowledgable, respected, and tenacious to persuade the prosecutor to consider an extraordinary plea bargain or sentence agreement in Macomb County.
We believe that building relationships and establishing an excellent reputation with Macomb County judges, Macomb County prosecutors, and court staff help us achieve the best possible results for our clients. Through many years of aggressive and successful Macomb criminal defense work, we have built reputations as highly successful, tireless, zealous, and effective Macomb County criminal defense lawyers. Our reputation and prior success in the Macomb County Circuit Court and the various Macomb County District Courts have allowed us to achieve results for clients that many of the best Macomb County criminal attorneys would not have been able to achieve.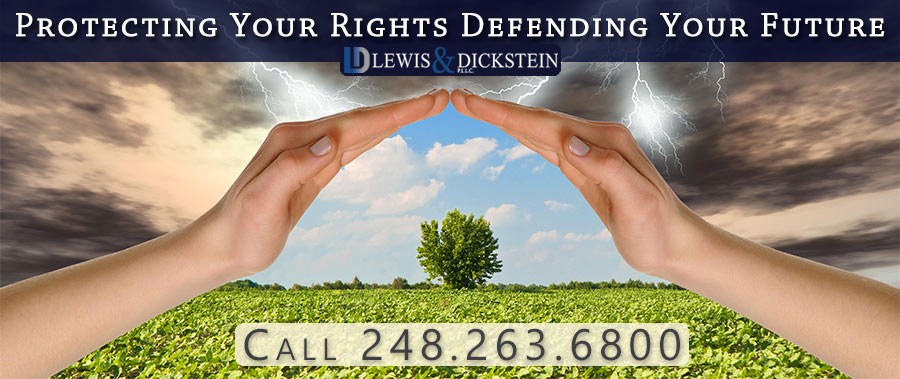 Free Consultation with a Macomb County Criminal Attorney
LEWIS & DICKSTEIN, P.L.L.C., the Macomb County Criminal Defense Firm, will give a free consultation to anyone charged with a Macomb County misdemeanor or Macomb County felony criminal offense, a PPO violation, or a violation of probation. If you call us, we will take the time to talk with you, answer all of your questions, and address each of your concerns. We will find a way to help you.
Call us today at (248) 263-6800 for a free consultation or complete an online Request for Assistance Form. We will contact you promptly and find a way to help you.
We will find a way to help you and, most importantly,
we are not afraid to win!

Macomb County Circuit Court Judges
James M. Biernat, Jr.
Matthew S. Switalski
Richard L. Caretti
Tracey A. Yokich
Mark S. Switalski
Edward A. Servitto, Jr.
Diane M. Druzinski
Kathryn A. Viviano
Jennifer M. Faunce
James M. Maceroni
Joseph Toia
Carl J. Marlinga
Michael Servitto
Rachel Rancilio
Julie Gatti
Macomb County Criminal Charges
Macomb County Impersonating a Police Officer
Macomb County Larceny by Conversion
Macomb County Felony Violation of Probation
Macomb County Failure to Register as a Sex Offender
Macomb County Resisting and Obstructing a Police Officer (Obstruction)
Macomb County Home Invasion First and Second Degree
Macomb County Breaking and Entering
Macomb County Vehicular Homicide
Macomb County Arson of Real Property
Macomb County Larceny by False Pretenses
Macomb County Racketeering
Macomb County Receiving and Concealing a Stolen Vehicle
Macomb County Aggravated Stalking
Macomb County Using a Computer to Commit a Crime
Macomb County Third Offense – OWI
Macomb County OWI Causing Serious Injury or Death
Macomb County Arson of Personal Property
A Diverse and Successful Criminal Defense Practice
The attorneys with LEWIS & DICKSTEIN, P.L.L.C. have successfully handled the following types of cases in the Macomb County Circuit Court and the various Macomb County District Courts:
Appeals – From District Court
Appeals – From the DLAD
Child Abuse
Aggravated Stalking
Sex Crimes (Criminal Sexual Conduct/CSC)
Rape (CSC)
Child Molestation
Theft (felonies)
Expungments
Child Neglect
Personal Protection Orders
Personal Protection Order Violations
Driver License Restoration
DLAD Appeals
Conspiracy to Commit a Felony
Receiving and Concealing Stolen Property
Accessory to a Felony
Home Invasion
Carrying a Concealed Weapon (CCW)
Fleeing and Eluding
Felony Credit Card Charges
Felony Violations of Probation (VOP)
Non-Sufficient Funds Check
Violent Crimes (felonies only)
White Collar Crimes
Murder (first and second degree)
Homicide
Manslaughter
Felonious Assault
Felonious Battery
Burglary
Robbery
Drug Crimes (Schedule 1 or delivery)
Controlled Substance Sales/Possession
Spousal Abuse (Third Offense)
DWI / Driving While Intoxicated – 3rd
Felonies
Misdemeanors (when with a felony file)
Failure to Pay Child Support
Breaking and Entering
False Pretenses
False Report of a Felony
Insurance Fraud
RICO
Bookmaking
Many Other State Criminal Trials and Charges