Macomb County Criminal Defense Attorneys
Experienced Lawyers Serving the Macomb County Area. Attorneys that Specialize in Criminal Defense and are Familiar with the Macomb County Court System.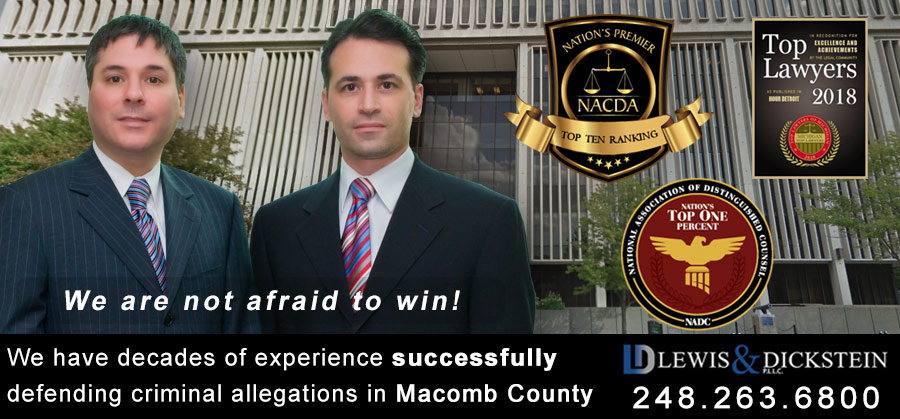 Your Best Defense is with a Macomb County Criminal Defense Specialist
General practice lawyers cannot provide a defense like Macomb County's top legal defense firm, LEWIS & DICKSTEIN, P.L.L.C. A lawyer that offers a multi-practice law firm cannot provide the specialized skills needed to understand, strategize, and get superior results for your criminal case. Felony and misdemeanor cases, including probation violations, require criminal defense attorneys with decades of experience in Macomb County. We have represented thousands of clients against misdemeanor and felony accusations and charges. LEWIS & DICKSTEIN, P.L.L.C. has a team of attorneys strictly dedicated to representing individuals in only criminal matters in Macomb County and Southeastern Michigan.
Macomb County Experts in Criminal Defense
The Macomb County defense lawyers with LEWIS & DICKSTEIN, P.L.L.C. have defended clients against criminal charges in :
St. Clair Shores,
Clinton Township,
Harrison Township,
Mount Clemens,
Warren,
Shelby Township,
Sterling Heights,
Utica and the surrounding areas.
Attorneys in the firm are extremely familiar with the Macomb County court system, including prosecutors, police departments, and judges. Knowing the lay of the land offers is a tremendous advantage in orchestrating a strategy for your case. Attorneys unacquainted with this particular venue cannot move your case through the system the way LEWIS & DICKSTEIN, P.L.L.C. can. Our firm's attorneys will represent you seamlessly from beginning to end in the Macomb County court system.

Precharge Investigation, Intervention, and Consultation
What if you are accused of a crime but not facing charges in court? Should you wait and see what happens? Is it too soon to hire a lawyer? What can a lawyer do to help you on a precharge basis? These are all questions people ask LEWIS & DICKSTEIN. P.L.L.C.'s Macomb County Criminal Defense Attorneys daily. Our lawyers have helped thousands of clients on a precharge basis avoid charges, face reduced charges, mitigate potential penalties, avoid arrest, and much more. We know what to do and who to connect with to provide effective damage control and keep you out of jail. Instead of taking a "wait-and-see" approach and then hiring a lawyer to defend you on unnecessarily severe charges from inside a jail cell, work with us, and we can potentially prevent or reduce charges. By intervening early in an investigation, we will likely be able to avoid your arrest so that you can voluntarily surrender if a warrant is issued. Call us for a Free Consultation, and we will work with you to develop a winning strategy.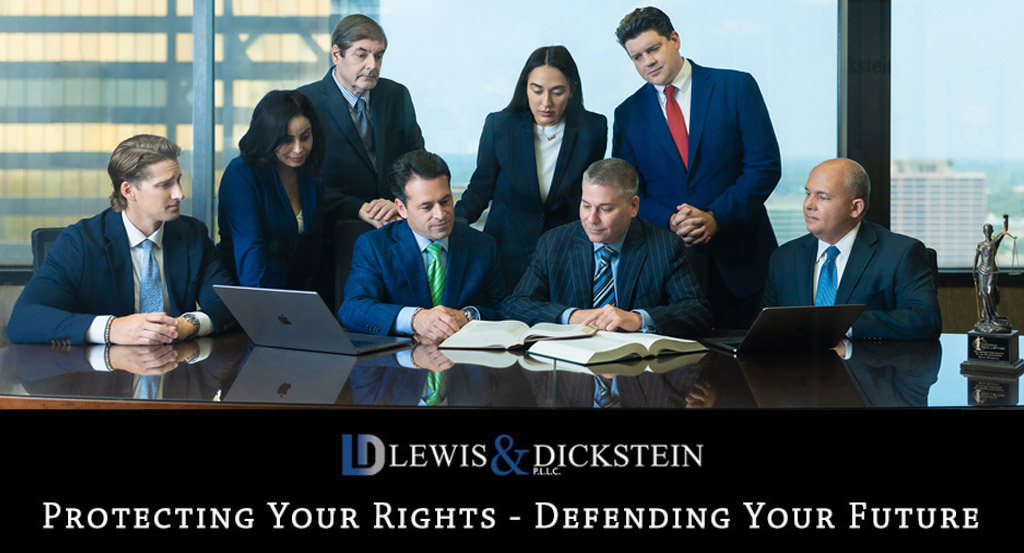 Trust the Attorneys with the Experience, Knowledge, and Proven Track Record
Experience can only be attained through years of defending criminal cases in Macomb County. Criminal charges are serious, and you should not entrust freedom to an attorney unfamiliar with the Macomb County criminal justice system. LEWIS & DICKSTEIN, P.L.L.C. is well-known throughout the Tri-County area due to its many successes in criminal cases. Our team will work tirelessly for you, using their extensive legal knowledge to prepare a defense for you with the ultimate goal of dismissing all charges or the best possible outcome achievable for your case.
Unique Team Approach Leads to Extraordinary Results
Most criminal defense lawyers are solo practitioners, meaning they work alone and, generally, the rest associate with other lawyers but are not law firms. Our Criminal Defense Team works together on all files, regularly collaborates to maximize perspective on each case, and we can dedicate tremendous resources to each client's defense.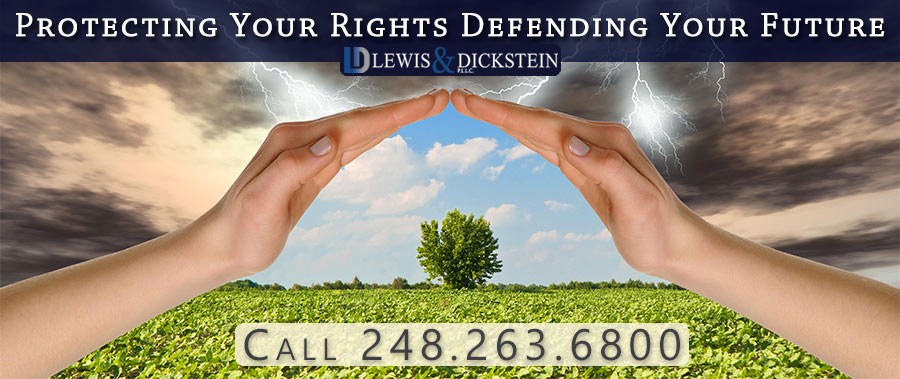 Don't Jeopardize Your Freedom in Macomb County
LEWIS & DICKSTEIN, P.L.L.C. is a criminal defense law firm providing outstanding results in Macomb County cases for several years. Our Macomb County defense team will work diligently on your case to maintain your freedom, protect your reputation, and keep your record clean. We are zealous advocates devoted to your criminal defense. Selecting an attorney who does not have dedicated expertise in criminal law or years of practice in the Macomb County criminal justice system puts your freedom, family, and livelihood at risk. Make the decision to hire powerhouse legal representation now. Call for a Free Consultation regarding your Macomb County charges, and a top attorney will take the time to speak with you, answer your questions, and address your concerns.
Call us today at (248) 263-6800 for a free consultation or complete an online Request for Assistance Form. We will contact you promptly and find a way to help you.
We will find a way to help you and, most importantly,
we are not afraid to win!