Domestic Violence Attorney for the 45th District Court
If you face domestic violence assault charges in Oak Park's 45th District Court, you need the best defense attorney that you can find to protect and defend you.

How to Get Domestic Violence Charges Reduced or Dismissed
A domestic violence conviction has severe direct and collateral consequences. In most cases, an aggressive, intelligent defense can prevent a conviction and jail time. Whether someone faces a felony or misdemeanor domestic violence allegation in the Oak Park District Court, top defense attorneys fight for dismissal or reduction of charges by doing the following:
patiently talking with the client and answering their questions
thorough and meticulous preparation
maintaining respectful relationships with the prosecution and judges
producing stellar, well-researched, and expertly-written legal pleadings and motions
upholding a track record and reputation for consistently achieving extraordinary results
fearlessly attacking the government's evidence to build negotiating leverage
using a unique team approach to developing a robust and powerful defense strategy
persistently fighting to get charges reduced or dismissed
using all means necessary and available to achieve the most lenient sentence possible
Why Do You Need a Top Domestic Violence Defense Attorney in Oak Park
The judges and prosecutors in the 45th District Court are known for the harsh treatment of defendants facing domestic violence allegations. Many people feel that those facing assault charges in Oak Park are presumed "guilty," not innocent. In addition to the possibility of incarceration, the Oak Park judges are notorious for ordering bond conditions and lengthy terms of probation that include mandatory therapy, education, employment requirements, curfews, retraining and no-contact orders, drug and alcohol testing, removal of civil rights (such as the right to possess firearms), heavy fines/costs, and more. Without an influential attorney at the defendant's side, they risk a term of court supervision that sets them up for failure.

Avoiding Convictions Even in Cases with Overwhelming Evidence
Regardless of the evidence or aggressiveness of law enforcement, a skilled lawyer can often find a way to help their client avoid a domestic violence conviction. The options and strategies available are extensive. For example, laws and court rules such as MCL 769.4a and MCR 771.1 are available and result in the dismissal of any public conviction or record. Sometimes, a reputable lawyer will persuasively advocate for dismissal based on evidence seized in violation of the defendant's constitutional rights or based on compelling mitigating or equitable circumstances. The Defense Team with LEWIS & DICKSTEIN, P.L.L.C. has an unparalleled track record of successfully fighting to get domestic violence charges dismissed in Oak Park, Michigan.
What You Need to Know About the 45th District Court
The 45th Judicial District Court is located at 13600 Oak Park Blvd., Oak Park, MI 48237. The Court's number is (248) 691-7440. Two judges handle a felony and misdemeanor docket that is as busy as any of the Oakland County, Michigan courts. This court has jurisdiction over all domestic violence crimes allegedly occurring in Oak Park, Huntington Woods, Royal Oak Township, and Pleasant Ridge. Misdemeanor cases are handled from arraignment through trial. The initial hearings in felony domestic violence matters occur in district courts, including arraignment, probable cause conferences, and preliminary examinations. The Court will also hear motions such as Motions to Dismiss, Suppress Evidence, Walker Hearings, Motions to Reduce Bond or Bail, Pretrial Release Motions, Travel Requests, Motions to Exclude Evidence or Testimony, and more.
Although considered a safe community, Oak Park has its share of violence and property crimes. The most recent statistics are not favorable. According to reliable sources, Oak Park is less safe than 70% of U.S. neighborhoods. In the past 12 months, there were just under 100 violent crimes and almost 400 property crimes. The crime rate in Oak Park is approximately 16 offenses per 1,000 residents.
Bond and Bail in the Oak Park District Court
Felony and misdemeanor domestic violence cases begin with an arraignment hearing. At the arraignment, the judge or magistrate will grant a bond or bail, which might require the defendant to post cash or secure a bail bond person to post a surety. Although it is often disruptive, unhelpful, and unnecessary, the judges almost always order the defendant and alleged victim to have no contact whatsoever. In families with children, joint expenses, and working households, a no-contact order can be unfair and harmful to everyone. In cases where a no-contact or restraining order is unnecessary, great defense lawyers, such as those with LEWIS & DICKSTEIN, P.L.L.C., know the best steps to avoid unduly harsh bond conditions.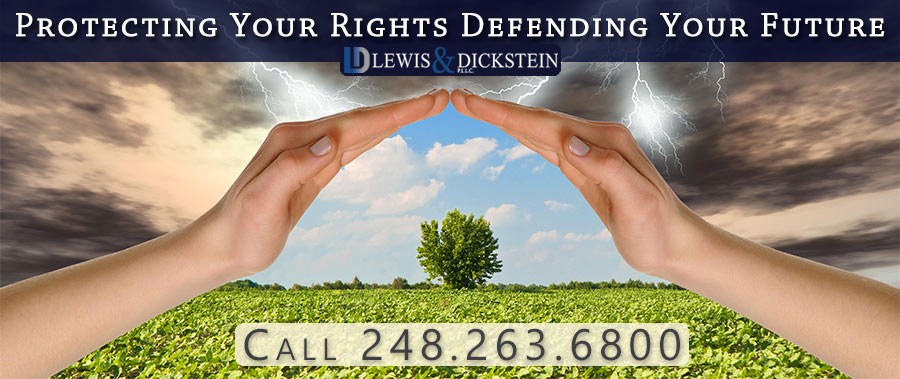 Probation Violations – A Oak Park Domestic Violence Defense Attorney Can Help You!
Defendants with probation violation allegations on domestic violence convictions face potentially onerous and exacting consequences. For example, suppose the judge took someone's conviction under advisement under the First Offender Domestic Violence Statute. They can be incarcerated if their probation is violated, and their conviction will become public. Incarceration for first-offense domestic violence convictions in Oak Park is rare; however, it is far more common following a probation violation.
Direct and Indirect Consequences of a Domestic Violence Conviction
In Michigan, being convicted of domestic violence has both direct and collateral consequences. The direct consequences could include jail time, fines, probation, and mandatory domestic violence treatment program participation. Additionally, restraining orders or personal protection orders may be issued. Meanwhile, collateral consequences can have a long-lasting impact on a person's life beyond legal penalties. This includes difficulty finding employment, as some employers hesitate to hire individuals with a domestic violence conviction. It can also affect child custody and parenting time arrangements, possibly leading to losing or reducing custody or visitation rights. For non-U.S. citizens, a domestic violence conviction may cause immigration issues, such as deportation or inadmissibility for re-entry into the country. Lastly, having a domestic violence conviction on one's record can result in the loss of certain professional licenses or the inability to obtain them in the future, significantly affecting career prospects. Federal law bars anyone with a domestic violence conviction from possessing and owning firearms under federal law.
Domestic Violence 1st Offense Misdemeanor – Up to 93 days in jail, two years of probation.
Domestic Violence 2nd Offense Misdemeanor – Up to one year of jail, two years of probation.
Domestic Violence 3rd Offense Felony – Felony domestic violence carries up to five (5) years of prison, up to five (5) years of probation.
Domestic Violence Felony with Habitual 4th Offender – Up to 15 years in prison.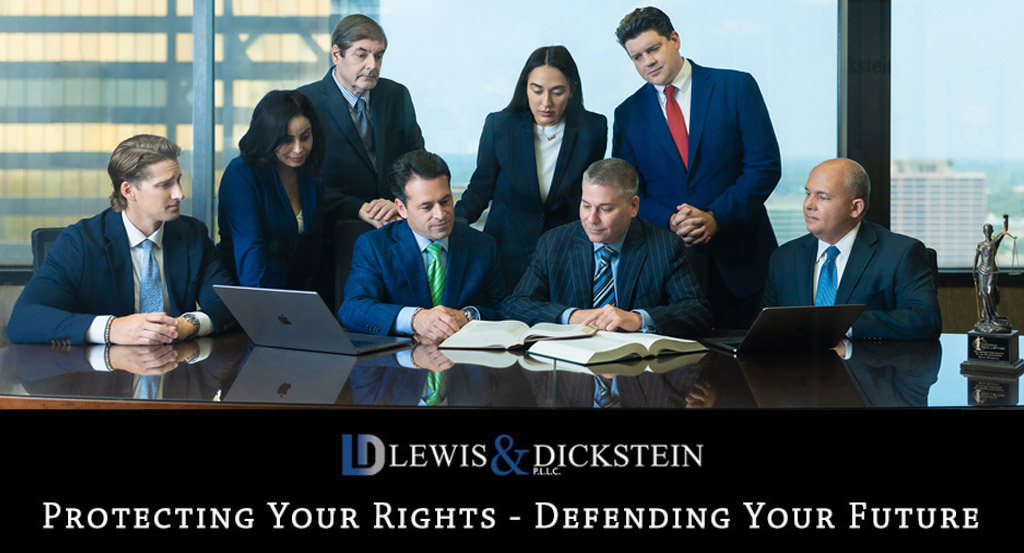 Your Best Defense Against Domestic Violence Charges
The skilled and experienced domestic violence defense attorneys with LEWIS & DICKSTEIN, P.L.L.C. are your best defense against domestic violence allegations in the 45th District Court. We've been successfully defending and protecting clients on felony and misdemeanor matters in Oak Park for decades. If you call us for a free consultation, we will take the time to speak with you, answer your questions, and address your concerns. We will find a way to help you. Most importantly, we are not afraid to win!
Call us today at (248) 263-6800 for a free consultation or complete a Request for Assistance Form. We will contact you promptly and find a way to help you.
We will find a way to help you and, most importantly,
we are not afraid to win!

About Oak Park, Michigan
Oak Park is a city in south Oakland County, part of the Detroit metropolitan area. According to the latest census, it has a population of just over 29,000 residents. The city spans approximately 5.16 square miles and has residential neighborhoods that exhibit various architectural styles, ranging from ranch-style homes to bungalows. Oak Park is home to several parks and recreational facilities. The Oak Park Recreation Department offers residents a wide range of programs and activities. The Oak Park School District provides education in the city, and nearby schools in surrounding districts also serve the community. Oak Park houses diverse businesses, including retail stores and dining establishments. The city's location offers easy access to major highways, connecting Oak Park to neighboring towns and the broader region. Oak Park is known for its community-oriented focus, diverse population, and commitment to providing quality services to its residents.