45th District Court in Oak Park, Michigan
The 45th District Court covers the Charter Township of Royal Oak and the cities of Huntington Woods, Oak Park, and Pleasant Ridge. Two elected judges serve the Court.
Oak Park District Court – What You Need to Know
Oak Park's 45th District Court is a court of limited jurisdiction that handles a wide range of cases arising in Oak Park, Huntington Woods, Pleasant Ridge, and Royal Oak Township. It is a court of first resort for most criminal and civil cases that arise within those jurisdictions. The District Court is responsible for hearing misdemeanor and felony cases, small claims cases, civil infractions, landlord-tenant disputes, and lawsuits with claims under $25,000.00.
Location of the Court:
45th District Court
13600 Oak Park Blvd.
Oak Park, MI 48237
(248) 691-7440
Hours of Operation: 8 a.m. to 4:30 p.m., Monday through Friday
Judges and the Magistrate of the 45th District Court
Honorable Michelle Friedman Appel
Honorable Jamie Horowitz
Magistrate Richard Halprin
Misdemeanor Cases in the 45th District Court
Misdemeanor cases handled by Michigan district courts, including the Oak Park District Court, typically involve crimes considered less severe than felony offenses, such as:
disorderly conduct,
operating while intoxicated (OWI/DUI),
retail fraud,
assault and battery,
malicious destruction of property,
fraud and larceny-type offenses, and
minor drug offenses.
In misdemeanor cases, the district court is responsible for hearing the initial arraignment, pretrial conferences, plea hearings, jury and bench trials, and sentencing if the defendant is found guilty. Misdemeanors are those offenses punishable by one year in jail or less and up to two years of probation.
Felony Charges in the Oak Park District Court
In felony cases, the 45th District Court in Oak Park plays a different role. Felonies are serious crimes with a potential sentence of one year or more in prison. The District Court conducts arraignments, probable cause conferences, and preliminary examinations. A preliminary examination is a hearing to determine whether there is probable cause to believe the defendant committed the charged felony. If the judge finds probable cause, the case is "bound over" to the Oakland County Circuit Court for further proceedings and trial. If the judge finds that there is insufficient evidence that a felony was committed or that the defendant committed a felony, they will dismiss the case.

Arraignments in Oak Park's 45th District Court
The first court hearing in a felony or misdemeanor case in the Oak Park District Court is the arraignment. At the arraignment, the judge or magistrate does the following:
formerly advises the defendant of the charges and maximum penalties,
accepts a plea (usually not guilty), and
sets bond or bail.
It is always best to have qualified, experienced criminal defense counsel at the arraignment to ensure the defendant is released on a low or personal bond, if possible. Typically, defendants who can post bail and are released from jail pending trial have a better outcome than defendants who cannot post bond and are stuck in jail awaiting their trial.
Being held in jail can make it more difficult for defendants to communicate with their attorneys, impacting their ability to mount an effective defense. Also, a defendant's pretrial incarceration can affect their mental and emotional well-being. Finally, defendants held in jail pending trial cannot work or care for their families, which can create financial and personal stress.
In contrast, defendants who are able to post bail and are released from jail pending trial are generally better able to participate in their defense, maintain their personal and financial stability, and communicate with their attorneys. Pretrial release often results in a more favorable outcome for their case overall.
Sentencing in the Oak Park District Court
Defendants convicted of misdemeanor or ordinance violations must face a judge for sentencing. The Oak Park District Court judges can sentence misdemeanants to jail or probation, depending on the severity of the conviction. Most misdemeanors carry maximum sentences of 93 days or one year in the Oakland County Jail. All misdemeanors have a two (2) year maximum term of probation. Under new Michigan law, a defendant can seek early discharge from probation after they serve half of their probation term if they are in full compliance. Typical terms and conditions of probation in the 45th District Court include the following:
weekly or monthly reporting
drug and alcohol testing
mandatory, full-time employment or education
mental health therapy or drug/alcohol treatment
misdemeanor offender classes
curfews
no-contact orders
travel restrictions (including the inability to leave Michigan)
community service
supervision fees
Probation Violation
If one of the 45th District Court judges places a defendant on probation as part of their sentence, the judge has the authority to revoke probation (probation violation) and impose additional penalties if the defendant violates the terms of their probation. Typical probation violations in Oak Park include the following:
new arrest or conviction
failure to pay fines, costs, or restitution
positive, missed, or diluted drug or alcohol test
failure to complete community service
violation of tether or curfew restrictions
leaving Michigan without permission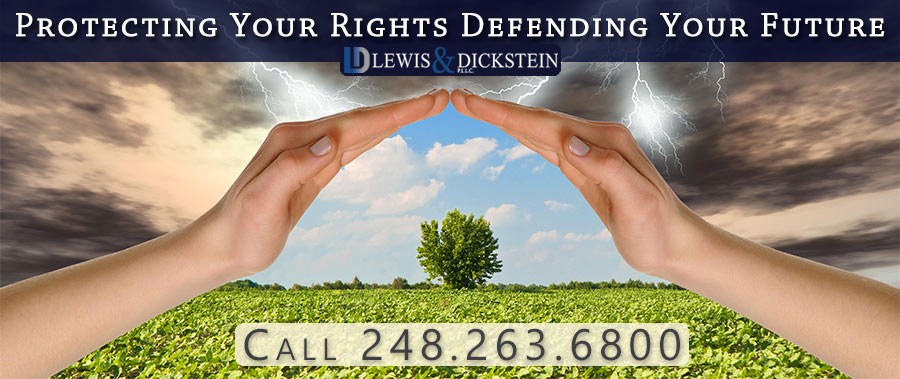 Civil Lawsuits
The 45th District Court in Oak Park is responsible for minor civil matters, including the following:
Small Claims: Civil lawsuits handled without lawyers and involving disputes over money or property valued at $6,500 or less.
Landlord-Tenant Disputes: Landlord-tenant disputes, including eviction cases and disputes over security deposits, repairs, and lease agreements.
Contract Disputes: Contract disputes involving the breach of a written or oral agreement, including disputes between businesses or individuals valued under $25,000.00.
Personal Injury: Personal injury, tort cases, and miscellaneous civil claims, which involve damages or harm caused by the negligence or intentional actions of another party, which are valued under $25,000.00.
Call us today at (248) 263-6800 for a free consultation or complete a Request for Assistance Form. We will contact you promptly and find a way to help you.
We will find a way to help you and, most importantly,
we are not afraid to win!

Information About Oak Park, Michigan
Oak Park is a suburb located in the southeastern portion of Michigan. It is located in Oakland County and is home to approximately 30,000 people. The city is recognized for its ethnically and racially diverse population. It is a family-friendly neighborhood with outstanding public schools and a low crime rate.
Oak Park is a bustling metropolis that offers residents and visitors a variety of attractions and conveniences. The Oak Park Community Center and David H. Shepherd Park are among the numerous parks and recreational areas in the city. These parks provide a variety of amenities, including walking paths, playgrounds, sports facilities, and picnic areas.
There are also a variety of businesses in Oak Park, ranging from small mom-and-pop shops to major chain stores. The city's commercial district has numerous shopping centers and restaurants.