48th District Court Judge Kimberly Small is hardworking and tough for the communities of West Bloomfield, Bloomfield Township, Birmingham, Bloomfield Hills, Keego Harbor, Orchard Lake and Sylvan Lake.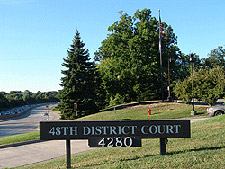 48th District Court Judge Kimberly Small has a Bachelor's Degree from the University of Michigan and a Juris Doctor from the Detroit College of Law — which she got through attending night classes, as she worked full-time. Judge Small has been on the bench at the 48th District Court since 1996. She serves on many boards and committees in her community.
Judge Small has a reputation of being extremely tough. She does not have issue with sentencing a first offender, or probation violator, to a term of jail. It takes thorough preparation, creative thinking and a well crafted argument to keep a client from being incarcerated by Judge Small. This can be done, and should be expected from the first rate criminal defense team at LEWIS & DICKSTEIN, P.L.L.C.
One Tough Judge – 48th District Court Judge Kimberly Small Does Not Play Favorites When She Passes Sentence
In 2011, 48th District Court Judge Kimberly Small made national news when she sentenced former UM and NBA player and ESPN analyst Jalen Rose to serve 20 days in jail because of a drunk driving crash. This is in spite of a probation department recommendation to no jail, and public support of several prominent figures. Judge Small agreed that Mr. Rose likely did not have an alcohol problem and that it was unlikely that he would get into trouble again. Judge Small believes that jail is a deterrence. There was a huge firestorm regarding this matter and Judge Small refused to modify her sentence. This case cemented Judge Small's reputation as a tough, no-nonsense judge.
This does not mean that everyone who comes before Judge Small goes to jail. In the case of a great lawyer, the right strategy and some very persuasive and credible lawyering, there are cases where even Judge Small will not require incarceration.

Lewis & Dickstein, P.L.L.C. Regularly Handles Cases Before 48th District Court Judge Kimberly Small
The attorneys with LEWIS & DICKSTEIN, P.L.L.C. regularly practice in Oakland County and in the courtroom of 48th District Court Judge Kimberly Small. This does not mean that the firm is successful every time its attorneys appear before Judge Small. It does mean that the firm's client will always get a full and fair hearing before Judge Small. Judge Small is a tough judge, but she is willing to exercise compassion under the right set of circumstances.
Lewis & Dickstein, P.L.L.C. is the premier criminal law firm covering the jurisdiction of the 48th District Court. The firm can effectively assist with all your criminal law issues — defense, probation violations, domestic violence, OWI/DUI, retail fraud, outstanding warrants and more.
Michigan Criminal Defense Attorneys

The law firm of LEWIS & DICKSTEIN, P.L.L.C. was founded in 1998 on the principal that no one shall have to deal with the criminal justice system and the power of the state and/or federal government without the assistance of a seasoned and zealous advocate by their side to protect them. The 6th Amendment to the United States Constitution guarantees a person has the right to an attorney when facing criminal charges. LEWIS & DICKSTEIN, P.L.L.C. believes this protection is paramount. The firm's attorneys take the obligation to assure that everyone charged with a criminal offense gets a full and fair hearing extremely seriously. The firm's attorneys have sterling reputation for successes in state and federal court's throughout the United States. When the attorneys of LEWIS & DICKSTEIN, P.L.L.C. appear in court, the judges and prosecutors know that they are well prepared and will zealously represent the clients. If you are facing any criminal law issue, or need questions answered, please call LEWIS & DICKSTEIN, P.L.L.C. at (248) 263-6800 for help or complete a Request for Assistance Form and one of our attorneys will contact you.
Save
Save