There are several judges in Michigan who are making a name based on how tough they are on first offenders who are convicted of OWI.
The Honorable Kim Small in the 48th Judicial District Court in Bloomfield Hills, for example, has a reputation for sentencing first-time offenders to serve time in the Oakland County Jail. A few lawyers have been successful in getting Judge Small not to order jail time, but they are few and far between. Judges Nicholson and Assadorian, in the 52-3 District Court in Novi, are rather infamous for their tough treatment on those convicted of OWI cases.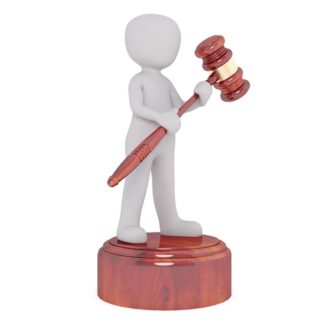 Great DUI defense attorneys who are known for their trial skills and ability to handle trials on OWI cases successfully are generally able to achieve plea bargains and dismissals that other, less proficient, criminal defense lawyers or general practice lawyers cannot get for their clients. Although not common, plea bargains to reckless driving, careless driving, and other non-alcohol related offenses are possible under the right circumstances.
Although the majority of OWI cases get resolved with plea bargains, some cases just have to go to trial. For example, Loren Dickstein with LEWIS & DICKSTEIN, P.L.L.C., recently represented a doctor who was charged with OWPD (Operating While Under the Influence of Drugs). They took the case to a jury trial in the 48th Judicial District Court in Bloomfield Hills. The verdict was not guilty! Trial Attorneys and the criminal defense attorneys at LEWIS & DICKSTEIN, P.L.L.C., have successfully defended hundreds of OWI cases with several resulting in not guilty verdicts at trial and several resulting in plea bargains to non-alcohol related offenses and dismissals.
Other courts and judges in Oakland County are notorious for tough sentences on OWI and MIP (Minor in Possession) cases. Lawyers who are not used to practicing in Oakland County, frequently will just refuse to take a case in that jurisdiction.
If you still have questions for a Michigan criminal defense attorney, feel free to call LEWIS & DICKSTEIN, P.L.L.C., for a free consultation and confidential case evaluation. Please call us at (248) 263-6800 or complete a Request for Assistance Form, and a highly experienced criminal defense lawyer will promptly contact you.
"We Are Not Afraid to Win"
LEWIS & DICKSTEIN, P.L.L.C.

Other examples of tough courts and judges in Oakland County include:
52-1 District Court in Novi, Judges Travis Reeds, David Law and Robert Bondy
52-2 District Court in Clarkston, Judges Joseph Fabrizio and Kelley Kostin
52-3 District Court in Rochester, Judges Lisa Asadoorian, Nancy Carniak and Julie Nicholson
52-4 District Court in Troy, Judges Kirsten Nielsen Hartig and Maureen McGinnis
35th District Court in Plymouth, Judges Ronald Lowe, Michael Gerou, and James A. Plakas
43rd District Court in Hazel Park, Judge Charles Goedert
43rd District Court in Madison Heights, Judge Keith Hunt
43rd District Court in Ferndale, Judge Joseph Longo
44th District Court in Royal Oak, Judges James Wittenberg and Derek Mineke
45-B District Court in Oak Park, Judges Michelle Friedman Appel and David Gubow
46th District Court in Southfield, Judges Cynthia M. Arvant, Sheila Johnson and Deborah Nance
47th District Court in Farmington Hills, Judges James Brady and Marla Parker
48th District Court in Bloomfield Hills, Kimberly Small, Judges Marc Barron and Diane D'Agostini
50th District Court in Pontiac
51st District Court in Waterford, Judge Richard Kuhn