West Bloomfield Criminal Defense Attorney
Aggressive Criminal Defense Law Firm Protecting Those Accused of Misdemeanor and Felony Charges in the 48th District Court for West Bloomfield, MI. When there is no room for errors and false promises, we can help you.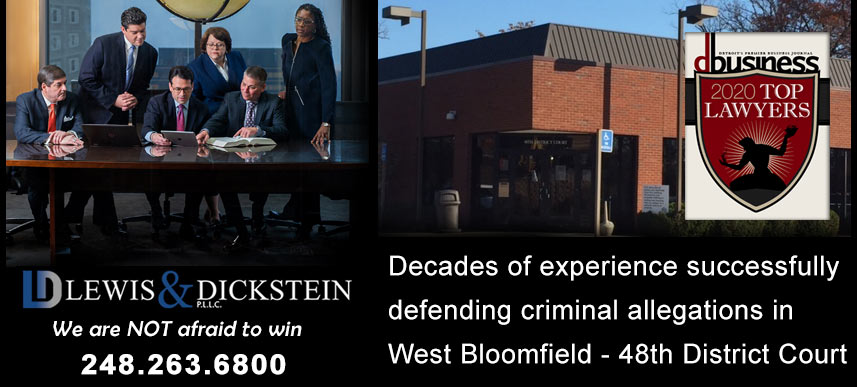 The West Bloomfield Criminal Defense Attorneys with LEWIS & DICKSTEIN, P.L.L.C. are well-known for defending and protecting their clients in the 48th District Court. Our team has spent years practicing at this court and have consistently achieved superior results. The reputation of LEWIS & DICKSTEIN, P.L.L.C. is renowned throughout the West Bloomfield area for being assertive and tenacious to obtain outcomes that other attorneys are simply unable to accomplish. The firm motto is that we are, "not afraid to win" and that translates to the philosophy that there we are not intimidated to challenge judges, police agencies, or prosecutors when it comes to securing your rights and preserving your freedom. You will need a strong advocate especially in the 48th District Court.

We have your back!
Judges, Kim Small, Marc Barron and Diane D'Agostini are no-nonsense adjudicators. They are notorious for their rigid conditions as well as heavy-handed reprimands. Small deviations from court orders often result in jail time. If you have heard that Judge Small is harsh on first time drunk drivers, you are correct. The only way to maneuver through this court is with robust and zealous representation. The criminal defense team at LEWIS & DICKSTEIN, P.L.L.C. are not afraid to tackle the West Bloomfield District Court when other attorneys would simply select to practice elsewhere. We do not shy away from the 48th because the judges are tough and inflexible. On the contrary, our criminal defense team looks forward to overcoming all challenges and will see you through until the very end of your case. When you walk into court with one of our LEWIS & DICKSTEIN, P.L.L.C. criminal defense attorneys, it will demonstrate that you take your case seriously and that you've have hired a criminal defense team that will fight for you.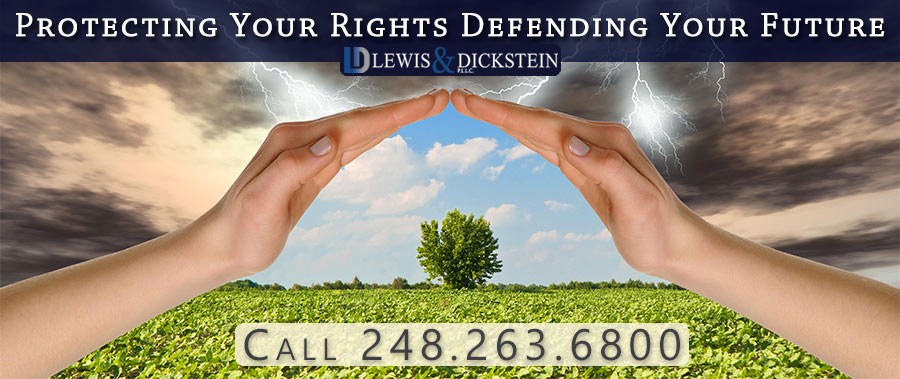 Do it right the first time, no room for errors.
While you're searching through the Internet looking for criminal defense attorneys, you will most certainly will come across many attorneys that offer multiple types of services and bargain prices. The 48th District Court is not the arena for these inexperienced, weak and cheap lawyers. Our criminal defense team focuses solely on criminal law. We are a cutting-edge criminal defense law firm that is efficient and relevant. Our team practices regularly in the 48th District Court and we are recognized as achieving results were other attorneys have failed. This is the court where handling your case right the first time will save you hours of frustration and money. However, LEWIS & DICKSTEIN, P.L.L.C. will take every action to resolve any mistakes made by former bargain attorneys and to get you back on the right track.
Team Work Approach
We have multiple award winning experienced criminal defense attorneys and skilled paralegals that attend to your case. Hiring one attorney in the LEWIS & DICKSTEIN, P.L.L.C. firm is the same as hiring the entire firm. You will have access to our criminal defense attorneys and our paralegals. LEWIS & DICKSTEIN, P.L.L.C. has a high-performance work system in place where all clients receive individualized attention. Your phone calls, emails and questions are important to us and will be responded to promptly. At our firm, you will always be treated with courtesy and respect.

Formidable West Bloomfield Criminal Defense Attorney for the 48th District Court
If you have received a charge in the 48th District Court, you cannot afford to hire the wrong attorney. It cannot be said enough that before you appear for any criminal matter in the West Bloomfield District Court, retain a veteran attorney that is a respected, qualified, and effective. When your future is at stake, the LEWIS & DICKSTEIN, P.L.L.C. criminal defense team will not let you down.
Call us today at (248) 263-6800 for a free consultation, or complete a Request for Assistance Form and we will contact you promptly.
We will find a way to help you and, most importantly,
we are not afraid to win!