Defense Attorney in Rochester Hills for the 52-3 District Court
Looking for a criminal defense attorney who regularly practices in the 52-3 District Court in Rochester Hills and has an unparalleled track record for achieving extraordinary results? You are in the right place.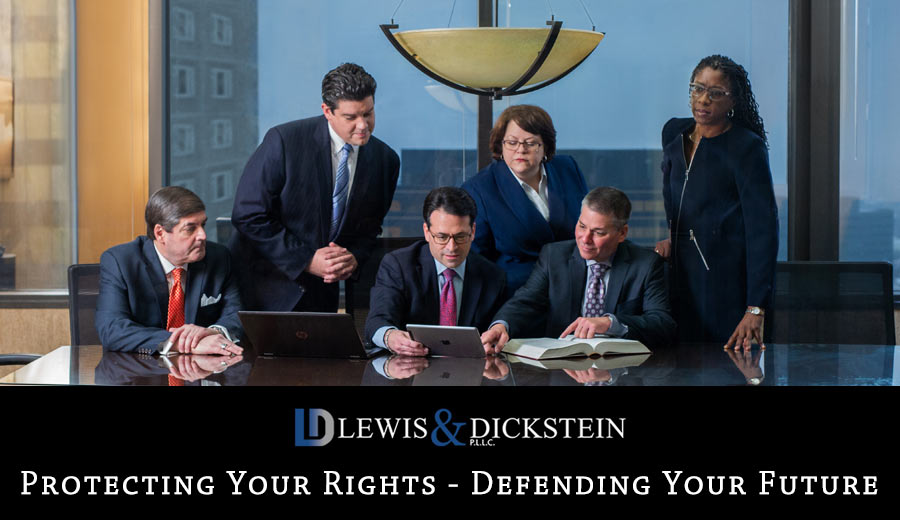 Experience, Reputation, and Track Record Count!
Anyone has heard of the 52-3 District Court in Rochester, has an idea that this is one of the most challenging courts for a defendant charged with a felony or misdemeanor. The judges in Rochester have well-earned reputations for being harsh with bonds(bail), pleas, probation conditions, and court rulings. The best defense to a tough judge is a defense lawyer who is well respected, fearless, and tenacious in defense of his or her client. The defense team with LEWIS & DICKSTEIN, P.L.L.C., has decades of experience successfully defending clients charged in the Rochester District Court.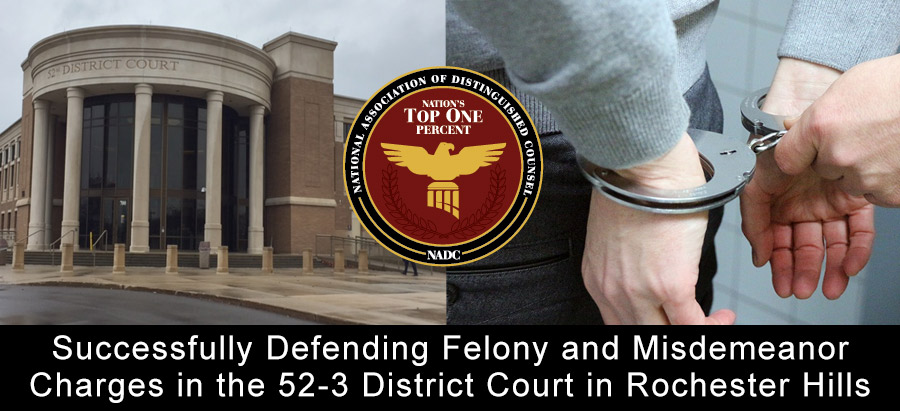 The 52nd District Court, 3rd Division has three judges: Hon. Julie A. Nicholson, Hon. Nancy T. Carniak, Hon. Lisa L. Asadoorian. The court handles misdemeanor and felony charges arising in Rochester Hills, Auburn Hills, Lake Angelus, City of Rochester, Villages of Oxford, Lake Orion, and Leonard, Townships of Addison, Oakland, Orion, and Oxford, and the Oakland University campus.
Felony and Misdemeanor Charges in Rochester Hills District Court
Both felony and misdemeanor charges are initiated in the 52-3 District Court. Misdemeanor charges are those offenses which are punishable by up to 1 year in Oakland County Jail and up to 2 years on probation. Common misdemeanor offenses in this jurisdiction include:
Retail Fraud / Shoplifting
Domestic Violence / Domestic Assault
OWI / DUI
DWLS
Assault and Battery and Aggravated Assault
Disorderly Conduct
Larceny
Embezzlement
Probation Violation
Possession of Marijuana
Malicious Destruction of Property
Child Abuse
MIP (Minor in Possession)
Felony offenses are those offenses that have statutory maximum punishments that exceed 1 year. A defendant convicted of a felony may get jail or prison time and probation, which can be for up to 5-years (in some cases, life). Felony charges start in the 52-3 District Court, and if enough evidence justifies a trial, the case is transferred to the Oakland County Circuit Court in Pontiac, Michigan. Common felony offenses in Rochester Hills include:
Retail Fraud / Shoplifting – First Degree
Domestic Violence 3rd Offense
OWI / DUI 3rd Offense
Embezzlement Over $1,000
Larceny Over $1000
Felonious Assault / Assault with a Dangerous Weapon
Criminal Sexual Conduct
Home Invasion
Malicious Destruction of Property Over $1000
Drug Delivery or Manufacture
Arson
Child Pornography
Weapons Crimes
Credit Card Fraud
Remember, just because a charge carries a possible jail sentence, an experienced, successful defense attorney in Rochester Hills may be able to help you avoid incarceration altogether.

Bond and Probation in Rochester Hills
The 52-3 District Court stands virtually alone in the complicated and tedious bond and probation conditions imposed on defendants. It is not uncommon for defendants who are unrepresented at arraignment to receive a bond that requires large cash payments. For those defendants released on bail, the bond conditions are usually expensive, time-consuming, and frequently cause significant interference with personal, family, and work commitments. Probation conditions in Rochester are notoriously harsh. Violations of bond and probation are often based on minor technical violations, and the Rochester judges rarely excuse even the most trivial or inconsequential mistakes unless a strong, seasoned defense lawyer is involved.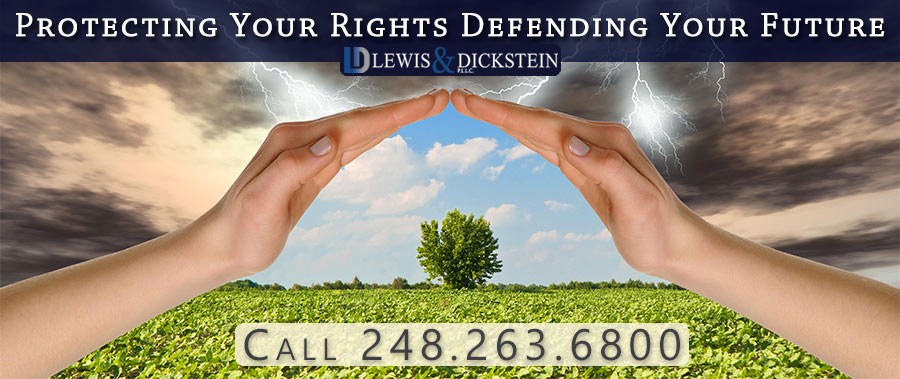 Defense Attorneys in Rochester Hills
The attorneys with LEWIS & DICKSTEIN, P.L.L.C. have decades of experience practicing and winning in Rochester Hills. The judges in Rochester respect our lawyers because they know we will not get pushed around; we are very well prepared and highly knowledgeable in the law. Regardless of whether a case needs to be settled, tried, or dismissed, we will do everything possible to be successful in achieving an extraordinary outcome for the client.
Call us today at (248) 263-6800 for a free consultation, or complete a Request for Assistance Form and we will contact you promptly.
We will find a way to help you and, most importantly,
we are not afraid to win!