Rochester Hills Criminal Defense Attorney
Top Criminal Defense Law Firm Helping Those in Need of Aggressive, Effective, and Zealous Representation in the 52-3 District Court in Rochester Hills, Michigan.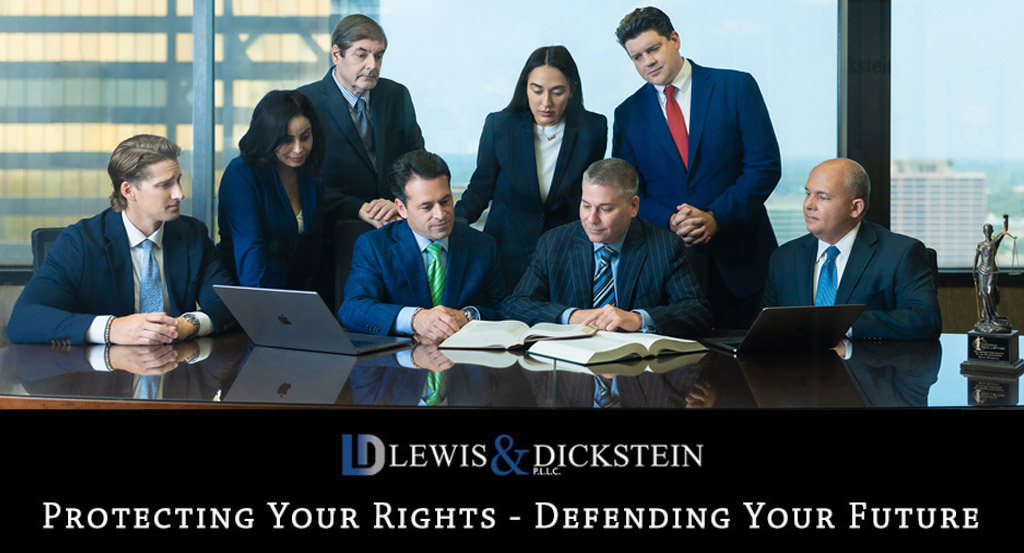 The 52-3 District Court in Rochester Hills – Don't Worry. There is Hope
The Rochester Hills Criminal Defense Attorneys with LEWIS & DICKSTEIN, P.L.L.C. successfully protect and defend clients daily in the 52-3 District Court. This court has a substantial caseload that three judges handle. The court is located at 700 Barclay Circle, Rochester Hills, MI 48307. The caseload includes felonies and misdemeanors from multiple cities and townships, including Addison Township, Auburn Hills, Lake Angelus, Oakland Township, Orion Township, Oxford Township, Rochester, and Rochester Hills.
If you face felony or misdemeanor allegations in the 52-3 District Court, and you want lawyers who will do whatever it takes to protect and defend you, call the attorneys with LEWIS & DICKSTEIN, P.L.L.C. for a free consultation and confidential case evaluation. We have decades of experience successfully representing clients in Rochester Hills. We have a proven track record of success in keeping clients out of jail and, in many cases, avoiding criminal convictions.
Some of Oakland County's Toughest Judges
This court is known to have some of the toughest judges in Oakland County. So, selecting the right attorney is critical. The Rochester Hills Criminal Defense Team at LEWIS & DICKSTEIN, P.L.L.C. has extensive experience defending clients in this court. Judge Nicholson, Judge Carniak, and Judge Asadoorian have well-deserved reputations for being unyielding, harsh, and hard-hitting. Where some offenses may result in just a fine in some courts, the judges in Rochester frequently hand out lengthy jail sentences and prolonged terms of probation. After witnessing our comprehensive, effective, and distinguished representation of our clients for years, we have earned these judges' respect. The same can be said for prosecutors, police officers, and court staff. When we walk into the courtroom by your side, everyone will know that you take your defense seriously, and our attorneys will do everything possible to defend you.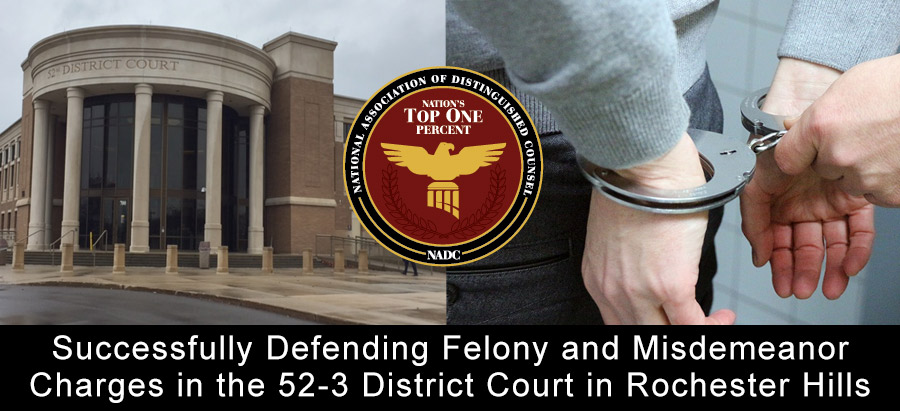 Why We Are the Right Top Rochester Hills Criminal Defense Attorney
General practice attorneys do a little bit of everything and do not specialize in criminal defense. There are also high-volume, low-quality attorneys that offer cheap rates and weak strategies. By hiring LEWIS & DICKSTEIN, P.L.L.C., you get a team of lawyers who will cooperate and collaborate to obtain the best possible result. Each member of our team frequently appears in Rochester and will take the time to talk with you, answer your questions, alleviate your fears, plan a strategy, investigate your case, and do what is necessary to defend you fearlessly. We can offer you the best possible defense for fair and affordable legal fees.
It cannot be stressed enough that when you are involved with the 52-3 District Court, you must have a Top Rochester Hills Criminal Defense Attorney because your freedom and rights hang in the balance. As you can see, your criminal defense attorney's selection is paramount to gaining someone to fight for you. Conversely, picking the wrong attorney can result in conviction or jail time.
When you think of the cost of hiring a lawyer, also think of the financial and practical costs of not hiring one. A conviction can result in jail, probation, fines, loss of employment, damaged reputation, loss of a professional license, custody disputes, immigration consequences, and more. We have defended clients against thousands of felony and misdemeanor charges and are ready to put our vast experience and knowledge to work for you.
Felony and Misdemeanor Charges Frequently Defended by Rochester Hills Attorneys
weapons,
assault offenses,
larceny and robbery,
embezzlement and other white-collar crimes,
OWI, DUI, OWPD, OWVI,
reckless driving, driving while license suspended (DWLS), and other traffic offenses,
malicious destruction of property,
criminal sexual conduct,
fraud,
trespassing and disorderly conduct,
conspiracy, and much more.

Bond and Probation Violations in Rochester Hills
The Rochester Hills District Court is unlike most other courts. Violations of probation and bond violations, even on shoplifting cases, are routinely filed over the most minute and insignificant technical violations. Suppose a lawyer does not fully understand how seriously these heavy-handed district judges take these matters. In that case, a defendant may find themselves sitting in jail instead of out on bond or probation. It takes a proactive, intelligent strategy and thorough preparation to win in this court! We are well known in Rochester Hills for helping clients get out and stay out on bond and avoid jail sentences for probation violations.
Arraignment in the 52-3 Rochester Hills District Court
If you face charges in the Rochester Hills District Court, a respected, experienced criminal defense attorney can negotiate for your self-surrender for arraignment on a warrant. The advantages of a negotiated self-surrender are that you can avoid an arrest, get a lower bond, and have an attorney at your side, so you are not alone. A police officer can arrest you at any time on a felony or misdemeanor arrest warrant (new charge) or bench warrant (from failure to appear or a bond or probation violation). An arrest by police officers at work or home is frightening, embarrassing, and in many cases, forceful. It is almost always avoidable with experienced legal representation.
By maintaining a respectful, long-term relationship with the various police departments in the 52-3 District Court's jurisdiction, we consistently persuade law enforcement officers to permit our clients to appear voluntarily in court for arraignment. By appearing voluntarily, the odds of a low or personal bond increase significantly. We know the factors the Rochester Hills magistrates consider and will make the most compelling arguments to secure your release from custody.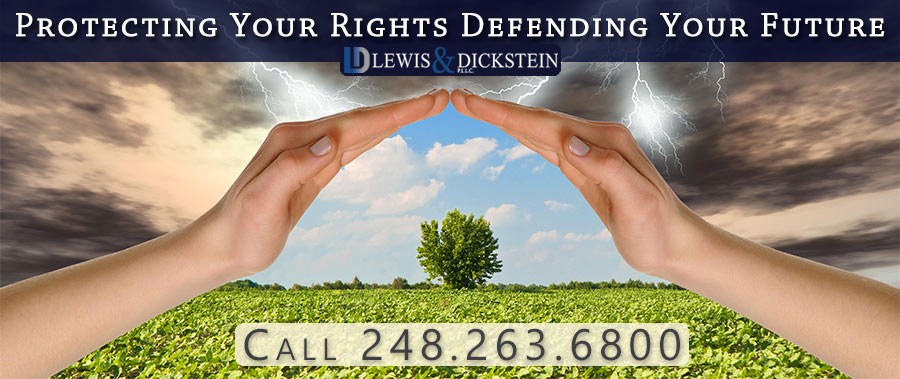 The LEWIS & DICKSTEIN, P.L.L.C is an Award-Winning Criminal Defense Law Firm
The LEWIS & DICKSTEIN, P.L.L.C. firm has designed specific strategies for the Rochester Hills District Court, and those strategies will protect you and get you the best possible outcome. LEWIS & DICKSTEIN, P.L.L.C. has tremendous experience with this court and knows how to guide you through the court process and fight to get you the best outcome on misdemeanor or felony charges.
Multiple organizations responsible for rating and reviewing criminal defense law firms give the attorneys with LEWIS & DICKSTEIN, P.L.L.C. their most prestigious rankings. Not just any criminal defense attorney receives these awards! Lawyers must earn top ratings by legitimate organizations through consistent and competent lawyering. Our outstanding track record of wins and client satisfaction has helped us achieve countless honors.
SuperLawyer – Thompson Reuters
10.0 Superb – Avvo
AV Preeminent – Martindale Hubbell
Lead Counsel Rated
Top Attorneys in Michigan – as published in the New York Times and Crane's Detroit Business
America's Most Honored Professionals
America's Top 100 Criminal Defense Attorneys
10 Best Attorneys – American Institute of Criminal Law Attorneys
Look no further for a top Rochester Hills Criminal Defense Attorney. Call LEWIS & DICKSTEIN, P.L.L.C., and we will take the time to listen to every detail of your case and answer all your questions. Our firm truly cares about our clients and treats them with the utmost respect and dignity.
Call us today at (248) 263-6800 for a free consultation or complete an online Request for Assistance Form. We will contact you promptly and find a way to help you.
We will find a way to help you and, most importantly,
we are not afraid to win!