New Michigan Law Would Make First-Time MIP a Civil Infraction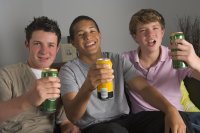 For someone under 21 caught with alcohol, one possible consequence is conviction of being a minor in possession of alcohol (MIP), a misdemeanor crime that, even for a first offense, carries with it a fine and can stay on his or her record for life. This may change if a new bill, on its way through the legislature, becomes law. Senate Bill 332 (2015) has passed the House and is going back to the Senate where it is expected to be approved. The bill is supported by the Michigan District Judges Association and will soon be sent to the governor for his signature.
If passed, the new law will make an MIP first offense a civil infraction, punishable only by a fine of up to $100.
If you or a loved one is being charged with possession of alcohol of a minor or any other crime in Oakland County, Wayne County, Macomb County, or elsewhere in Michigan, you need to speak with an expert. An attorney who knows the courts, the prosecutors, and the always-changing laws can assist in mounting the best possible defense. If this new bill becomes law, first-time offenders will be treated much less harshly by the criminal justice system. In addition, the attorneys at LEWIS & DICKSTEIN, P.L.L.C. will have access to a powerful new tool to bargain other alcohol-related crimes down to civil infractions. Call us at (248)263-6800 or complete a Request for Assistance Form and one of our attorneys will contact you to discuss the best strategy moving forward.


"We Are Not Afraid to Win!"
-Lewis & Dickstein, P.L.L.C.
Save