Criminal Defense Attorneys in Michigan
A person accused of a crime faces the possibility of various types of consequences. Every charge, even a low-level misdemeanor, is serious and can have a significant, negative impact on your life. You cannot afford not to seek a free consultation from a qualified, experienced lawyer.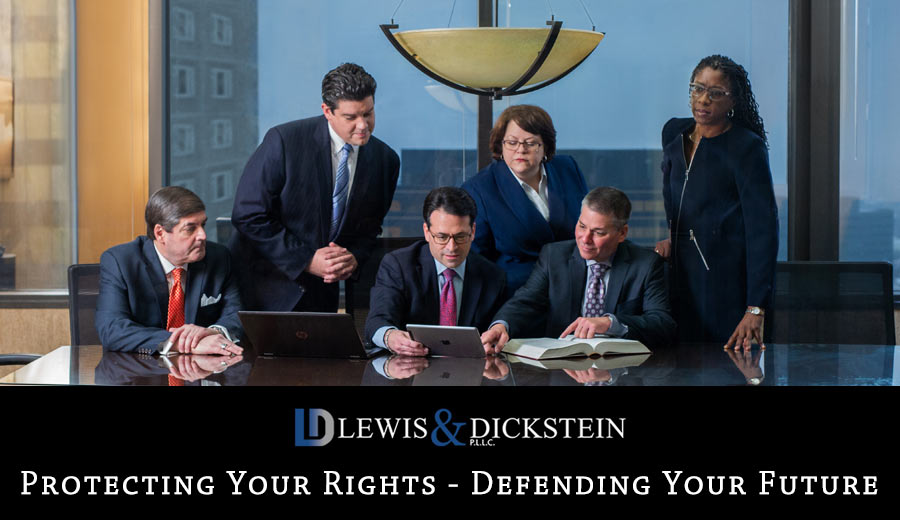 Why a Conviction Can Be Serious and What To Do About a Criminal Charge
In Michigan, local, state, and federal prosecutors can bring criminal charges. A person accused of committing a felony or misdemeanor will face the possibility of jail or prison, years of probation, exorbitant fines, and various forms of collateral consequences, such as a damaged reputation, inability to obtain meaningful employment, and suspension of a professional license. With decades of experience successfully defending and protecting clients in courts throughout Michigan, the attorneys with LEWIS & DICKSTEIN, P.L.L.C. know how to win and they tenaciously fight for every client. We are the Criminal Defense Attorneys to call first if you're ever charged with a felony or misdemeanor in state or federal court.

Examples of Cases Handled by LEWIS & DICKSTEIN, P.L.L.C.
Here is a non-exhaustive list of a small portion of the state and federal offenses routinely and successfully handled by the Defense Team with LEWIS & DICKSTEIN, P.L.L.C.
theft crimes, such as retail fraud, shoplifting, robbery, uttering and publishing, check fraud, and larceny,
violent crimes, such as assault, battery, domestic violence, aggravated assault, domestic strangulation, assault with intent to do great bodily harm, stalking, criminal sexual conduct, child abuse, resisting and obstructing the police, child molestation, and felonious assault,
weapon crimes, such as carrying a concealed weapon (CCW), possession of a firearm while intoxicated, felon in possession of a firearm, felony firearm, assault with a deadly weapon, possession of an illegal firearm or ammunition, illegal distribution or trafficking in firearms,
drug and controlled substance crimes, such as possession of an illegal drug or controlled substance, distribution or trafficking of controlled substances, possession with the intent to deliver, drug use, drug manufacture, conspiracy, prescription fraud or distribution, and medical marijuana crimes,
driving crimes, such as OWI, DUI, OWPD, OWVI, drunk driving, reckless driving, driving on a suspended license, civil infraction causing serious injury or death, felony with a motor vehicle, and failure to report an accident,
white-collar crimes, such as embezzlement, conspiracy, fraud, internet crimes, healthcare fraud, bribery, public corruption, false pretenses, and credit card offenses,
building and structure crimes, such as home invasion, breaking and entering, malicious destruction of a home or building, entry without owner's permission, and arson of a home or building,
property crimes, such as malicious destruction of property and arson,
homicide charges, such as murder, involuntary homicide, OWI causing death,
crimes against society, such as resisting and obstructing the police, disarming a police officer, obstruction of justice, child pornography (CSAM), and contempt, and
post-judgment issues, such as appeals, expungements, 6.500 Motions, motion for early discharge from probation or supervised release, motions to modify probation conditions, driver's license restoration, and violation of probation.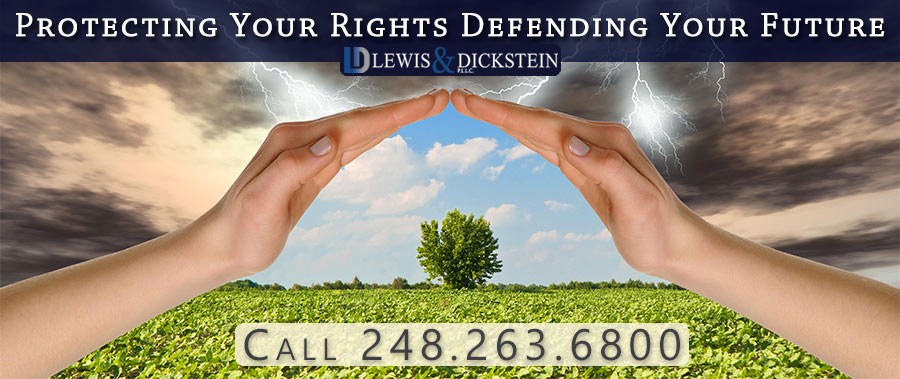 Choosing The Best Michigan Criminal Defense Lawyers For Your Case
Laws are similar state to state, but they do have unique aspects. Our Michigan criminal defense lawyers are the best defense against a charge made in Michigan. Even if you are from out of state and have a lawyer back home, Michigan criminal defense lawyers are the ones you'll want on your side if you're charged within the state of Michigan. Our lawyers are nationally ranked, commonly awarded, and they have achieved some of the highest distinctions in the United States.
The unique thing about LEWIS & DICKSTEIN, P.L.L.C. is that we have a team of experienced lawyers, paralegals, and other professionals who work together on every case. We collaborate on strategies and defenses, roll-play hearings, trials, and motions. We commonly say, "when you hire one of us, you get all of us." When one of our lawyers walks in the courtroom next to you the judge and prosecutor will know that you are backed by each one of us and our combined power, influence, and skill. Our extraordinary combination of skills and experienced is something that is unmatched by any lawyer or law firm in Michigan. We will find a way to help you.
We know that a criminal conviction can impact your life in more ways than one, and as a result, we'll work tirelessly and fearlessly to get your charges dropped or reduced. In addition to the stigma of serving time in jail, you could encounter child custody problems, lose your driver's or professional license, or possibly your livelihood. Don't leave the rest of your life up to chance by hiring a bargain-priced Michigan criminal defense lawyer or a general practice attorney. Retain the attorneys who will aggressively represent you to ensure the best possible outcome in your situation. You can always feel confident that LEWIS & DICKSTEIN, P.L.L.C. will have your best interest at heart and we aren't afraid to win.
Call us today at (248) 263-6800 for a free consultation, or complete a Request for Assistance Form and we will contact you promptly.
We will find a way to help you and, most importantly,
we are not afraid to win!