Michigan Shoplifting Defense Attorneys
Do not feel ashamed or embarrassed if you've been charged with shoplifting. Good people make mistakes, and there is almost always a reason to explain why someone made a thoughtless or impulsive decision. We can help you.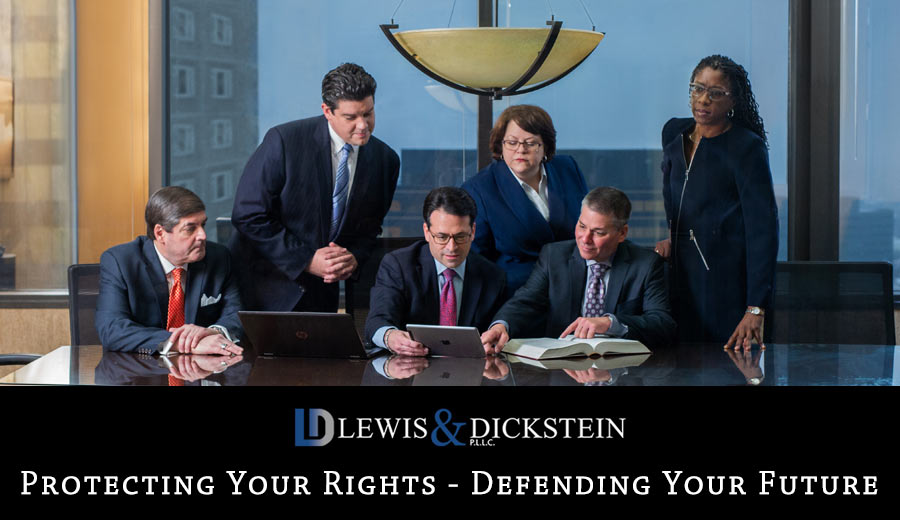 A person charged with Retail Fraud or Shoplifting does not have to go to jail, and a savvy defense lawyer may be able to prevent a conviction.
In the vast majority of these cases, there are extenuating circumstances that, when persuasively explained to a prosecutor, can result in a dismissal of the case, a reduced charge, or a lenient sentence. When there is any type of conviction, a great defense lawyer will convince a judge to focus on rehabilitation at sentencing, as opposed to punishment. With decades of experience representing more than a thousand clients on retail fraud charges, the attorneys with LEWIS & DICKSTEIN, P.L.L.C. know that good people can make a mistake. Most people charged with Retail Fraud in Michigan have no or little criminal history, they have jobs or take care of family, they are educated, and have lived a responsible and honest life.
There Are No Typical Retail Fraud Defendants
Each person has a unique story. The vast majority of those individuals accused of retail fraud have led good, honorable lives, and shoplifting is totally out of their character. These charges can result from a misunderstanding, an accident, a moment of thoughtlessness, or an impulsive decision. It is common to find out that a person was under extreme stress or anxiety at the time of an alleged retail fraud incident. The defense attorneys with LEWIS & DICKSTEIN, do not judge our clients. We will take the time to listen to you, answer all of your questions, and help figure out a strategy to help you. Every person who works with our attorneys will be treated with dignity and respect. Our lawyers have an unparalleled track record of success on these cases because we know how to persuasively explain to prosecutors that our clients are good people, and the incident was not the action of a bad or dishonest person.
Retail Fraud Charges and Penalties
Every crime in Michigan is made up of parts, called elements. If the prosecutor is unable to prove any element, the defendant is not guilty. The elements of shoplifting are:
the defendant took property,
the property was offered for sale to the public, and
the defendant had the intent to steal.
The element requiring taking property is very broad and includes the movement of property, even within the store, so long as the intent of the defendant was to steal. Exiting the store or attempting to exit the sore is not required for there to be a Shoplifting charge—intent to steal means the intent to permanently deprive the store of the property without payment or consent.
The penalty for Retail Fraud increases based on the value of the property and the defendant's prior record. If the defendant has previous convictions for retail fraud, the charge can be enhanced to a more serious misdemeanor or a felony charge.
The Retail Fraud maximum penalties are:
Value Over $1,000 – Retail Fraud – First Degree (felony) – Up to 5 years of prison, a maximum of 5 years on probation, and fines and costs.
Value Between $200 and $1,000 – Retail Fraud – Second Degree (misdemeanor) – Up to 1 year in county jail, up to 2 years of probation, and fines and costs.
Value Less than $200 – Retail Fraud – Third Degree (misdemeanor) – Up to 93 days in county jail, up to 2 years of probation, and fines and costs.
Prior convictions for a felony or misdemeanor retail fraud can result in an enhancement of a Retail Fraud Second or Third Degree to a felony, Retail Fraud First Degree. Jail is not mandatory for retail fraud charges, even if there are prior convictions. A seasoned and effective defense lawyer may be able to convince a judge, intent on ordering jail or prison time, to reconsider and impose a term of probation or fines and costs instead.

Retail Fraud Defense
Shoplifting Defense Attorneys with LEWIS & DICKSTEIN, P.L.L.C. have successfully represented over a thousand clients charged with retail fraud and other theft-related offenses in district and circuit courts throughout Michigan. It is normal to be concerned about the possibility of jail time; however, the reason for hiring LEWIS & DICKSTEIN, P.L.L.C. is to have lawyers with an unparalleled track record of success persuading prosecutors to reduce charges and judges not to impose incarceration. We are routinely successful in helping clients avoid jail and prison time, even when they have prior convictions, are on probation or parole, or when they are appearing before a notoriously harsh judge.
A person accused of shoplifting is innocent if they didn't intend to steal, and they were not aware of taking property from a store. There are many defenses to retail fraud charges, including:
accident,
mistake,
duress,
necessity,
mistaken identity,
improper attribution of value,
and actual innocence.
Although retail fraud cases rarely go to trial, the Defense Team with LEWIS & DICKSTEIN, P.L.L.C. is comprised of veteran trial lawyers. They have a well-earned reputation for winning in trial. All of our attorneys work as a team and collaborate to achieve the best possible outcome for our clients. When you hire one of us, you get all of us. Because we work as a team and will devote the attention and skill of multiple lawyers, we are able to obtain results that are rarely achieved by most defense lawyers.
Retail Fraud Consequences and Immigration Implications
The consequences of a retail fraud conviction extend well beyond the possibility of incarceration and probation. A conviction for retail fraud stays on a person's criminal history for life, unless they qualify for and obtain an expungement after several years. With a record of retail fraud, it may be difficult to find or advance in employment. A conviction can also result in the loss or suspension of a professional license, discharge from a college or university, damaged credit, the inability to obtain credit, and more. Our highest priority is to seek a dismissal of retail fraud charges when possible, or in the alternative, get the charge reduced so that a person's future and reputation are not jeopardized.
Clients who are not United States citizens face the possibility of severe consequences. A retail fraud charge is considered to be a "crime of moral turpitude" under immigration law. It can result in deportation, inability to enter the United States, or a long delay in the ability to obtain U.S. citizenship. Our attorneys have an in-depth understanding of the potentialities for retail fraud misdemeanor or felony plea, and we know what steps to take to give our clients the best possible chance of avoiding possible immigration consequences. You should understand that a "conviction" for retail fraud is defined very broadly under immigration laws. A plea in court that is taken under advisement and dismissed is still considered to be a conviction in immigration court.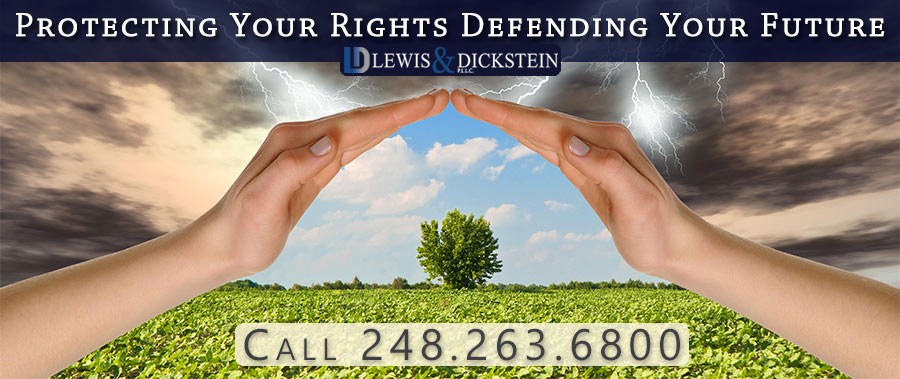 We can Help you with Retail Fraud Charges
If you call LEWIS & DICKSTEIN, P.L.L.C., your call will be answered by a highly experienced retail fraud defense lawyer who will take the time to consult with you for free. The attorney will want to know about you and the accusations against you. Again, you will not be judged, and you will be treated with the utmost respect. There will be a way to help you, and our lawyers will know the best strategy to seek the dismissal of your charges, advocate for a reduction in charges, or reduce or eliminate the possibility of jail time. Do not lose hope; we will find a way to help you.
Call us today at (248) 263-6800 for a free consultation, or complete a Request for Assistance Form and we will contact you promptly.
We will find a way to help you and, most importantly,
we are not afraid to win!

The courts in Southeastern Michigan where defendants are regularly charged with Shoplifting include but are not limited to:
Oakland County Circuit Court (6th Judicial Circuit Court), in Pontiac, Michigan
52-1 District Court in Novi Shoplifting Defense Attorney
52-2 District Court in Clarkston Shoplifting Defense Attorney
52-3 District Court in Rochester Shoplifting Defense Attorney
52-4 District Court in Troy Shoplifting Defense Attorney
35th District Court in Plymouth Shoplifting Defense Attorney
43rd District Court in Hazel Park Shoplifting Defense Attorney
43rd District Court in Madison Heights Shoplifting Defense Attorney
43rd District Court in Ferndale Shoplifting Defense Attorney
44th District Court in Royal Oak Shoplifting Defense Attorney
45-B District Court in Oak Park Shoplifting Defense Attorney
46th District Court in Southfield Shoplifting Defense Attorney
47th District Court in Farmington Hills Shoplifting Defense Attorney
48th District Court in Bloomfield Hills Shoplifting Defense Attorney
50th District Court in Pontiac Shoplifting Defense Attorney
51st District Court in Waterford Shoplifting Defense Attorney
Macomb County Circuit Court in Mt. Clemens, Michigan
37th District Court – Warren
38th District Court – Eastpointe
39th District Court – Roseville
40th District Court – St. Clair Shores
41A District Court – Sterling Heights
41A District Court – Shelby Township
42nd District Court – Romeo
42nd District Court – New Baltimore
41B District Court – Mt. Clemens
Wayne County Circuit Court in Detroit, Michigan
16th District Court – Livonia Shoplifting Defense Attorney
17th District Court – Redford Shoplifting Defense Attorney
18th District Court – Westland Shoplifting Defense Attorney
19th District Court – Dearborn Shoplifting Defense Attorney
20th District Court – Dearborn Heights Shoplifting Defense Attorney
21st District Court – Garden City Shoplifting Defense Attorney
22nd District Court – Inkster Shoplifting Defense Attorney
23rd District Court – Taylor Shoplifting Defense Attorney
24th District Court – Allen Park and Melvindale Shoplifting Defense Attorney
25th District Court – Lincoln Park Shoplifting Defense Attorney
26-1 District Court – River Rouge Shoplifting Defense Attorney
26-2 District Court – Ecorse Shoplifting Defense Attorney
27 District Court – Wyandotte Shoplifting Defense Attorney
27 District Court – Riverview Shoplifting Defense Attorney
28 District Court – Southgate Shoplifting Defense Attorney
29 District Court – Wayne Shoplifting Defense Attorney
30 District Court – Highland Park Shoplifting Defense Attorney
31 District Court – Hamtramck Shoplifting Defense Attorney
32A District Court – Harper Woods Shoplifting Defense Attorney
33rd District Court – Trenton, Rockwood, Flat Rock, Woodhaven, Brownstown, Grosse Ile.
34th District Court – Romulus, Belleville Shoplifting Defense Attorney
35th District Court – Northville, Plymouth, Canton Township Shoplifting Defense Attorney
36th District Court – Detroit Shoplifting Defense Attorney
Livingston County Circuit Court in Howell, Michigan
53rd District Court – Brighton Shoplifting Defense Attorney
53rd District Court – Howell Shoplifting Defense Attorney
Washtenaw County Circuit Court in Ann Arbor, Michigan
15th District Court – Ann Arbor Shoplifting Defense Attorney
14A District Court – Ypsilanti Township Shoplifting Defense Attorney
14B District Court – Balance of Washtenaw County Shoplifting Defense Attorney