52-3rd District Court – Rochester Hills – Criminal Defense Attorneys
The 52-3rd District Court is located in Rochester Hills, Michigan but its jurisdiction is most of northeastern Oakland County
The 52-3rd District Court is located at 700 Barclay Circle, Rochester Hills, Michigan 48307. Its jurisdiction covers most of northeastern Oakland County, Michigan. All traffic, misdemeanor and felony offenses that occur in Addison Township, Auburn Hills, Lake Angelus, Oakland Township, Orion Township, Oxford Township, Rochester, Rochester Hills, Village of Lake Orion, Village of Leonard and Village of Oxford are handled by this court. It is a very busy court with three judges and three magistrates.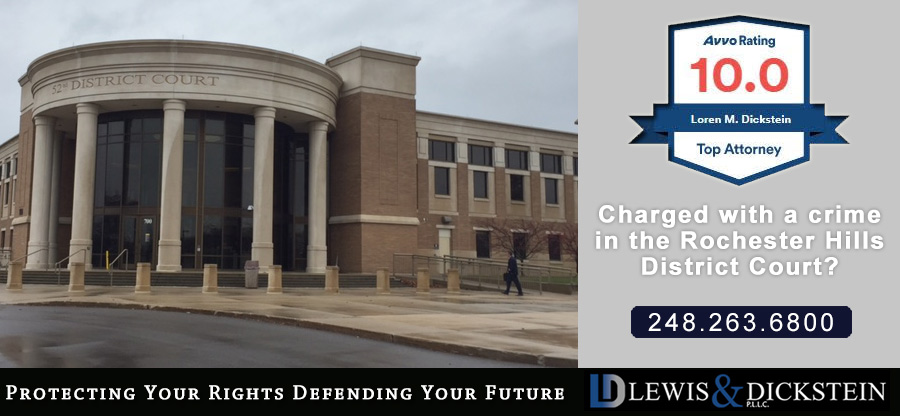 Misdemeanor offenses can range from drinking and driving, DUI, traffic offenses such as driving on a suspended license, assault and battery, possession of marijuana, retail fraud, disorderly person, and more. Felony offenses can range from 3rd offense drunk driving, certain drug offenses, financial crimes like identity theft, felonious assault and rape and murder. The court also has a Sobriety Court Program . This program is designed to treat people convicted of OWI and DUI offenses by getting them therapy and any other help that may be necessary.
The judges of the 52-3rd District Court are some of the toughest in Oakland County. They have a reputation of being tough for sentencing, probation violations and when setting bonds. It is common that a person will have to post cash and be subjected to multiple conditions as part of any bond set by this court.
The Judges of the 52-3 District Court
Judge Julie Nicholson
Elected to the 52-3rd District Court in 1996. Judge Nicholson was also a member of the Michigan Judicial Institute faculty and has been an Adjunct Professor at Cooley Law School since 2007. She received her Bachelor of Arts degree in Business Administration/Pre-Law from Michigan State University in 1983, and her Juris Doctorate from Detroit College of Law in 1987. Prior to her election, Judge Nicholson was an associate and partner in private law firms. Judge Nicholson is active in the community. In 2008, Judge Nicholson implemented the Most Wanted program, a program which utilizes the assistance of the public through the Internet to apprehend those individuals that pose a risk to public safety who have absconded from the court system.
Judge Nancy Tolwin Carniak
Appointed by the Governor to the bench of the 52-3 District Court in 2000. She attended Michigan State University where she received a Bachelor of Arts Degree in Business Administration in 1979. She received her Juris Doctorate from the Detroit College of Law in 1985. Judge Carniak served as an associate and partner in private law firms for 15 years prior to taking the bench. Judge Carniak initiated the Mock Trial program for 5th grade students in our community. In this program, students learn about the legal system firsthand by participating in a mock criminal trial. Students also take a tour of the Oakland County Sheriff's substation and observe actual criminal proceedings in the courtroom. Judge Carniak is involved in a variety of community organizations.
Judge Lisa L. Asadoorian
Elected to the 52nd District Court, 3rd Division in November of 2000. She is a graduate of Michigan State University where she received a Bachelor of Arts Degree in Criminal Justice in 1986. In 1989, she graduated from the University of Detroit School of Law with a Juris Doctor Degree. Judge Asadoorian is a former Assistant Prosecutor and Senior Trial Attorney for the Oakland County Prosecutor's Office. Upon taking the bench, Judge Asadoorian implemented her own requirement at sentencing for alcohol related offenses whereby defendants of all ages must tour the county morgue. The purpose is to educate persons about the true and ultimate consequences of underage and/or excessive drinking. This program has garnered widespread attention and support both locally and statewide. A lifelong resident of the district, Judge Asadoorian is active in a number of community organizations.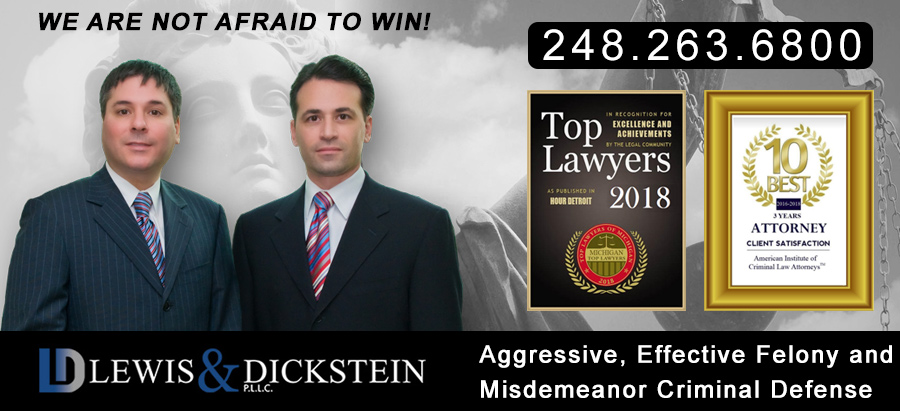 Lawyers who regularly practice in the 52-3 District Court in Rochester Hills, Michigan
The attorneys at LEWIS & DICKSTEIN, P.L.L.C. have appeared regularly in the 52-3 District Court for years and have good working relationships with the judges and the court staff. In addition, our Defense Team has a great reputation for integrity, experience and professionalism. The firm's attorneys have been successful in many jury trials and motions in criminal cases, and have obtained outright dismissals on several occasions. All of the attorneys that practice at LEWIS & DICKSTEIN, P.L.L.C. have decades of experience and are fearless in protecting the rights of those accused of having committed a crime. If you are facing criminal charges, you need the best legal help available. LEWIS & DICKSTEIN, P.L.L.C. is here to help. Please call us at (248) 263-6800 for a confidential free consultation and case evaluation or complete a Request for Assistance Form and one of our award winning attorney will call you.

"We will find a way to
help you and, most importantly,
we are not afraid to win!"
– LEWIS & DICKSTEIN, P.L.L.C.