The 51st District Court – Waterford Township, Michigan Criminal Defense Attorneys
Felony and misdemeanor charges in Waterford Township, Michigan are handled at the 51st Judicial District Court which is located at 5100 Civic Center, Waterford, MI   48329. The court handles all misdemeanor offenses that happen in Waterford, including drunk driving, OWI, DUI, retail fraud, driving while license suspended, driving without a license, domestic violence, assault, assault and battery, possession of marijuana, just to name a few.
The court also handles the arraignment and the probable cause portions of felony cases ranging from Felonious Assault, Drug Charges, Weapon Charges, Assault Charges and even homicide cases. The magistrates in Waterford have a reputation for setting tough bonds with various terms and conditions which may include the requirement to post cash, alcohol and drug testing, tether and more.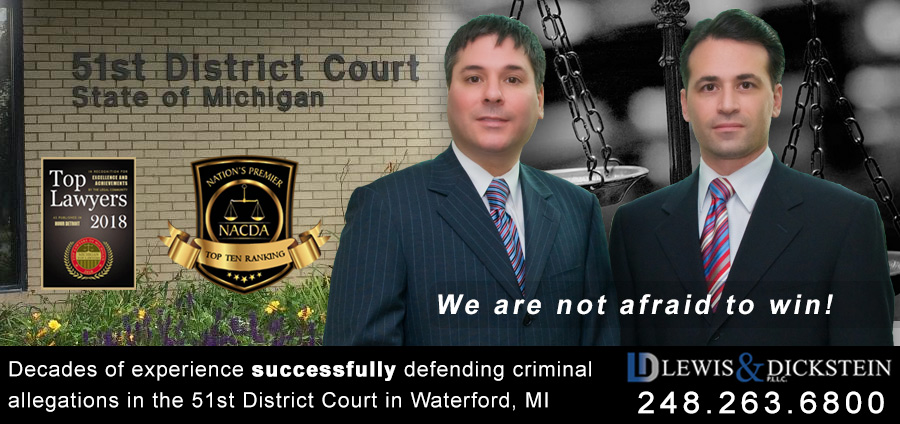 Waterford District Judges
The 51st Judicial District Court is served by Judge Richard D. Kuhn, Jr. and Judge Jodine Debbrecht Switalski.
 Judge Richard D. Kuhn is a lifelong resident of Waterford Township.  He graduated from Waterford Kettering High School, Oakland University and the Detroit College of Law – Michigan State University all with honors.  He has been a district court judge since 2002 and is active in the Waterford community.
Judge Jodi Debbrecht Switalski won election in 2012 to the 51st District Court in Waterford after being appointed in 2010 by the Governor of the State of Michigan.  She currently serves as the Chief Judge Pro Tempore for the District Court.  Before assuming her judicial seat, she served as an appointee to the 45A District Court in Berkley, Michigan as a Magistrate and Court Administrator.  She earned her Juris Doctor from the University of Missouri after pursuing her master's degree in Human Development, Family Studies and Public Policy.  Judge Switalski is extremely involved and active in Waterford and beyond. She initiated a public response to the Spice/K2 (synthetic marijuana) epidemic in the tri-county area through a series of Townhall forums the first being in Waterford.  She is also active in expanding the use of Veteran's Courts that focus on military veterans who have had found themselves in the court system and getting them the help that they need.

Sobriety Court in the 51st District Court
This court is does heavily rely on its Sobriety Court for all alcohol related offenses.  Waterford's Sobriety Court is operated slightly differently from other Sobriety/Drug Courts.  That is why it is important to have an attorney that practices regularly in this court.
Lawyers for the 51st District Court in Waterford
The attorneys of LEWIS & DICKSTEIN, P.L.L.C. have won numerous jury trials, dismissals and motions on criminal cases and appear in the 51st Judicial District Court on a regular basis.   Our attorneys are fearless and passionate about your defense.  When only the best will do for your protection, call the law firm of LEWIS & DICKSTEIN, P.L.L.C. at (248) 263-6800 for the peace of mind only the top of the line representation will give you.  You may also complete a Request for Assistance Form and one of our top rated, award winning attorneys will call you.


"We will find a way to help you and, most importantly,
we are not afraid to win!"
– LEWIS & DICKSTEIN, P.L.L.C.