The 51st District Court – Waterford Criminal Defense Attorneys
If you face felony or misdemeanor charges in Waterford's 51st District Court, you will need top defense lawyers to protect and defend you.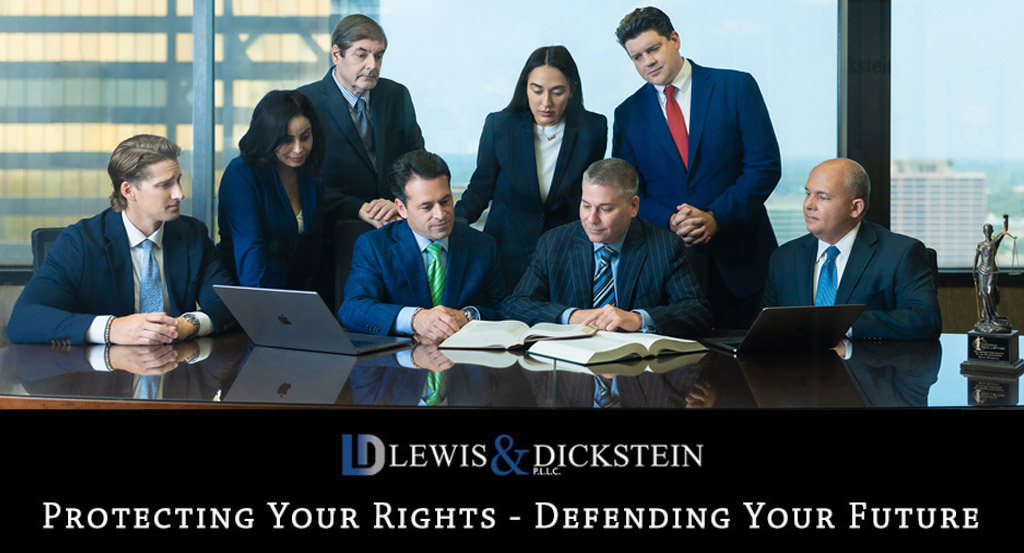 District Court in Waterford, Michigan
Felony and misdemeanor charges in Waterford Township, Michigan, are handled at the 51st District Court, located at 5100 Civic Center, Waterford, MI 48329. The court handles all misdemeanor offenses in Waterford, including drunk driving, OWI, DUI, retail fraud, driving while license suspended, driving without a license, domestic violence, assault, assault and battery, and possession of analogs, to name a few.
The 51st District Court also handles the arraignment and the probable cause portions of felony cases ranging from Retail Fraud, Felonious Assault, Drug Charges, Weapon Charges, Assault Charges, and even homicide cases. Unless an experienced criminal defense attorney represents a defendant, the magistrates have a reputation for setting high bonds with various terms and conditions, including the requirement to post cash, alcohol and drug testing, tether, and more.
Waterford District Judges
Judge Richard D. Kuhn, Jr. and Judge Todd A. Fox serve the 51st District Court.
Judge Richard D. Kuhn is a lifelong resident of Waterford Township. He graduated from Waterford Kettering High School, Oakland University, and the Detroit College of Law – Michigan State University, all with honors. He has been a district court judge since 2002 and is active in the Waterford community.
Judge Todd Fox, the newest judge in the 51st District Court, is also a lifelong resident of Waterford Township, graduating from Kettering High School in 1985. He received his college degree from Grand Valley State University in 1989 and his law degree from the Detroit College of Law in 1993. He is licensed to practice in Michigan and Colorado and is a licensed real estate broker in Michigan and North Carolina.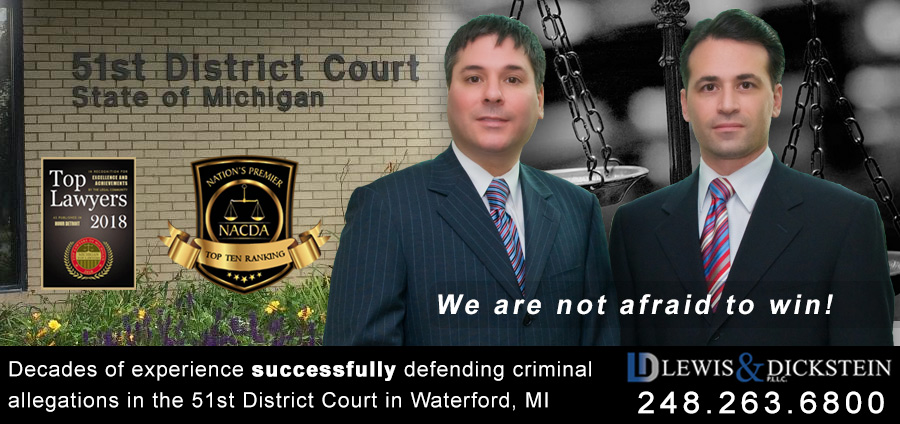 51st District Court's Departments
Civil Department – View information about small claims, landlord-tenant cases, and general civil cases with damages up to $25,000.00.
Criminal Department – All felony and misdemeanor criminal cases prosecuted within the Township of Waterford are started at the 51st District Court. The judges preside over all misdemeanor hearings, including arraignment, pretrials, motions, evidentiary hearings, plea hearings, sentencing, and trial. In felony cases, only arraignments, probable cause conferences, and preliminary examinations occur at the district court level.
At the arraignment, defendants are advised of their rights, the charges, the possible penalties, a bond is set, and a plea may be entered. The 51st District Court allows for walk-in arraignments Monday – Friday from 9:00 a.m. to 11:30 a.m. and 1:30 p.m. to 4 p.m.
A pretrial is an exchange of information between the defense and prosecution. The defendant may enter a plea at this time or proceed to trial. In felony cases, the defendant is entitled to a preliminary examination within 21 days of arraignment. The purpose of the preliminary exam is for the Judge to determine if there is probable cause that a crime was committed and that the defendant committed the crime. If probable cause is established, the Judge will bind the case over to the Oakland County Circuit Court for trial proceedings.
For misdemeanor cases, a sentence is ordered by the Judge for defendants who have been convicted at trial or plead guilty or no contest. Sentences might include therapy, education, mandatory employment, alcohol and drug testing, fines, costs, community service, substance abuse treatment, probation, and jail time.
Probation Department – The Probation Department is responsible for screening, assessing, and supervising individuals convicted of misdemeanors. The Probation Department conducts presentence investigations and recommends sentences of up to one year in jail and two years of probation.
Traffic Department – Civil infractions a heard by the 51st District Court judges. Litigants have the option of formal or informal hearings. Generally, a formal hearing is always best when seeking a reduction from a moving to a nonmoving violation or dismissal.
Sobriety Court
This 51st District Court does heavily rely on its Sobriety Court for all alcohol-related offenses. Waterford's Sobriety Court is operated slightly differently from other Sobriety/Drug Courts. That is why it is essential to have an attorney regularly practicing in this court, like those with LEWIS & DICKSTEIN, P.L.L.C.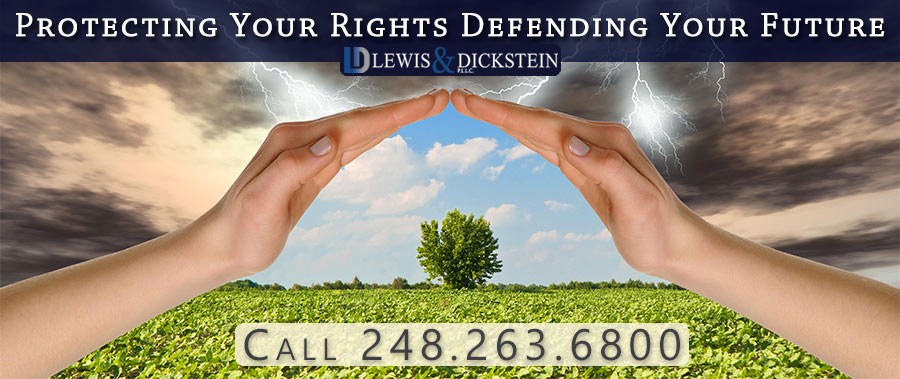 Top Defense Lawyers for the 51st District Court in Waterford
The attorneys with LEWIS & DICKSTEIN, P.L.L.C. have won numerous jury trials, dismissals, and motions on criminal cases and regularly appear in the 51st District Court. Our attorneys are fearless and passionate about your defense. When only the best will do for your protection, call LEWIS & DICKSTEIN, P.L.L.C. for a free consultation. We will find a way to help you!
What you get with LEWIS & DICKSTEIN, P.L.L.C. in your corner:
a highly effective team approach where multiple criminal defense lawyers collaborate to achieve the best possible result,
outstanding communication and the prompt return of all phone and email messages,
fearless, tenacious attorneys who will do whatever it takes to achieve the best possible outcome,
trial lawyers who are known for taking cases to jury trial and getting "not guilty" verdicts,
skilled, savvy negotiators who are known for persuasively convincing prosecutors to reduce or dismiss charges,
advocates who will focus on finding how to help their clients in and out of the 51st District Court, and
a law firm with the resources needed for top-notch legal research and writing, expert assistance, private investigators, and litigation support.
Call us today at (248) 263-6800 for a free consultation or complete an online Request for Assistance Form. We will contact you promptly and find a way to help you.
We will find a way to help you and, most importantly,
we are not afraid to win!

Helpful Information About Waterford Township, Michigan

Waterford Township, Michigan, has a rich history that has shaped its present-day identity. Located in Oakland County, Michigan, Waterford Township was first settled by Europeans in the early 19th century. Since then, it has grown into a diverse and vibrant community with over 75,000 people. The township is home to the 51st District Court.
In its early days, Waterford Township was a center of agriculture and commerce, with fertile farmland and access to waterways that made transportation of goods accessible. The township was also home to a thriving lumber industry, as the nearby forests provided abundant resources for building and construction. Over time, as industrialization took hold in the region, Waterford Township became a hub of manufacturing and production, with factories and businesses springing up throughout the area.
Waterford Township is a modern community that maintains its ties to its past. While more modern businesses have replaced many old factories and mills, the township is still home to several historical landmarks and cultural institutions. For example, the Waterford Historical Society is dedicated to preserving the township's rich history. At the same time, the Waterford Township Public Library provides residents with access to information and resources that can help them better understand the community they call home.
In addition to its historical and cultural attractions, Waterford Township is known for its strong schools, vibrant business community, and diverse population. The township has several parks and recreational areas, including the scenic Pontiac Lake Recreation Area, which offers hiking, fishing, and boating opportunities. Waterford Township is also home to several annual events and festivals, such as the Art in the Park Festival and the Waterford Memorial Day Parade, which bring together residents and visitors throughout the region.
Overall, Waterford Township, Michigan, is a community that has evolved to meet its residents' changing needs and demands. While it has faced its share of challenges over the years, the township has remained resilient. It continues to thrive as a vibrant and dynamic community that is proud of its past and excited about its future. The 51st District Court is one of Michigan's most respected district courts.